le Tour de France official site
(with daily reports during the race)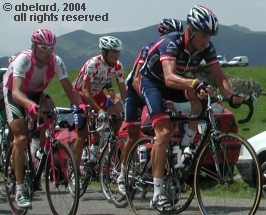 Lance Armstrong, Richard Virenque and Jan Ullrich (r to l) climbing a Category 2 hill, Port de Lers, on the 13th stage of the 2004 Tour de France.
On a hot sunny day, three great cyclists power their way up to a 1517 metre hilltop, le Port de Lers. Further behind in another group was the Yellow Jersey (current leader of this race), and even further back, in dribs and drabs were the rest of the peleton, including many expected to do well.
Lance Armstrong, five times winner of the Tour de France shares this climb with Jan Ullrich, five times runner-up of the Tour, and with Richard Virenque, who is aiming to win the spotty jersey - le maillot blanc à pois rouges - for most hill-climbing points.
More to follow...
advertising
disclaimer