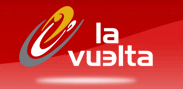 official website of La Vuelta
(English version)
cycling tactics
la Vuelta a España, 2014 - climbs to glory
la Vuelta a España, 2013 - race to the summits
watching the Tour
Le Tour 2: preparing to watch the Tour
Le Tour 3: the Great Day arrives
Le Tour 4: preparing to watch a mountain stage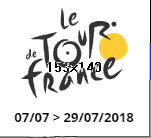 the tour de france 2018 - celebrating france, celebrating the tdf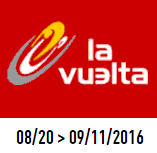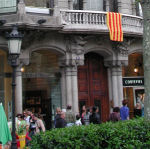 antoni gaudí: architecture in barcelona
sagrada família, the architecture of antoni gaudí
the spanish vuelta
this year's race
the race map
the stages
la vuelta race teams
new year, new jerseys
a select dictionary
The third of the trio of major Tour-type cycle races starts on 20 August 2011, at Benidorm.
Final results
British cyclists take second and third places.
ESP COBO, J. GEO 84:59:31
GBR FROOME, C. SKY at 13
GBR WIGGINS, B. SKY at 1:39
NED MOLLEMA, B. RAB at 2:03
RUS MENCHOV, D. GEO at 3:48
BEL MONFORT, M. LEO at 4:13
ITA NIBALI, V. LIQ at 4:31
BEL VAN DEN BROECK, J. OLO at 4:45
ESP MORENO, D. KAT at 5:20
For more result details, go to the official web site.
This year is going to be a climber's race, so the stages are strangely discontinuous in order to include lots of mountain cycling. There will be six mountain top finishes, at
Sierra Nevada, stage 4 - 2,126 m
San Lorenzo de El Escorial, stage 8 - 1,115 m
Sierra de Bejar. La Covatilla, stage 9 - 1,970 m
Alto de la Manzaneda, stage 11 - 1,760 m
La Farrapona, stage 14 - 1,708 m. La Farrapona climbs for 18.7 km at 5.7% average gradient, with 12% ramps.
l'Anglirú, stage 15 - 1,560 m. L'Angliru is 12.6 km long, and has an average gradient of over 10 %, with the maximum being 23 % near the summit.
Other fierce slopes include Puerto de Ancares on the 13th stage, reaching 1110 m in merely12 km, with gradients averaging 12.5% and a maximum at 20%! And note that on this stage's route listing, after going over the Puerto de Ancares pass, the entry reads, "Descenso rapido con curvas. Precaución " - Rapid decent with with bends. Careful.
Of course, this climber's race is especially suited to Spanish riders, such as Alberto Contador [ed.: not participating after all], Ezequiel Mosquera and Samuel Sanchez, who specialise in the hard, uphill grinds.
For the first time since 1978, the race will pass through some of the Basque Country, on Spain's northern coast, including a stage finish and a stage start at Bilbao. The last foray to this region was a disaster with two stages being cancelled. Basque separatists barricaded and blocked the route, including scattering drawing pins on the road. The protesters also threw sand into the eyes of riders.

Watching the Vuelta in Spain is very similar to watching the Tour in France. abelard.org has several pages giving general advice on how to be a effective road-side spectator.
In the hot southern countryside, there are long stretches empty of anything except lovely semi-desert landscape. Occasionally, there maybe one person sheltering from the belting sun under a tree, even on climbs where in France the way would be seething with fêting followers. The crowding is often far less oppressive, or exciting according to your taste.
watching on tv
Watch the Vuelta on Eurosport UK [schedule] and on ITV4 [schedule]. Both these UK-based channels are providing about three hours broadcast every afternoon when there is racing.
google earth
Download the .kmz file from here. [Courtesy of arcadiaservices.nl]
Open this file in Google Earth.
Copy from Temporary Places to My Places [right click for menu, and choose Copy to My Places]
Paths shows the stages.
Double click on a stage for enlargement showing names etc.
Double click on a Stage in Rides folder for helicopter ride of route. Click on double arrow >> to increase speed of flight.
Use the dropdown menu to go to current day's details



For route information
To navigate, use grey tabs a bit down the page:



For wider information, use the black tabs at the top of the page:



To look at the overall standings while a stage is taking place, click on the STANDINGS tab, then use the dropdown to go to the

previous stage

's standings:



While the current stage is taking place, there is an animation, updated every sixty seconds, in a separate smaller browser widow. It shows both breakaway and peleton dispositions, as well as where the day's race has reached on the stage's profile. At the bottom of the window are regularly updated, blog-type reports. This service is available during all of the day's stage, including prior to the TV broadcasts, which tend to start about half way through the day's stage.

Clicking on a rider's name will open a small note on the rider's overall position, and a few other details.



I love watching the little cyclists pedalling. They're even wearing an approximation of the different jerseys.

You reach the Vuelta Live display thus - HOME black tab (which, of course, turns red when clicked on),
then LIVE grey tab (which turns black!), then click on the link indicated by the small red arrow.

[If Adobe Flash Player 10.3.183.7 is not already installed on your computer, the Dinamic [sic.] Route Summary box will instruct you to install the necessary software.
This is a two-stage process: first, you download and save [best on the desktop] the small installer program,
then you run that installer program [click on the icon on your desktop]. The instructions provided in your browser are comprehensive, but you need to close the browser to effectuate the installation!]


this year's race
This year, La Vuelta is 3,295 km long. It comprises:
There are 21 stages.

9 flat stages

9 mountain stages
4 medium medium stages
6 summit finishes
1 14 km team time-trial stage
1 40 km individual time-trial stage
2 rest days.
new year, new jerseys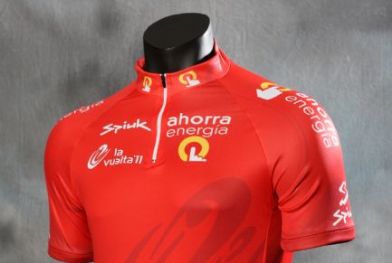 The race leader's jersey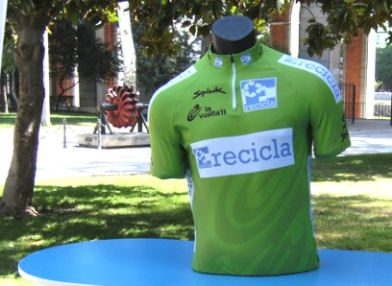 The points jersey
The other two jerseys are
Left: best climber's jersey. Above: best all-rounder's jersey.
a select dictionary
In Spanish, domestiques are called gregarios.
The hardest day's cycling is called la etapa reina.
An uphill time trial is el chrono-escalada.
Bonk in Spanish is pájara.
There is also a Vuelta climb known as Pajares between León and Ovedo.
A chuparruedas is a wheel sucker.
For much more on cycling tactics.

The following is an exceeding boring book, almost like reading a telephone directory. It has notes on all previous runnings of the Vuelta. But in among the addresses and telephone numbers, you will discover all manner of hints on cycling tactics, with interposed examples of dubious practice and cheating. You will also find snippets on the disturbed political background of Spain, from right back to the Civil War and the Franco regime and up until modern times, against which the Vuelta has been held, or not held.
Viva La Vuelta!: The Story of Spain's Great Bike Race
by Lucy Fallon and Adrian Bell (foreword by Sean Kelly)

£16.10 [amazon.co.uk]

Mousehold Press, pbk, 2005
ISBN-10: 1874739404
ISBN-13: 978-1874739401