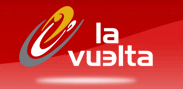 official website of La Vuelta
(English version)
la Vuelta a España, 2014 - climbs to glory
La Vuelta a Espana, 2012 - climber's paradise
a climber's race - La Vuelta a Espana 2011
Vuelta a Espana, 2010 - an eco-tour
watching the Tour
Le Tour 2: preparing to watch the Tour
Le Tour 3: the Great Day arrives
Le Tour 4: preparing to watch a mountain stage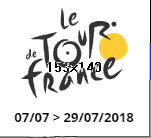 the tour de france 2018 - celebrating france, celebrating the tdf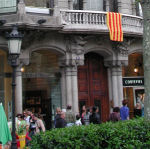 the spanish vuelta
before the penultimate day - report
this year's race
the vuelta race book - libro de ruta
2013 race favourites
the race map
the stages
la vuelta race teams
a select dictionary
end notes
The third of the trio of major Tour-type cycle races started on 24 August 2013 at Vilanova de Arousa, with a tricky team time trial on Galician seaside roads.
before the penultimate day - report
"For the sixth time in its history the Vuelta a España will finish a stage at the Alto de l'Angliru. For many, this is the toughest climb you can face in any race throughout the entire cycling calendar and it will surely mean another unforgettable chapter in the history of the Spanish tour."
| | | | | | |
| --- | --- | --- | --- | --- | --- |
| 1 | 184 | HORNER, C | RLT | 77:56:05 | USA |
| 2 | 21 | NIBALI, V. | AST | + 3'' | ITA |
| 3 | 1 | VALVERDE, A. | MOV | + 16'' | ESP |
| 4 | 121 | RODRIGUEZ, J | KAT | +1:57 | ESP |
| 5 | 205 | ROCHE, N. | TST | +3:49 | IRL |
| 6 | 11 | POZZOVIVO, D. | ALM | +6:00 | ITA |
Before yesterday's stage, Nibali was 3 seconds ahead. Now Horner is 3 seconds ahead.
this year's race
This year, La Vuelta a España is 3,358.9 km long. It comprises:
21 stages

6 flat stages

8 mountain stages

11

summit finishes
39 mountain passes and hills
5 medium mountain stages
a 27 km team time-trial stage
a 38 km individual time-trial stage
2 rest days
The Vuelta progresses for five days through Galicia in north-west Spain, then continues anticlockwise around different provinces of Spain: Castilla y Leon, Extremadura, Andalucia, Aragon, Catalonia, La Rioja, Cantabria, and Asturias. The race will finish at Spain's capital city, Madrid, on September 15.

the vuelta race book - libro de ruta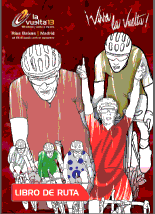 For 2013, la Vuelta a España organisers have published comprehensive route book, available online as a 340-page .pdf. Although the majority of the book is in Spanish, there is a myriad of maps and diagrams which require no translation, while the "SPECIFIC REGULATIONS, AWARDS & TECHNICAL-SPORTS REGULATION HANDBOOK" (yes, an English translation) starts on page 318.
There are maps to find parking places, stage profiles, road sign explanations, lists of hotels and lush full-page advertisements for the different regions, public service advice and cycling manufacturers.This is solid bedtime reading.

2013 race favourites
After his non-participation in this year's Giro and his dismal performance in the Tour de France, 'El Pistolero' Alberto Contador, 2012 Vuelta winner, is not riding, and nor are the UK's Christopher Froome and Bradley Wiggins.
Overall contenders include Alejandro Valverde (Movistar), Joaquim Rodriguez (Katusha), Giro d'Italia winner Vincenzo Nibali (Astana), Ivan Basso (Cannondale) and Dan Martin (Garmin-Sharp).
A complete list of competitors is available on the official Vuelta web site.

the stages
flat - on the plain

medium mountains

mountains

rest day

1
Vilanova de Arousa > Sanxenxo
24 August [27.4 km / 17.0 mi]
team time-trial

12

Maella > Tarragona
5 September [164.2 km / 102.0 mi]

2

Pontevedra > Monte da Groba
25 August [177.7 km/ 110.4 mi]

13

Valls > Castelldefels
6 September [169 km / 105 mi]

3

Vigo > Mirador de Lobeira
26 August [184.8 km / 114.8 mi]

14

Bagà > Coll de la Gallina (Andorra)
7 September [155.7 km / 96.7 mi km]

4

Lalín > Finisterra
27 August [189 km / 117 mi]

15

Andorra (Andorra) > Peyragudes (France)
8 September [224.9 km / 139.7 mi km]

5

Sober > Lago de Sanabria
28 August [174.3 km / 108.3 mi]

16

Graus > Formigal
9 September [146.8 km / 91.2 mi]

6

Guijuelo > Caceres
29 August [175 km/ 109 mi]

R

10 September - rest day

7

Almendralejo > Mairena del Aljarafe
30 August [205.9 km / 127.9 mi]

17

Calahorra > Burgos
11 September [189 km / 117 mi km]

8

Jerez de la Frontera > Alto de Peñas Blancas
31 August [166.6 km / 103.5 mi]

18

Burgos > Peña Cabarga
12 September [186.5 km / 115.9 mi]

9

Antequera > Valdepeñas de Jaén
1 September [163.7 km / 101.7 mi ]

19

an Vicente de la Barquera > Alto del Naranco
13 September [181 km / 112 mi]

10

Torredelcampo > Alto de Haza Llana
2 September [186.8 km / 116.1 mi]

20

Aviles > Alto de L'Angliru
14 September [ 142.2 km / 88.4 mi]

R

3 September - rest day

21

Leganes > Madrid
15 September [ 109.6 km / 68.1 mi]

11

Tarazona > Tarazona
4 September [38.8 km / 24.1 mi]
individual time trial
detailed itineraries of each day [pick from route dropdown menu]

Watching the Vuelta in Spain is very similar to watching the Tour in France. abelard.org has several pages giving general advice on how to be a effective road-side spectator.
watching on tv
Watch the Vuelta on Eurosport UK [schedule]. Eurosport provides between 1½ and 2½ hours broadcast every afternoon when there is racing.
ITV4 broadcasts a 60-minute highlights programme from each race day.
Steephill.tv provides information on many tv broadcasts for the Vuelta, from about halfway down the page.
la vuelta race teams
The 19 UCI World Tour teams have qualified automatically to race, and there are three wildcard teams that have been invited to participate/
Use the dropdown menu to go to current day's details



For route information
To navigate, use grey tabs a bit down the page:



For wider information, use the black tabs at the top of the page:



To look at the overall standings while a stage is taking place, click on the STANDINGS tab, then use the dropdown to go to the

previous stage

's standings:



While the current stage is taking place, there is an animation, updated every sixty seconds, in a separate smaller browser widow. It shows both breakaway and peleton dispositions, as well as where the day's race has reached on the stage's profile. At the bottom of the window are regularly updated, blog-type reports. This service is available during all of the day's stage, including prior to the TV broadcasts, which tend to start about half way through the day's stage.

Clicking on a rider's name will open a small note on the rider's overall position, and a few other details.



I love watching the little cyclists pedalling. They're even wearing an approximation of the different jerseys.

You reach the Vuelta Live display thus - HOME black tab (which, of course, turns red when clicked on),
then LIVE grey tab (which turns black!), then click on the link indicated by the small red arrow.

[If Adobe Flash Player 10.3.183.7 is not already installed on your computer, the Dinamic [sic.] Route Summary box will instruct you to install the necessary software.
This is a two-stage process: first, you download and save [best on the desktop] the small installer program,
then you run that installer program [click on the icon on your desktop]. The instructions provided in your browser are comprehensive, but you need to close the browser to effectuate the installation!]


a select dictionary
In Spanish, domestiques are called gregarios.
The hardest day's cycling is called la etapa reina.
An uphill time trial is el chrono-escalada.
Bonk in Spanish is pájara.
There is also a Vuelta climb known as Pajares between León and Ovedo.
A chuparruedas is a wheel sucker.
For much more on cycling tactics.

The following is an exceeding boring book, almost like reading a telephone directory. It has notes on all previous runnings of the Vuelta. But in among the addresses and telephone numbers, you will discover all manner of hints on cycling tactics, with interposed examples of dubious practice and cheating. You will also find snippets on the disturbed political background of Spain, from right back to the Civil War and the Franco regime and up until modern times, against which the Vuelta has been held, or not held.
Viva La Vuelta!: The Story of Spain's Great Bike Race
by Lucy Fallon and Adrian Bell (foreword by Sean Kelly)

£16.10 [amazon.co.uk]

Mousehold Press, pbk, 2005
ISBN-10: 1874739404
ISBN-13: 978-1874739401