"le tour 100: 100% french"
The century edition of the Tour de France will be held entirely within France itself, starting in Corsica, never previously visited by the TDF. Then the Tour visits or passes near many of the wonders of France. This Tour will also offer new challenges to the climbers in the peloton, as in other recent Grand Slam races. The touristic progress includes ten of France's many UNESCO world heritage sites.
This Tour also has a theme of water, with six stages by the sea: Porto-Vecchio, Nice, Cagnes-sur-mer, Marseille, Saint-Malo and Mont-Saint-Michel, and visits to the four major rivers of France: the Loire (1,010 km), the Seine (770 km), the Garonne (650 km) and the Rhône (522 km within France).
2013 tour de france route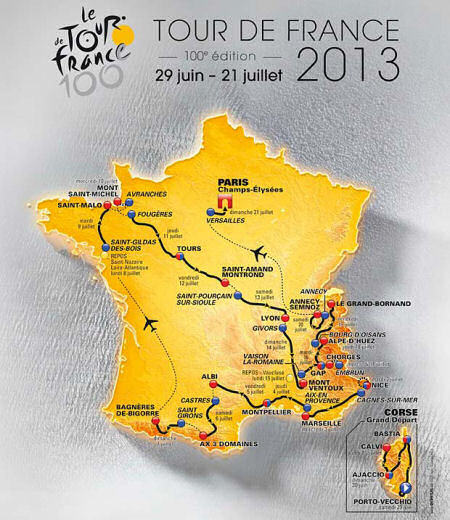 From Saturday 30 June to Sunday 22th July, 2013, the 100th Tour de France will be competed during 21 stages, over a distance of 3,360 kilometres.
There will be:
Seven flat stages
Five hilly stages
Six mountain stages with four summit finishes, three of which are in the Alps
Two individual time trial stages
One team time trial stage
Two rest days
There are ten towns not previously visited :
* Porto-Vecchio, Corsica, 2A (start of 1st stage)
* Bastia, Corsica, 2B (end of 1st stage and start of 2nd stage)
* Ajaccio, Corsica, 2A (end of 2nd stage and start of 3rd stage)
* Calvi, Corsica, 2B (end of 3rd stage)
* Cagnes-sur-Mer, Alpes-Maritimes, 06 (start of 5th stage)
* Saint-Gildas-des-Bois, Loire-Atlantique, 44 (start of 10th stage)
* Saint-Pourçain-sur-Sioule, Allier, 03 (start of 14th stage)
* Givors, Rhône, 69 (start of 15th stage)
* Chorges, Hautes-Alpes, 05 (end of 17th stage)
* Annecy-Semnoz, Haute-Savoie, 74 (end of 20th stage)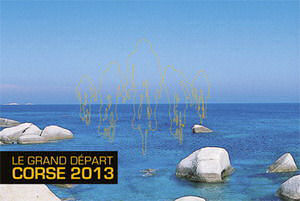 The 2013 Tour de France starts by spending three days in Corsica, visiting the main towns in both the northern département of Haute-Corse [2B] and the southern département of Corse-du-Sud [2A].
The first stage has a potential sprint finish, for the first time since 1996, which could enable Mark Cavendish to wear the yellow jersey from the first day of the Tour. Other stage finishes that favour sprinters are Marseille [stage 5], Montpellier [stage 6] and Saint-Malo [stage 11].
The fourth stage team time trial goes twice around the Côte d'Azur town of Nice.
world heritage tour around france

The centenary edition of the Tour de France will help show off some of France's most special cultural heritage. Here are some of the 'heritage' stages:
the stages for 2013
There will be 21 stages. These include 6 high mountain stages [Alps 3, Pyrenees 3], 4 medium mountain/hilly stages, as well as one team against-the-clock (stage 4) and two individual against-the-clock (stages 11 and 17) [contre-le-montre] time trials. There are 2 rest days (8th and 15th July). All other days are 'on the plain' - relatively flat days, almost touring through France. The total distance ridden will be about 3,360 kilometres, or roughly 2088 miles.
1
Corsica : Porto-Vecchio > Bastia
29 June [212 km]
12
Fougères > Tours
11 July [18 km]
2
Corsica : Bastia > Ajaccio
30 June [154 km]
13
Tours > Saint-Amand-Montrond
12 July [173 km]
3
Corsica : Ajaccio > Calvi
1 July [145 km]
14
Saint-Pourçain-sur-Sioule >Lyon
13 July [215 km]
4
Nice > Nice
2 July [25 km] Team time trial
15
Givors > Mont Ventoux
14 July [242 km]


summit finish

5
Cagnes-sur-Mer > Marseille
3 July [219 km]
R
rest day - Vaucluse
15 July
6
Aix-en-Provence > Montpellier
4 July [176 km]
16

Vaison-la-Romaine > Gap
16 July [168 km]

7
Montpellier > Albi
5 July [205 km]
17
Embrun > Chorges
17 July [197 km]
individual time-trial
8
Castres > Ax 3 Domaines
6 July [194 km]


summit finish

18
Gap > Alpe-d'Huez
18 July [168 km]


summit finish

9
Saint-Girons > Bagnères-de-Bigorre
7 July [165 km]
19
Bourg-d'Oisans > Le Grand-Bornand
19 July [204 km]
R
rest day - Saint-Nazaire - Loire-Atlantique
8 July
20
Annecy > Annecy - Semnoz
20 July [125 km]


summit finish

10
Saint-Gildas-des-Bois > Saint-Malo
9 10 July [193 km]
21
Versailles > Paris Champs-Élysées
21 July [118 km]
11
Avranches > Mont-Saint-Michel
10 July [33 km] Individual time trial
Detailed itineraries for the 2013 Tour de France stages
this year's t-shirts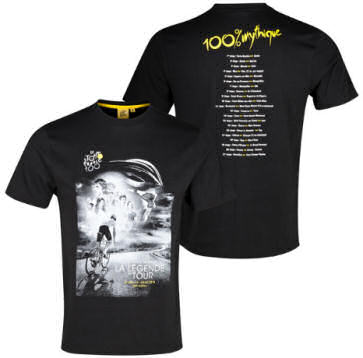 .
the Tour de France poster t-shirt : 20€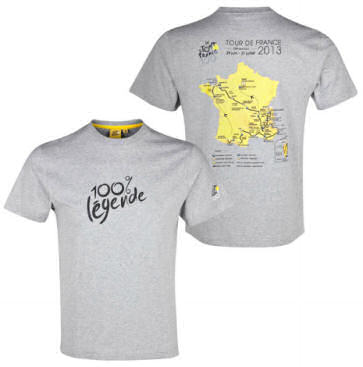 the Tour de France race route t-shirt : 20€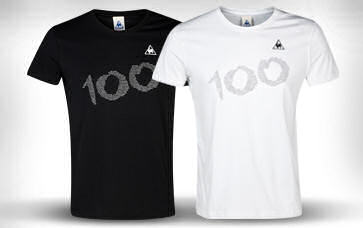 limited edition centenary t-shirts : 25€
the teams for 2013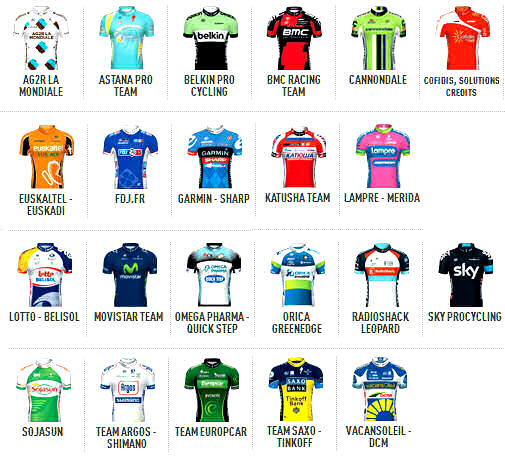 2013 TDF team jerseys - updated 29 June 2013
this year's top ten seeded riders
Name
UCI Team Code
Nat.
Comments
1
Alberto Contador
TST
ESP
31 y.o.Won the 2008 TDF, stripped of 2010 TDF and Giro 2011 titles for doping. Won 2012 Vuelta.
2
Chris Froome
SKY
GBR
28 y.o. 2nd in 2011 Vuelta, 2nd in 2012 TDF, bronze medal in 2012 Olympics time trial, 4th in 2012 Vuelta.
3

Bradley Wiggins


Winner of the 2012 Tour de France and gold medal winner in the 2012 London Olympics, Wiggins retired from the 2013 Giro d'Italia with a respiratory infection. He has since decided not to ride in this year's Tour de France because a knee injury has made sufficient training impossible. At least now he will not be second fiddle to Sky team-mate Chris Froome.
4
Cadel Evans
BMC
AUS
36 y.o.Winner 2011 TDF, 2nd in the 2007 and 2008 TDF.
5
Andy Schleck
RNT
LUX
28 y.o. 2nd in 2009 and 2011 TDF, awarded winner 2010 TDF after Contador was found guilty for doping.
Having abandoned 4 races last year and 2 this year, Schleck is earning the title of Champion Abandonner.
6
Ryder Hesjedal
GRM
CAN
33 y.o. Won 2012 Giro d'Italia
7
Tejay Van Garderen
BMC
USA
24 y.o. Best young cyclist (white jersey winner) and placed 5th in 2010 TDF, won 2013 Tour of California
8
Joaquim Rodriguez
KAT
ESP
34 y.o. 2nd in 2012 Giro d'Italia & winner points jersey, 3rd in 2012 Vuelta
9
Jurgen van den Broeck
LTB
BEL
30 y.o. 4th in 2010 & 2012 TDF; best climber in 2011 Dauphiné and 4th overall.
10
Pierre Rolland
EUC
FRA
27 y.o. Best young cyclist (white jersey winner) and placed 10th in 2011 TDF, 8th in 2012 TDF.
watch tdf broadcasts
Viewers in the United Kingdom can watch every stage on Eurosport and ITV4.
Some web sites want you to pre-register, and even pay. Here are a few of the more reputable sites that were available for the 2012 TDF. They may well be broadcasting again in 2013. Of course, until the TDF is actually running, we cannot verify any links provided.
terrestrial broadcasts

UK: ITV4 - full schedule of live broadcasts.

This is the first year that ITV have bought broadcasting rights.

EUROSPORT UK is providing daily live TV coverage, including HD, often with some commentary with Sean Kelly, ex-professional cyclist.

DAS ERSTE/ZDF (shared coverage)
FRANCE 2/FRANCE 3 (shared coverage)
RAI 3/RAI SPORT2

Canada: "TSN2 has exclusive Canadian coverage of cycling's most prestigious event, the Tour de France. The network is home to all 21 stages beginning Saturday at 8am et/5am pt live on TSN2."

live streaming through the Internet

To the left is the list for links provided by TDF links to numerous live streaming providers worldwide.

Probably all are only available in their country of origin. Further, many are unreliable, or require further clicks to reach the live/direct feed, are hard to navigate, or are difficult to go beyond the publicity, and require a subscription.

Eurosport is selling live steaming with their Eurosportplayer, with various, almost reasonable subscriptions.

The Tour de France web site also has a YouTube channel with videos of stages to come and other short videos.
last year (2012): the first ten riders
Pos.
N°
Name
First name
Team
Nat.
Time diff.
1
101
WIGGINS
Bradley
SKY
GBR
87h 34' 47''
2
105
FROOME
Chris
SKY
GBR
+ 03' 21''
3
51
NIBALI
Vincenzo
LIQ
ITA
+ 06' 19''
4
111
VAN DEN BROECK
Jurgen
LTB
GER
+ 10' 15''
5
9
VAN GARDEREN
Tejay
BMC
USA
+ 11' 04''
6
19
ZUBELDIA
Haimar
RNT
ESP
+ 15' 41''
7
1
EVANS
Cadel
BMC
AUS
+ 15' 49''
8
29
ROLLAND
Pierre
EUC
FRA
+ 16' 26''
9
181
BRAJKOVIC
Janez
AST
SLO
+ 16' 33''
10
146
PINOT
Thibaut
FDJ
FRA
+ 17' 17''
Overall
winner
WIGGINS Bradley
101
SKY
GBR
87h 34' 47"
(Yellow Jersey)
By points
SAGAN Peter
57
LIQ
SVK
421 pts
(Green Jersey)

C

li

m

b

er

VOECKLER Thomas
21
EUC
FRA
135 pts
(Polka dot Jersey)
Under 25
VAN Garderen Tejay
9
BMC
USA
87h 45' 51"
(White Jersey)
Combativity
SORENSEN Chris Anker
178
SAX
DEN
88h 00' 14"
Team
winner
RADIOSHACK-NISSAN
NLD
263h 12' 14"
the mountain stages
[Quotes from Christian Prudhomme, Tour de France directeur]
Stage 8: "The climb towards the Pailhères pass, one of the most formidable in the Pyrenees, will signal the start of the big moves by the star riders. The descent into Ax-les-Thermes, followed by the climb to the Ax 3 Domaines ski resort, will present an opportunity to shake up the hierarchy."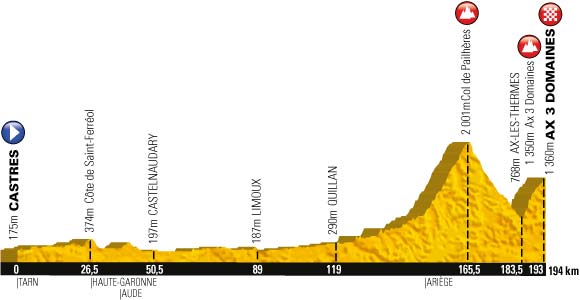 Stage 9: "This is where those attacking riders who are at home at high altitude will get the chance to combine showmanship with efficiency. Five climbs figure in the day's programme."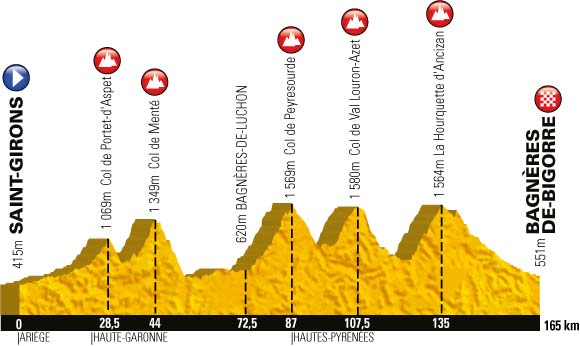 Stage 15: For Bastille Day, the French National day, up Mont Ventoux, the giant of Provence. with a 7,5% gradient during 20.8 km. This may be a key event of this Tour.
"... a day of contrasts. The initial stretch of this stage will be contested on the flat, where riders will need to pace themselves. This will be a determining factor in the final to be fought out on the formidable slopes of Mont Ventoux."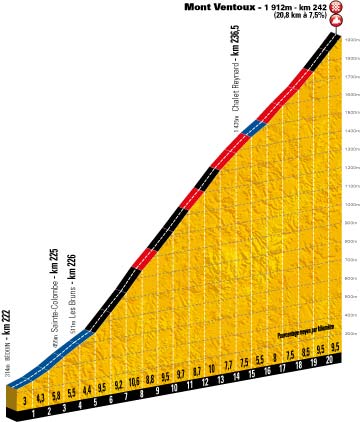 Stage 18: riders will make a double ascent of the 21 hairpins on the Alpe d'Huez. The first passage at the top of Alpe-d'Huez 1 will take place 50 kilometres before the finish at Alpe-d'Huez 2. This has been made possible by an upgrade of a second road between the Alpe and the Col de Sarenne.
"This will, without doubt, be a long awaited and memorable day in the 100th edition of the Tour."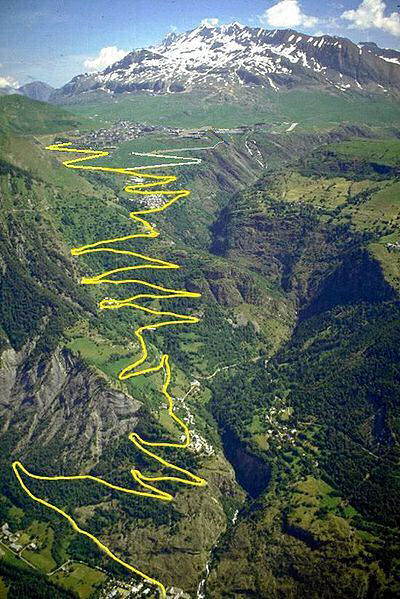 Alpe d'Huez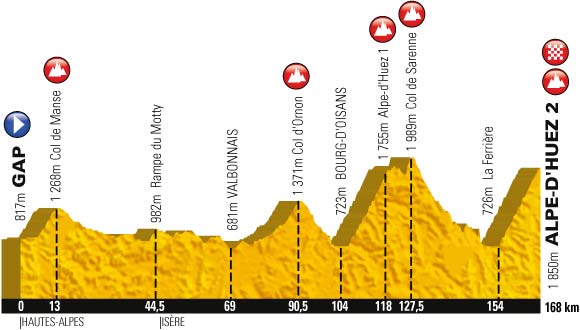 Stage 19: The second alpine stage.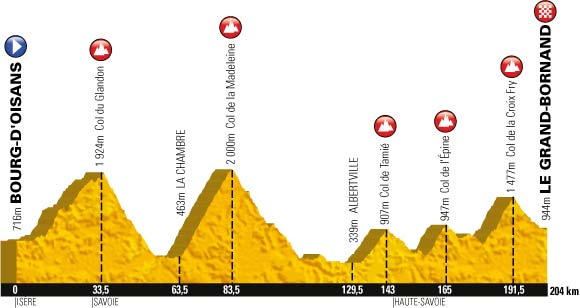 Stage 20: "The unprecedented finish in Semnoz involves climbs which are sharp enough to cause a last minute upset." That final climb up Mont Semnoz is some seven miles long and extremely steep, with lengthy passages at over one-in-eight.
Some reference keywords/tags:

Le Tour de France,cycle race,colors,Mark Cavendish,Bradley Wiggins,contre-le-montre,par equipe,watching the Tour de France,record,le Tour de France 2013,cycling,exclusive photo,photograph,picture,étape,centenary,