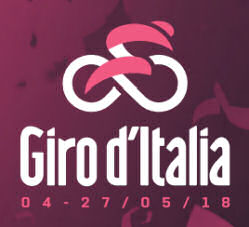 (to Giro d'Italia web site)
cycling tactics


The Tour de France 2017, Russian mountains on steroids!

Final results
CAN Ryder Hesjedal GRM 91:39:02
ESP Joaquim Rodríguez KAT at 13
BEL Thomas De Gendt VCD at 1:39
ITA Michele Scarponi RAB at 2:05
ITA Ivan Basso LIQ at 3:44
ITA Damiano Cunego LAM at 4:40
COL Rigoberto Urán SKY at 5:57
ITA Domenico Pozzovivo COG at 6:28
COL Sergio Henao KAT at 5:20
ESP Mikel Nieve EUS 8:08
For more result details, go to the official web site.
The Giro d'Italia, the Tour of Italy, is the first major tour in the annual cycle of international cycle races. In 2012, the Corsa Rosa (Pink race) takes place from the 5th to 29th May, starting with three days in Denmark.
Watching the Giro in Italy is very similar to watching the Tour in France. abelard.org has several pages giving general advice on how to be a effective road-side spectator.
The online version of the Giro d'Italia brochure [40-page .pdf] gives information about the intended broadcasters for the 2012 Giro. Page 19 provides urls for internet broadcasters, while page 20 shows terrestrial broadcast regions on a world map.
This web site is created by La Gazzetta dello Sport, an Italian sports newspaper, that has been the organisers of Le Giro cycle race since 1909.
As with the Tour de France web site, you must look at the Classification tab under the previous day for the current race rankings:

the italian giro

3:13 mins
This year, the Giro d'Italia starts in Denmark with an individual time trial and two flat stages.
Unlike the Tour de France, which struggles to include a team time trial - there will not be any in the 2012 edition of the TDF - the 2012 Giro will start with a team time-trial, a display of speed, colour and technique. Being considerably longer than last year's team trial - 32.2km as opposed to 19.3km for the 2011 Giro - long gaps could well appear as smaller teams find it difficult to maintain time gaps. Last time, the smaller teams lost from 45secs to 1 minute 13 secs in 19km.
Mindful of last year's criticisms that back-to-back demanding high mountain stages were interspersed with long, tiring transfers, this year gives the appearance of being much better designed with fewer arduous transfers and climbs being spaced by rest days and flat stages.
Many renowned peaks will be visited, the last week being a steady itinerary of peaks except the relieving flat 18th stage. Stage 17 finished at the summit of Passo Giau, while stage 19 finishes at the peak of Alpe di Pampeago.
The most gruelling climb comes on the 20th stage when the riders cross the Mortirolo at 1,718 m with its 22% sections and being unpaved for 3 km, before finishing on the summit of Stelvio at 2,757 m, the highest ever summit finish in a grand tour race.
advertising disclaimer
champions NEVER die
The scenery in this year's Giro poster commemorates two cyclists who are now always associated with the race. One is the four-time winner, Fausto Coppi. The other is Wouter Weylandt (Leopard Trek) who died after crashing during a descent on Stage 3 (Reggio Emilia > Rapallo) of the 2011 Giro.
Fausto Coppi, a legendary Italian rider, known as il campionissimo, is remembered each year by naming the highest point of each year's race as the Cima Coppi (Coppi summit).
In 2011, the Cima Coppi was the Passo di Giau near Cortina d'Ampezzo in the Dolomites, location shown in the 2012 poster photograph. The 2012 Cima Coppi will be the 2757 metre Passo dello Stelvio at the end of the 20th stage.
The words Coppi è sempre presente—Coppi is always here—are painted on the road tarmac, together with Weylandt's initials and his race number, 108. The road painting ends with Campioni non muiono MAI—champions NEVER die.
Wouter Weylandt has Stage 3 (Horsens > Horsens) the 2012 race dedicated to him. This reflects not only the stage number where he died last May, but also the 2010 stage where Weylandt took his second Grand Tour win, when the Giro visited Middelburg in the Netherlands. Weylandt had also won a stage of the 2008 Vuelta. His race number, 108, has been retired permanently from the Giro.
this year's stages
21 stages are planned , with four high mountain stages including three with a summit finish, seven medium mountain stages including three with a summit finish, two individual time trials (stages 4 and 21), and a team time trial (stage 1). There will be two rest days. All other days are flat stages. The total distance ridden will be 3,476.4 km, kilometres, or roughly 2,160 miles.
1
Herning > Herning, Denmark (team time-trial)
5 May [8.7 km]
12
Seravezza > Sestri Levante,
17 May [157 km]
2
Herning > Herning, Denmark
6 May [206 km]
13
Savona > Cervere,
18 May [121 km]
3
Horsens > Horsens, Denmark
7 May [190 km]
14
Cherasco > Cervinia,
19 May [205 km]
summit finish - 2001 m
R
8 May - rest day

15
Busto Arsizio – Lecco/Pian dei Resinelli,
20 May [172 km]
summit finish - 1280 m
4
Verona > Verona (individual time-trial)
9 May [32.2 km]
R
21 May - rest day

5
Modena > Fano
10 May [199 km]
16

Limone sul Garda > Falzes/Pfalzen,
22 May [174 km]
summit finish -

6
Urbino >Porto Sant'Elphidio
11 May [207 km]
17
Falzes/Pfalzen > Cortina d'Ampezzo,
23 May [187 km]
7
Recanati > Rocca di Cambio,
12 May [202 km]
summit finish - 1392 m
18
San Vito di Cadore > Vedelago,
24 May [139 km]
8
Sulmona > Lago Laceno,
13 May [229 km]
19
Treviso > Alpe di Pampeago,
25 May [197 km]
summit finish - 1740 m
9
San Giorgio nel Sannio > Frosinone,
14 May [171 km]
20
Caldes/Val di Sole > Passo dello Stelvio,
26 May [218 km]
summit finish - 2757 m
10
Civitavecchia > Assisi,
15 May [187 km]
summit finish - 498 m
21
Milano > Milano (individual time-trial)
27 May [ 31.5 km]
11
Assisi > Montecatini Terme,
16 May [243 km]
the teams
LAM: LAMPRE – ISD, ITA
ALM: AG2R LA MONDIALE, FRA
AND: ANDRONI GIOCATTOLI – VENEZUELA, ITA
AST: ASTANA PRO TEAM, KAZ
BMC: BMC RACING TEAM, USA
COG: COLNAGO - CSF INOX, IRL
EUS: EUSKALTEL – EUSKADI, ESP
FAR: FARNESE VINI - SELLE ITALIA, GBR
FDJ: FDJ – BIGMAT, FRA
GRM: GARMIN – BARRACUDA, USA
OGE: ORICA – GREENEDGE, AUS
KAT: KATUSHA TEAM, RUS
LIQ: LIQUIGAS – CANNONDALE, ITA
LTB: LOTTO BELISOL TEAM, BEL
MOV: MOVISTAR TEAM, ESP
APP: TEAM NETAPP, GER
SAX: TEAM SAXO BANK, DEN
VCD: VACANSOLEIL - DCM PRO C.TEAM, NED
198 riders.
winner of the 2011 giro
Update, 5 February 2012: Alberto Contadador has been found guilty of doping during the 2010 Tour de France by the Court of Arbitration in Sport (CAS). He has been stripped of his 2010 TDF title, as well as his 2011 Giro title (Michele Scarponi is now the winner of the 2011 Giro). The winner of the 2010 Tour de France is now Andy Schleck, while Menchov is now second and Sanchez is third.
The two-year ban ends on 5th August 2012, after both the 2012 TDF and the Olympics in London. Contador will be able to ride in the 2012 Vuelta in September.
Contador tested positive for 50 picograms per millilitre of clenbuterol, a performance enhancing drug. This is an amount 40 times below the minimum detection capability requirement stated by WADA [World Antidoping Agency].
Contador says that he had eaten a steak imported from Spain that was comtaminated. Although banned as a protein enhancer of livestock, farmers are known to ignore the ban.
"Clenbuterol does not occur naturally in the human body but has become the most controversial performance enhancing drug of them all. It does appear with some regularity in the food chain in contaminated meat because farmers feed it to their livestock to promote high protein and commercially more valuable meat.

"As a result it can be ingested innocently and unknowingly and amid the general confusion various sports have been treating it differently.

"Football in the form of FIBA, in two high profile cases in Mexico last year, has chosen to ignore clenbuterol altogether while in January 2011, the German Table-tennis Federation acquitted Dimitrij Ovtcharov and, although WADA initially announced it would appeal, it ultimately failed to do so and accepted the food contamination defence of the athlete.

"Similar clenbuterol cases of athletes testing positive for clenbuterol and being cleared on the grounds that it was accidentally ingested include Alessandro Colo (Italian cyclist), Dimitrij Ovtcharov (German table-tennis player), Li Fuyu (Chinese cyclist), Lainer Bueno (Major league baseball player) and most recently Phillip Nielsen (Danish cyclist)."
[Quoted from telegraph.co.uk]
3 February 2012: Seven-time Tour de France champion Lance Armstrong is cleared of all charges as Federal prosecutors announce that they have closed their case against him. Thus Armstrong is cleared of all the various accusations of doping made against him.