the greatest athelete in the world, as retirement beckons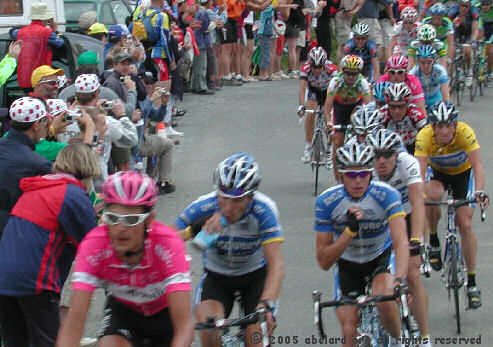 Kloden, Armstrong, Basso, Ullrich and others power up the Col de Soulor.
[Hover for cyclists's names. Image links to larger photo.]
Lance Armstrong, in the Yellow Jersey, nearing the top of the Col de Soulor, the last peak of the last really serious climbing day [16th stage] of the 2005 Tour de France.
Yet again, no contender can break Armstrong's steely grip on his seventh Tour. It will take a bad mishap, or a near-miracle, to stop Armstrong going out with yet another record Tour win.
In the photograph above, you can see Lance's dominant determination, while the Spotty Jersey of Michael Rasmussen [Rabobank], pink-clad Jan Ullrich [T-Mobil] and Ivan Basso [Team CSC] trail. Andreas Kloden, the other T-Mobil team member, here in front, has since withdrawn from the race. Armstrong is led over the top by his Discovery Channel teammates. To quote Lance Armstrong, "There are no presents in the Tour".
The huge improvement this year is Rasmussen, who has moved from 14th last year to third this year. Basso, one of the very few to keep anywhere Armstrong last year, finishing 6:40 [6 minutes 40 seconds] down at third, is now running in second place, only 2:46 down. However, there is still a time trial to come on Saturday, the penultimate day, where the form book indicates Armstrong can extend his lead further.
the roller-coaster of this first week - 2005
Zabriskie won the yellow jersey in an impressive individual against-the-clock [atc] on the first day. Lance Armstrong was second, at two seconds, while Jan Ullrich, the perennial second in the Tour, came in 11th.
Lance's new team, Discovery Channel [DSC], was first in the team against-the-clock. Zabriskie fell heavily 1300 m from the end, so was not listed with his team time. From 1000 m, Zabriskie would have received the team time, thus he lost the yellow jersey to Lance Armstrong. Zabriskie's team, Team CSC, came in second, two seconds behind the DSC team.
Lance started the day after Zabriskie's fall in team colours, not having won the Yellow by racing. However, the organisers said, "Put on the yellow jersey or you're out of the Tour". Lance wore the yellow jersey.
There were nasty crashes on several days. Mengin, who was ahead for almost all one stage, crashed and skidded into a barrier shortly before the end of that stage. Other sprinters fell similarly and skidded into him. Mengin withdrew from the race two days later. Zabriskie, after several days of suffering, has also withdrawn.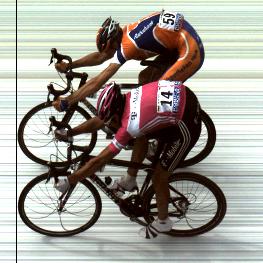 photo finish on the 8th stage. Image credit: Le Tour de France
On Saturday 9th, there was a finish with separation of 0.0002 of a second , a difference not visible to the naked eye, after a stage of 231.5 km. The separation was only detected by sensors that are on every bicycle.
Sunday, Lance Armstrong lost the yellow jersey after a breakaway of 167 km where Rasmassen won 56 climbing points, with Jan Voigt coming in second. Voigt, previously second overall, now has the Yellow. Voigt now leads the Tour, with Christophe Moreau 1m 50s behind. Armstrong has slipped into third place overall, 2m 18s behind the leader.
Monday the 11th is a rest day before two days of major climbs in the Alps.

here we go again - the greatest show on earth starts tomorrow!
from Saturday, 2nd July, for three glorious weeks!
" Since the Tour de France began in 1903, just six men have won it at the age of 33 or beyond. Armstrong will turn 34 in September."
—
""I was nervous last year because I was up against a demon" in going for a sixth victory. "Now I'm not chasing history, I'm not chasing the legend, I'm not chasing the record. I'm just here to have a nice time and try to win again." [Quoted from newyorktimes.com]
le Tour links of various quality to TV coverage from several countries
For much more, start just below

This year's Tour de France starts on Saturday 2nd July, and after doing a grueling but scenic tour of France, it finishes at the Champs-Élysées, Paris on Sunday 24th July.
There are 21 stages, of which seven are classified as mountain stages (Alsace 1, Alps 3, Pyrenées 3) and three are against-the-clock [contre-le-montre] trials.
1
Fromentine/Noirmoutier
2 July
12
Briançon/Digne-les-Bains
14 July
2
Challans/Les Essarts
3 July
13
Miramas/Montpellier
15 July
3
La Châtaigneraie/Tours
4 July
14
Agde/Ax-3 Domaines
16 July
4
Tours/Blois [team]
5 July
15
Lézat-sur-Lèze/St-Lary Soulan
17 July
5
Chambard/Montargis
6 July
rest day
18 July
6
Troyes/Nancy
7 July
16
Morenx/Pau
19 July
7
Lunéville/Karlsruhe
8 July
17
Pau/Revel
20 July
8
Pforzheim/Gérardmer
9 July
18
Albi/Mende
21 July
9
Gérardmer/Mulhouse
10 July
19
Issoire/Le Puy-en-Velay
22 July
rest day -
11 July
20
Saint-Etienne/Saint-Etienne
23 July
10
Grenoble/Courchevel
12 July
21
Corbeil-Essonnes/Paris - Champs-Élysées
24 July
11
Courchevel/Briançon
13 July
This year, there are 21 teams, with ten participating riders in each. The number for the lead rider in each team ends in -1, that is 1, 11, 21, 31 etc.
The teams are:
AG2R Prévoyance
Bouygues Télécom
Confidis
Crédit Agricole
Team CSC
Davitamon-Lotto
Discovery Channel
Domina Vacanze
Euskaltel-Euskadi
Fassa Bortolo
Française des Jeux
Gerolsteiner
Îles Baléares - Caisse d'épargne
Lampre-Caffita
Liberty Seguros Team
Liquigas-Bianchi
Phonak
Quickstep
Rabobank
Saunier Duval-Prodier
T-Mobile Team
There will be 110 hours of live broadcasting on France 2 and France 3.
Lance Armstrong, last year's winner for a record sixth time, is cycling in the new Discovery Channel Team. [US Postal is no longer sponsoring a team for the Tour de France.]
Will Lance Armstrong be going for a 7th yellow jersey, or will he just be on the Tour for a victory ride of honour? Lance has said that he intends to retire at the end of the 2005 season.
Le Tour 2: preparing to watch the Tour

the 2004 Tour
With a month to go before the start of the 2004 version of the Greatest Show on Earth on 3rd July, we prepare the ground.
This year, there will be two highlights:
watching to see whether 33 year-old Lance Armstrong can achieve the so-far impossible feat of six Tour wins and of six consecutive Tour wins (and for Jan Ullrich, six second places)
an individual against-the-clock stage up the Alpe-d'Huez on the 21st July. The race starts at 720 metres and will end at 1850 metres, that is an upwards climb of 1130 metres in 15.5 kilometres with 21 zigzags, all done in about forty minutes. This year, the stage commemorates Marco Pantini who died in on 14th February 2004, the last Italian winner of the Tour de France and fastest ever climber of this stage: 37 minutes 35 seconds.
For those who like numbers, the 2004 Tour of 189 competitors in 21 teams, will travel 2,143 miles (3,429 km) through France, reaching the Champs-Elysées in Paris on the 25th July,
Some history
The first Tour de France took place in 1903, with a first stage from Montgeron to Lyon, lasting an overwhelming 467 kilometres. There were six stages. The first Tour was 2,428 kilometers long and the prize was 6,075 francs.
Looking back to 2003: drama all the way
2003: the end of beloki, and armstrong goes cross-country
"The Texan, trying to win a fifth successive Tour, was forced to ride his bike into a field to avoid a horrific crash four kilometres from the finish of stage nine from Bourg d'Oisans to Gap. The faller, last year's runner-up Joseba Beloki, was in hospital last night with a broken right leg, elbow and wrist."
From a New York Times report, 2003
"In a quiet day today, the leaders maintained their positions (as expected) as they headed into Marseilles. Tomorrow is a rest day, then a day of routine, next comes the individual time trial, and after that .... back into the mountains.

"The real event of today's stage was typically French. A sit-down demonstration in front of the main peleton [pack of riders] in protest of the jailing of José Bové, the destroyer of GM crops and a MacDonald's outlet. The Tour may be the greatest sporting event in the world, but the everyday sport of France is strikes and street politics. Still they only stopped the Tour for 1 minute 10 seconds, honour was satisfied and the parade moves on."
the great armstrong—legstrong would be better
Once more, Armstrong crushed rivals on the renowned Luz-Ardiden climb to move to a strong position in the 2003 Tour.
Armstrong is having one eventful Tour. If he can win this one, he will join four other Tour greats with five wins, and maybe he still has the strength to go beyond that.
Each day, the French commentators bite their nails and eat their hearts out, desparately seeking weaknesses in the prodigious American who has stolen 'their' Tour for the last four years. Their voices rise in pitch as they exaggerate every two-yard gap and minimise Armstrong's dominance; as every day, he yet again pulls on the yellow jersey, to their obvious disappointment and seemingly interminable chagrin. Will this American never break and go back to that distant land across the ocean?
For two heavy days, Armstrong has been stalking the strong German, Ullrich, now his only major remaining rival, while knowing that Ullrich has a tendency to crack under the pressure of the important climbs. Today was the point to strike and, once more, Armstrong was up to the task, tearing 40 priceless seconds from Ullrich, with an added 20-second bonus for winning the stage.
These two left Vinokourov, probably out of range for the time-trial next Saturday, to look forward to three more heavy days on the road. Saturday will be the day when Ullrich can hope to use his strength to snatch the Tour from Armstrong.
Ullrich is the stronger, but Armstrong is the outstanding climber.
Through Basqueland, the roads are lined with the bright orange of the newly competitive, Basque clockwork orange [naraja mecanica] team, Euskaltel-Euskadi.
As the riders started up the Luz, Armstrong, and the strong contender Mayo of Euskaltel, were brought down when Armstrong's brake handle caught in a bag being waved by a young spectator (the fans crowd in on the riders as they climb), but Armstrong blamed himself for being too close!
Having climbed back aboard complete with battle-scarred arm, while Ullrich slowed to let him catch up (standard Tour chivalry), Armstrong's gear caught (probably maladjusted by the fall) and he nearly went down again. But, from then forward, Armstrong went up the 10%-plus slope like a cat with its tail on fire, destroying all competition.
Tomorrow is a day of rest, which should help Ullrich to recover before the last seriously heavy climbs between Pau and Bayonne. Pau-Bayonne is where Armstrong would doubtless yearn to cut some more slack between himself and Ullrich. But there is a long run-in after the two class-one climbs, so it is near certain that Armstrong will have to rely on keeping the time gap between him and Ullrich down to less than a minute on Saturday's time-trial. The gap is 1 minute 7 seconds and there is a dangerous 15-second bonus for first, an ambition well within Ullrich's capacity.
2003 was one of the most eventful and closely fought Tours for years.
and now comes the moment of truth for armstrong
"And now he's trying to do what one man, Miguel Indurain of Spain, has ever done before -- win five consecutive Tours.

"It's a moment that will live for as long as people care about competition and achievement. Either Armstrong, working without his best stuff, does what only one man has done before, or Ullrich dethrones one of the greatest of all champions.

"Usually, you have to go to the movies to see such moments. Saturday, you can see it in real life."
Of course, gentle reader, you know what happened – Lance Armstrong won the Tour de France for the fifth time.
This year we will watch with wonder to see whether this mighty athelete can do the as-yet unachieved, a sixth straight win.