the stages for 2016
[Note: blue links go to profile section on this page,
yellow links go to associated pages at abelard.org]
1

Mont-Saint-Michel > Utah Beach Sainte-Marie-du-Mont
Sat. 2 July [188 km / 117 mi]

12

Montpellier > Mont Ventoux


Thurs.

14 July [185 km / 115 mi]
summit finish - 1912 m, 5.7 km at 8.8%
2
Saint-Lô > Cherbourg-en-Cotentin
Sun. 3 July [182 km / 113 mi]
uphill finish - 1.9 km at 6.5%

13

Bourg-Saint-Andéol > La Caverne du Pont-d'Arc
Fri. 15 July [37 km / 23 mi]
individual time-trial
uphill finish - 2.3 km at 4.9%

3

Granville > Angers
Mon. 4 July [222 km / 138 mi]
slight uphill finish

14

Montélimar > Villars-les-Dombes Parc des Oiseaux
Sat. 16 July [208 km / 129 mi]

4

Saumur > Limoges
Tues. 5 July [232 km / 144 mi]

15

Bourg-en-Bresse > Culoz
Sun. 17 July [159 km / 98 mi]

5

Limoges > Le Lioran
Wed. 6 July [216 km / 134 mi]

16

France :

Moirans-en-Montagne >

Switzerland

: Berne
Mon. 18 July [206 km / 128 mi]


6

Thurs. 7 July [187 km]

R

rest day - Berne, Switzerland
Tues. 19 July

7

L'Isle-Jourdain > Lac de Payolle
Fri. 8 July [162 km / 101 mi]
slight uphill finish

17

Switzerland

: Berne > Finhaut-Emosson
Wed. 20 July [184 km]
summit finish -1960 m, 10.4km at 8.4%

8

Pau > Bagnères-de-Luchon
Sat. 9 July [183 km / 114 mi

18

France :

Sallanches > Megève
Thurs. 21 July [17 km / 11 mi]
uphill individual time-trial

9

Spain

: Vielha Val d'Aran >

Andorra :

Andorre Arcalis
Sun. 10 July [184 km / 114 mi]
summit finish - 2240 m, 10.1km at 7.2%

19

Albertville > Saint-Gervais Mont Blanc
Fri. 22 July [146 km / 91 mi]
summit finish - 1372 m, 9.8 km at 8%

R

rest day - Andorra
Mon. 11 July

20

Megève > Morzine
Sat. 23 July [146 km / 91 mi]

10

Andorra :

Escaldes-Engordany > Revel
Tues. 12 July [198 km / 123 mi]

21

Chantilly > Paris Champs-Élysées
Sun. 24 July [113 km / 70 mi]

11

France :

Carcassonne > Montpellier
Wed. 13 July [164 km / 102 mi]
There will be 21 stages. These include 8 high mountain stages [ French, Andorran, and Spanish Pyrenees x 2, Mont Ventoux, French and Swiss Alps x 5], 6 medium mountain/hilly stages, and two individual against-the-clock (stages 13 and 18) [contre-le-montre] time trial. There are 2 rest days (11th and 19th July). All other days are 'on the plain' - relatively flat days, almost touring through some of France. The total distance ridden will be about 3,519 kilometres, or roughly 2,200 miles.
this year's t-shirts
In line with fashion's current drive to play safe, the souvenir t-shirts for this year are without imagination or gaiety. Here's the best of the bunch.
This year, as well as the usual TDF logo t-shirts, you can choose from t-shirts for men, in manly summer grunge. These are the most presentable:
| | |
| --- | --- |
| | |
| Grand Départ t- shirt : 22€ | Grand Départ t-shirt : 25€ |
The ladies' t-shirts are of similar ilk, except this one:.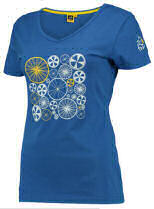 .
Ladies' t- shirt : 22€
the teams for 2016
There are twenty-two teams taking part in the 2016 Tour de France. As well as the eighteen "ProTeams", UCI World Teams, invitations have been extended to four 'wildcard' teams:
Bora-Argon 18 (Ger)
Cofidis (Fra)
Direct Energie (Fra)
Fortuneo-Vital Concept (Fra)
team jerseys/colours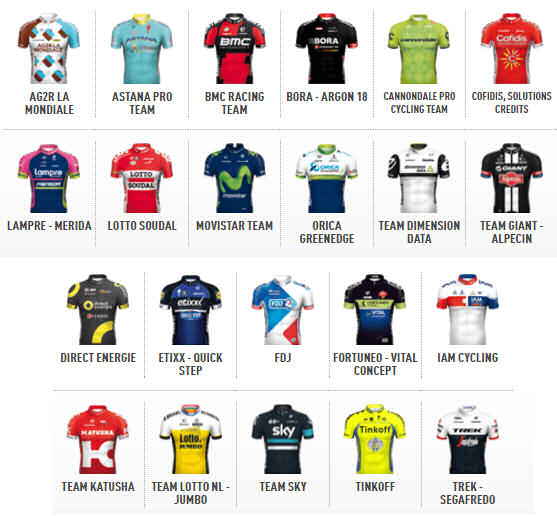 2016 TDF team jerseys
this year's top ten seeded riders
After the recent Critérium du Dauphiné, Froome is still strengthening, while Contador is not keeping up; Who else might challenge Froome?
Name
UCI Team Code
Nat.
Comments
1
Chris FROOME
SKY
GBR

30 y.o. Winner of 2015 and 2013 TDFs, 2nd in 2012 TDF, bronze medal in 2012 Olympics time trial, 4th in 2012 Vuelta. His 1m 83/6ft 2 ins contributes to being a strong climber and time-trialer.

2
Alberto CONTADOR
TST
ESP
33 y.o. Won 2012 Vuelta. Stripped of 2010 TDF and 2011 Giro titles for doping.
Refusing to admit his glory days are over, Contador persists.
3
Nairo QUINTANA
MOV
COL
26 y.o. Winner 2014 Giro and best young rider (White Jersey). Runner up to Froome in 2013 TDF, his slight build makes Quintana a natural climber.
4
Thibaut PINOT
FDJ
FRA
10th in his first TDF in 2012, winner on l'Alpe-d'Huez in 2015,but a good rouleur, Pinot is looking to the Yellow Jersey this year.
5
Fabio ARU
AST
ITA
Winner 2015 Vuelta and 2nd in 2015 Giro, and having demonstrated his power as a climber, this will be Aru's first participation in the TDF.
6
Tejay VAN GARDEREN
BMC
USA
25 y.o. Winner of 2013 Tour of California and 2013 USA Pro Cycling Challenge. 5th in 2012 TDF and best young rider (White Jersey).
7
Romain BARDET
ALM
FRA
24 y.o. 15th, 6th and 9th in his first three TDF, as well as best young rider in 2014 Tour of Oman, 1st in 2014 La Drôme Classic, 5th in 2014 Critérium du Dauphiné.
8
Bauke MOLLEMA
BEL
NED
27 y.o. 6th in 2013 TDF, 3rd in 2014 Tour of Norway.
A puncheur who should be suited to the TDF climbing programme.
9
Alexandro VALVERDE
MOV
ESP
34 y.o. 8th in 2013 TDF, 3rd in 2013 Vuelta, Returned to racing in 2012 after 2-year suspension for doping.
10
Pierre ROLLAND
CPT
FRA
Since 2011, Rolland usually comes in at about 10th in the TDF, but his win on l'Alpe-d'Huez last year demonstrates his climbing potential.
last year (2015): the first ten riders
Pos.
N°
Name
First name
Team
Nat.
Time diff.
1
1
FROOME
Chris
SKY
GBR
83h 56' 40''
2
128
QUINTANA ROJAS
Nairo Alexande
MOV
COL
+ 04' 20''
3
101
RODRIGUEZ OLIVER
Joaquin
KAT
ESP
+ 05' 04''
4
91
CONTADOR
Alberto
TST
ESP
+ 06' 27''
5
94
KREUZIGER
Roman
TST
CZE
+ 07' 27''
6
164
MOLLEMA
Bauke
BEL
NED
+ 15' 41''
7
63
FUGLSANG
Jakob
AST
DEN
+ 12' 17''
8
121
VALVERDE
Alejandro
MOV
ESP
+ 15' 26''
9
139
NAVARRO
Daniel
COF
ESP
+ 15' 52''
10
178
TALANSKY
Andrew
GRM
USA
+ 17' 39''

Overall winner

FROOME Christopher
1
SKY
GBR
83h 56' 40''
(Yellow Jersey)

By points

SAGAN Peter
57
CAN
SVK
409 pts
(Green Jersey)

C

li

m

b

er

QUINTANA ROJAS Nairo Alexande

128
MOV
COL
147 pts
(Polka dot Jersey)
Under 25

QUINTANA ROJAS Nairo Alexande

128
MOV
COL
84h 01' 00''
(White Jersey)

Combativity

RIBLON Christophe

178
ALM
FRA
88h 00' 14"
Team winner

TEAM SAXO-TINKOFF

DEN
251h 11' 07''
mountain stages, uphill and summit finishes
abelard

comments :

This year's Tour appears to have even more mountains than usual.
I am glad to see that there are several uphill finishes. These offer the opportunity to put sprinters and climbers on a more equal footing (pedalling).
Stage 2, 3rd July - final 4.5 km to Cherbourg Octeville
The final 3.5 km climb gives a flavour of climbs and stage finishes to come.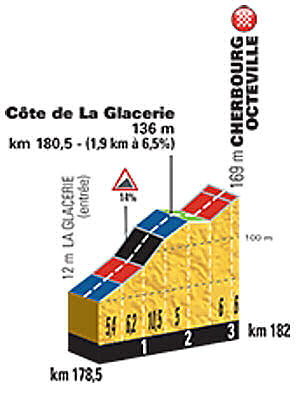 Stage 2 final 4.5 km
Stage 5, 6th July - final 36 km to Le Lioran
A stage for climbers and good descenders, with another sharp, little uphill finish of 3.3 km at 5.8%.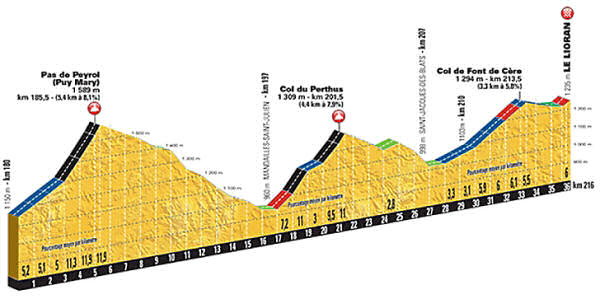 Stage 5 final 36 km
Stage 7, 8th July - final 19 km to Lac Payolle
This stage builds up to the category 1 climb to Col d'Aspin, that is followed by 25 km of technical descent, and then another short, uphill finish.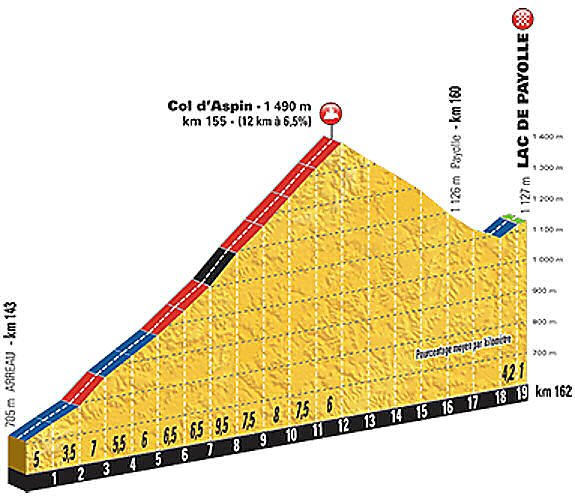 Stage 7 final 19 km
Stage 8, 9th July - Pau > Bagnères-de-Luchon
A challenging day with two category 1 climbs and the formidable Hors catégorie climb of the Col de Tourmalet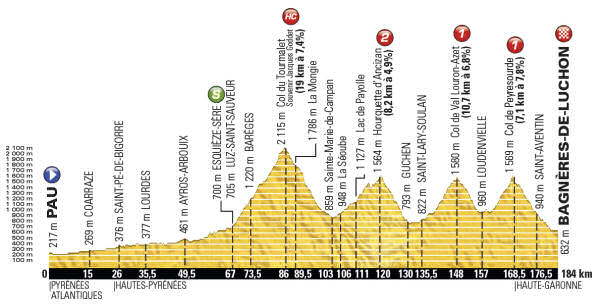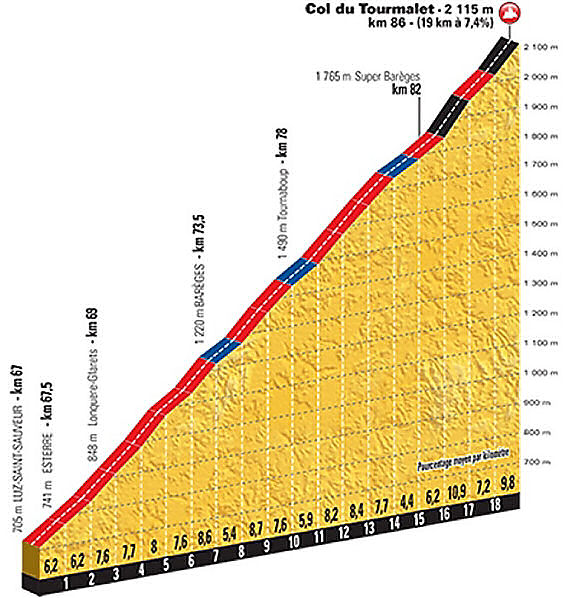 Col du Tourmalet - 19 km at 7.4%
| | |
| --- | --- |
| | |
| Col deVal Louron-Azet - 10.7 km at 6.8% | Col de Peyresourde - 7.1 km at 7.8% |
Stage 9, 10th July - Spain : Vielha Val d'Aran > Andorra : Andorre Arcalis
A demanding day with five climbs, divided between Spain and Andorra. In the last 50 kilometres, the riders contend with the explosive rise of the Côte de la Comella (4.2 km at 8.2%) and the very irregular Col de Beixalis (6.4 km at 8.5%), before the long climb to Arcalis (10.1 km at 7.2%).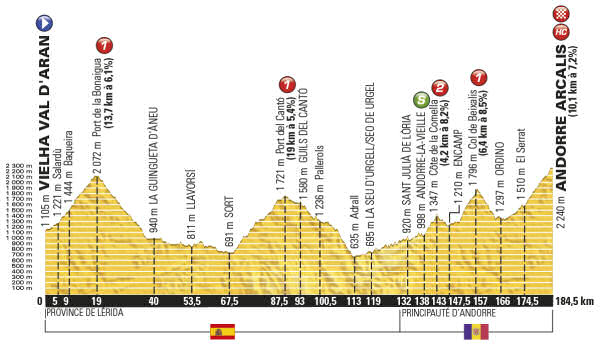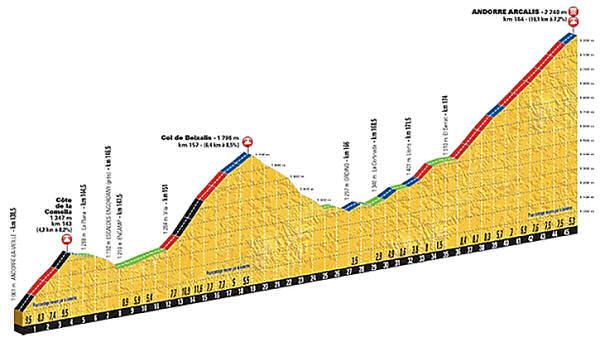 Stage 9 last 45 km
Stage 12, 14th July - Montpellier > Mont Ventoux
The French National Day will be celebrated by climbing the Mont Chauve, the Bald Mountain. For the 6th time since 1950, the stage finishes at the Observatory at the mountain's peak - 15.7 km at 8.8%, climbing to 1912 m.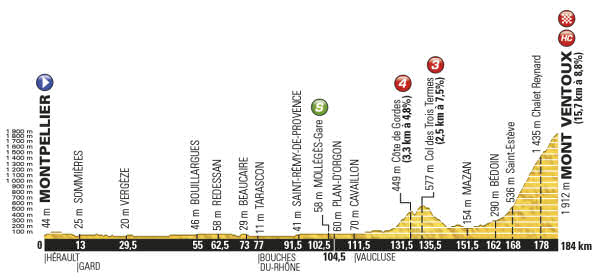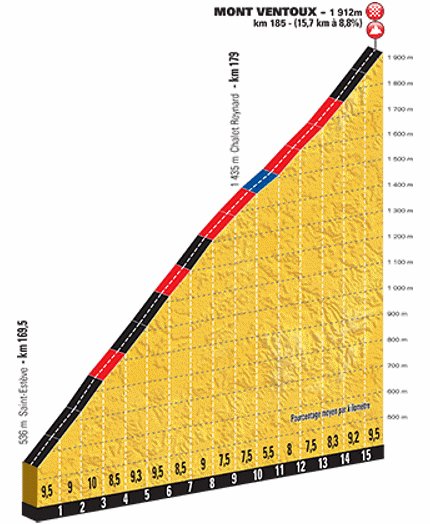 Profile of Mont Ventoux - 15.7 km at 8.8%
Stage 13, 20th July - Bourg-Saint-Andéol > La Caverne du Pont-d'Arc
Long enough to create significant differences, this time trial will not prevent climbers from defending their positions on this stage overlooking the spectacular gorges of the Ardeche.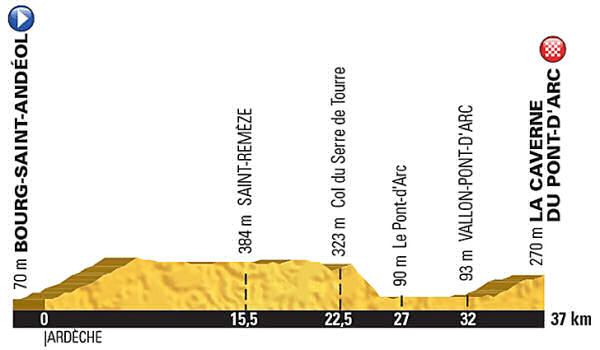 Stage 13 Profile, Bourg-Saint-Andéol to La Caverne du Pont-d'Arc
Stage 17, 20th July - Switzerland : Berne > Finhaut-Emosson
A Swiss stage,with chances to be won on the col de la Forclaz (13 km at 7.9%), that finishes with a climb to the reservoir at Emosson (10.4 km at 8.4%).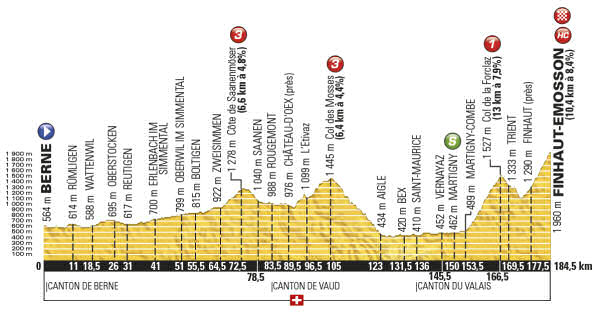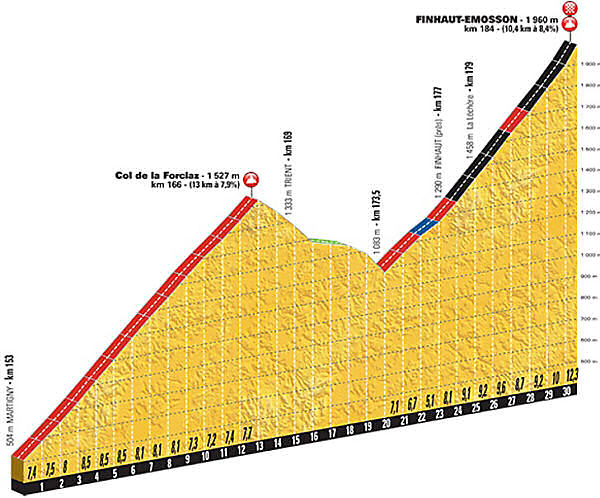 Stage 17 last 30 km
Stage 18, 22nd July - Sallanches > Megève
A day for the best climbers amongst the all-rounders (rouleurs), or is it the best all-rounders amongst the climbers?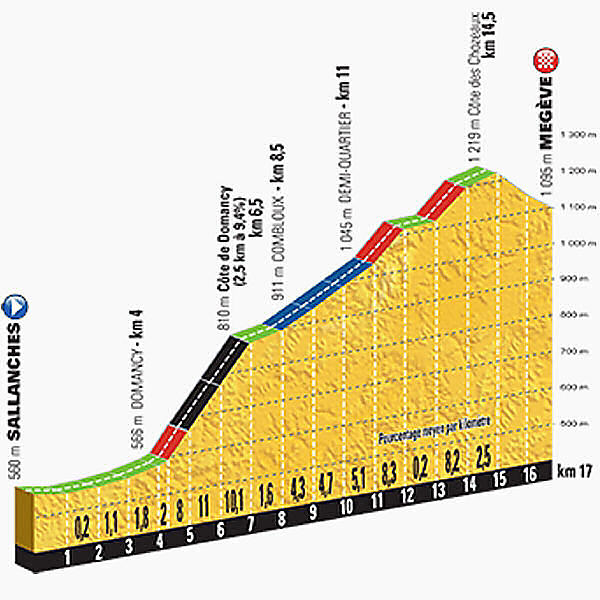 Stage 19, 23rd July - Megève > Morzine
The grand finale for climbers, and perhaps for yellow jersey. After the ascent to the Col de la Ramaz, then then Col de Joux Plane, is a long descent of 12 km that could decide the Tour.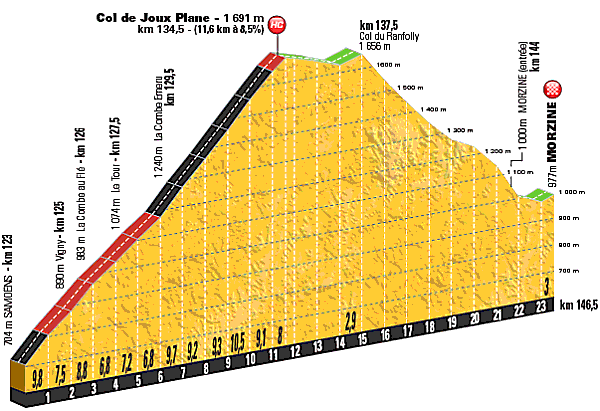 Stage 20 last 23.5 km
watch tdf broadcasts
We will provide this information when it is available, closer to the race start.
end notes
D-DAY FRANCE 2014- 2 € coin commemorating the 70th anniversary of D-Day on 6 June 1944.
3 million copies were issued. On the obverse is engraved the lines of Verlaine that translate as
"The long sobs of the violins of autumn wound my heart with a monotonous languor". This was broadcast on the BBC to warn the French resistance of the imminent landing. Also visible, half erased by the swell of a wave, are the very characteristic boot prints of American and British soldiers.
If not found in your change, the coin is available through the internet from about 5€.