the elephant in the room
Look at the route, shown on the map to the right, what do you see?
For the sixth time, the Grand Depart is in Belgium, and the first time the Tour has started in Utrecht. It then stages through Belgium and the north of France with short inter-stage hops.
Next there is a flight that jumps over a huge swathe of central France, so the following stage starts in the central Pyrenees after a rest day in Pau.
Then, perhaps commemorating the 40th anniversary of the spotty jersey, the tough, exacting and exciting climbs through the Pyrenees and Alps, and then....
another flight back north to the Ile de France and the triumphant final day, arriving at the Champs-Élysées in France's capital city, Paris.
But, but ... where's the usual travelogue through the diversity of country towns and landscapes of La Belle France?
How many French people will be able to watch, at the roadside, the colourful horde of racing cyclists pass through a nearby town, or bit of countryside, or even past their door this year? (Through how many départements will the race pass?)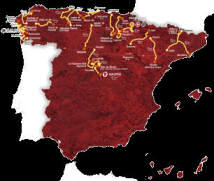 We would suggest that, as with the 2012 Vuelta d'Espagne, which only visited the northern half of the country because the southern towns could not afford the costs of welcoming the race thanks to the Spanish economic crisis, French municipalities are cutting back on their customary welcome to the Greatest Show on Earth.
It looks as if, burdened by the consequences of the ongoing economic problems in the Euro Zone, and in particular France's weedy growth and increasingly crushing tax regime, central French towns and cities dare not spend more, even if it will attract visitors, publicity and, potentially, revenue.
Or, is the Tour de France organisation itself tightening its belt, reducing the overall distances, and so the costs, of shifting the huge Tour circus every day for three weeks?
Who knows - everyone appears to be ignoring the economic elephant, while admiring a Tour visiting just the northern flat departments and the southern mountainous ones.
"perpetual movement"
This flowery description from the TDF organisers shows the enthusiasm and energy that will make this Tour continue to be the Greatest Show on Earth, despite the comments made above.
The 2015 Tour will be a race of two acts, a flat act and a mountainous one - no kidding, look at the colours marking the stage types on the stages list below. (Note the organisers are describing the race as in three acts - flat north, Alps, and Pyrenees.)
The first act has nine flat or near flat stages - three with sprint finishes (at Zeeland, Amiens and Fougères), one with cobbled sections (stage 4), two uphill finishes (at Huy and Mûr-de-Bretagne), an individual time trial and a tardy team time trial. Plenty of variety here.
The second act has three days switchbacking along the Pyrenees, with two summit finishes; then four transition days traversing the southern border of the Central Massif; followed by four more gruelling stages in the Alps, with three summit finishes.
There are stages that commemorate where heroes were toppled (stage 17, Eddy Merckx by Frenchman Bernard Thevenet in 1975) and heroes crowned (stage 14 where in 1975, 27 year-old Laurent Jalabert (Jaja) won the stage, powering up the Croix-Neuve slope, with its average 10,1 % slope over 3.1 km. Since then, this slope is also called the Montée Laurent Jalabert.)
On the Rodez - Mende stage (stage 14), the peleton pass under the Millau Viaduc, the longest and highest in France, in Europe and, until fairly recently, the world.
The race's penultimate day has 13.8 km at 8.1% up Alpe d'Huez, with its famous 21 hairpin bends. There's previously been a mountain finish on the penultimate day of the Tour in 2009 at Mont Ventoux and in 2013 at Annecy-Semnoz.
The last day's 107 km ride will take in historic landmarks of Paris, before the sprinters' climax on the Champs-Élysées .
2015 tour de france route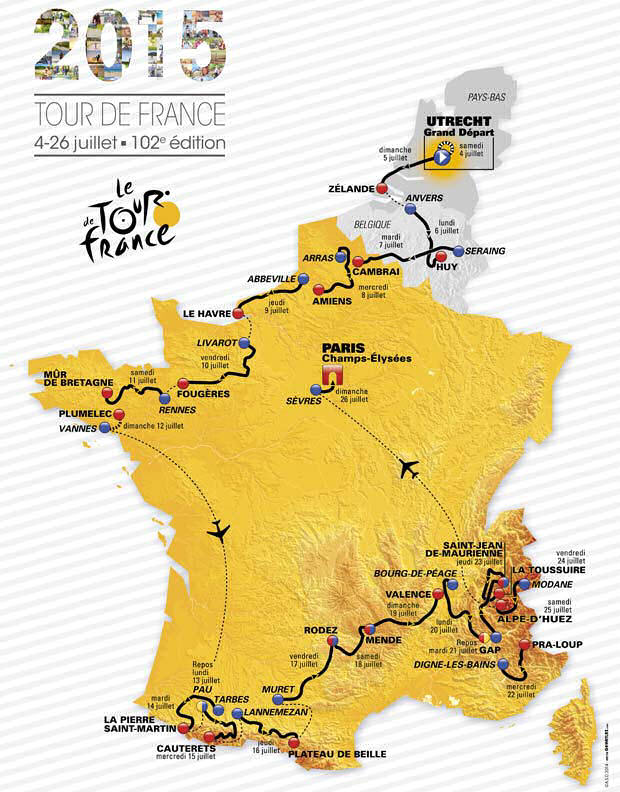 From Saturday 5 July to Sunday 26 July, 2013, the 102th Tour de France will be competed during 21 stages, over a distance of 3,344 kilometres.
There will be:
9

flat

stages
3

hilly

stages
7

mountain

stages with 5 summit finishes
1

individual

time trial stage
1

team time

trial stage
2 rest days
There are 6 towns not previously visited:
Utrecht (1st stage and start of 2nd stage)
Zeeland (arrival 2nd stage)
Livarot (start 7th stage)
La Pierre-Saint-Martin (arrival 10th stage)
Muret (start 13th stage)
Sèvres - Grand Paris Seine Ouest (start 21st stage)
points are back!
There will be a new points system on the 9 flat stages to add value to the stage wins, and encourage more competition earlier on in the race.
The points awarded will be 50, 30, 20, 18, ​​16, 14, 12, 10, 8, 7, 6, 5, 4, 3, 2 ​​points for the first 15 riders to finish.
(The previous points awards were 45, 35, 30, 26, 22, 20, 18, 16, 14, 12, 10, 8, 6, 4, 2 points for the first 15 riders.)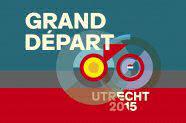 the stages for 2015
There will be 21 stages. These include 7 high mountain stages [ Alps 4, Pyrenees 3], 3 medium mountain/hilly stages, but only one individual against-the-clock (stage20) [contre-le-montre] time trial. There are 2 rest days (13th and 21th July). All other days are 'on the plain' - relatively flat days, almost touring through some of France. The total distance ridden will be about 3,344 kilometres, or roughly 2078 miles.
1

Netherlands : Utrecht – Utrecht
4 July [13.7 km]
individual time-trial

12

Lannemazen – Plateau de Beille
16 July [195 km]
summit finish
2
Netherlands : Utrecht – Neeltje Jans, Zeeland
5 July [168 km]

13

Muret – Rodez
17 July [200 km]

3

Belgium : Anvers – Huy
9 July [191 km]
uphill finish

14

Rodez – Mende
18 July [178 km]

4

Belgium : Seriang – France : Cambrai
7 July [221 km]
7 cobbled sections

15

Mende – Valence
19 July [182 km]

5

Arras / Amiens Métropole
8 July [189 km]

16

Bourg-de-Péage – Gap
20 July [201 km]é

6

Amiens – Le Havre
9 July [191 km]

R

rest day - Gap/Digne-les-Bains
21 July

7

Livarot – Fougères
10 July [190 km]

17

Digne-les-Bains – Pra-Loup (via the Col des Champs)
22 July [161 km]
summit finish

8

Rennes – Mûr-de-Bretagne
11 July [179 km]
uphill finish

18

Gap – Saint-Jean-de-Maurienne
23 July [185 km]

9

Vannes – Plumelec
12 July [28km]
team time-trial

19

Saint-Jean-de-Maurienne – La Toussuire
24 July [138 km]
summit finish

R

rest day - Pau
13 July

20

Modane – L'Alpe d'Huez
25 July [110 km]
summit finish

10

Tarbes – La Pierre Saint-Martin
14 July [167 km]
summit finish

21

Final stage to Paris Champs-Élysées
26 July [107 km]

11

Pau / Cauterets - Vallée de Saint-Savin
15 July [188 km]
this year's t-shirts
This year, as well as the usual TDF logo t-shirts, you can choose from t-shirts for men, in manly summer grunge:
| | |
| --- | --- |
| | |
| Paris motif t- shirt : 20€ | Grand départ t-shirt : 25€ |
or for women - a bit more jolly!
| | | |
| --- | --- | --- |
| | | |
| ladies' t-shirt : 20€ | ladies' t-shirt : 22€ | ladies' t-shirt : 20€ |
the teams for 2015
team jerseys/colours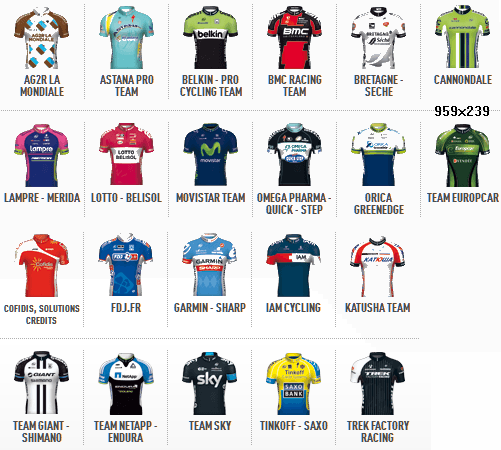 2015 TDF team jerseys
this year's top ten seeded riders
Name
UCI Team Code
Nat.
Comments
1
Chris FROOME
SKY
GBR
30 y.o. Winner of this year's Critérium du Dauphiné, winner 2013 TDF, 2nd in 2012 TDF, bronze medal in 2012 Olympics time trial, 4th in 2012 Vuelta.
Strong climber and time-trialer, not as good tactically as Contador.
1
Alberto CONTADOR
TST
ESP
32 y.o.Winner of 8 Grand Tour titles. Stripped of 2010 TDF and 2011 Giro titles for doping.
Strong climber, but weaker at time trials.
3
Vincenzo NIBALI
AST
ITA
30 y.o. "The shark from the strait" - "le requin du détroit"
Winner of 2014 TDF, 2013 Giro d'Italia.
4
Nairo QUINTANA
MOV
COL
25 y.o.Winner 2014 Giro and best young rider (White Jersey).
5
Thibaut PINOT
FDJ
FRA
25 y.o.best young rider, 2013 TDF and 2014 TDF (White Jersey).
6
Tejay VAN GARDEREN
BMC
USA
26 y.o. fifth overall and best young rider (White Jersey 2012 TDF, fifth overall in 2013 TDF, winner 2014 World Team Time Trial Championships and USA Pro Cycling Challenge
7
Romain BARDET
ALM
FRA
25 y.o. 15th in 2013 TDF, his first TDF; 6th in 2014 TDF.
8
Bauke MOLLEMA
TFR
NED
28 y.o. 6th in 2013 TDF, 10th in 2014 TDF.
9
Andrew TALANSKY
TCG
USA

26 y.o. Known as the "pitt-bull" for his tenacity.
1st in 2014 Critérium du Dauphiné in a breakaway, beating Chris Froome into 12th place. 10th in 2013 TDF, his first appearnace.

10
Michal KWIATKOWSKI
EQS
POL
25 y.o. Current UCI Road Race World Champion, 2013 World Team Time Trial Champion
Astana, with Nibali as leader and funded by Kazakhstan oil revenues, also have two riders, Aru and Landa, who could easily lead a strong teams of their own, having come second and third in this year's Giro. This make the Astana team so strong that they could even dream of coming first, second and third in this year's TDF.
watch tdf broadcasts
Here are a few of the more reputable sites that were available for the 2014 TDF.
terrestrial broadcasts

UK: ITV and ITV4 full schedule of live broadcasts.

EUROSPORT UK schedule for daily live TV coverage, including HD, often with some commentary.

FRANCE 2/FRANCE 3 (shared coverage) .

USA: NBS Sports offers live on TV, as well as live streaming.

Australia: from SBS.

x

live streaming through the Internet

There are many such providers that can be found by googling.

These sites may require signing up and payment. Some also need exploring to find the correct page/s.

Nowadays, mobile app.s are also available.

Free live streaming video
in English 1, in English 2
in Spanish

x

Eurosport is selling live steaming with their Eurosportplayer [in French], with various, almost reasonable subscriptions.

The Tour de France web site is providing a live, animated tickertape of the race action as it happens.

The TDF web site also has a YouTube channel with videos of stages to come and other short videos.
last year (2014): the first ten riders
Pos.
N°
Name
First name
Team
Nat.
Time diff.
1
41
NIBALI
Vincenzo
AST
ITA
85h 29' 33''
2
127
PINOT
Thibaut
FDJ
FRA
+ 07' 10''
3
81
PÉRAUD
Jean-Christophe
ALM
FRA
+ 07' 23''
4
11
VALVERDE BELMONTE
Alberto
MOV
ESP
+ 07' 25''
5
82
BARDET
Romain
ALM
FRA
+ 09' 27''
6
141
VAN GARDEREN
Tejay
BMC
USA
+ 11' 34''
7
61
MOLLEMA
Bauke
LTB
NED
+ 13' 56''
8
67
TEN DAM
Laurens
LTB
NED
+ 14' 15''
9
201
KONIG
Leopold
TNE
CZE
+ 14' 37''
10
178
ZUBELDIA AGIRRE
Haimar
TFR
ESP
+ 16' 25''
Overall
winner
NIBALI Vincenzo
41
AST
ITA
85h 29' 33''
(

Yellow Jersey

)
By points
SAGAN Peter
51
CAN
SVK
417 pts
(

Green Jersey

)

C

li

m

b

er

MAJKA Rafal

34
TST
POL
147 pts
(

Polka

dot

Jersey

)
Under 25

PINOT Thibaut

127
FDJ
FRA
85h 36' 43'''
(

White Jersey

)
Combativity

SLAGTER Tom Jelte

98
GRS
NED
88h 12' 31''
Team winner

AG2R LA MONDIALE

FRA
256h 52' 21''
cobbles, mountain stages, uphill and summit finishes
Stage 3, 6th July - Belgium : Anvers > Huy
This stage ends with the classic Mur de Huy climb :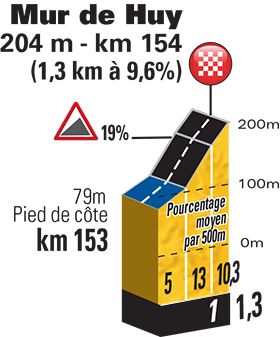 Last kilometre for Stage 3, 7th July- Belgium : Anvers > Huy

Stage 4, 7th July - Belgium : Seriang > France : Cambrai
The cobbled sections - secteurs pavées :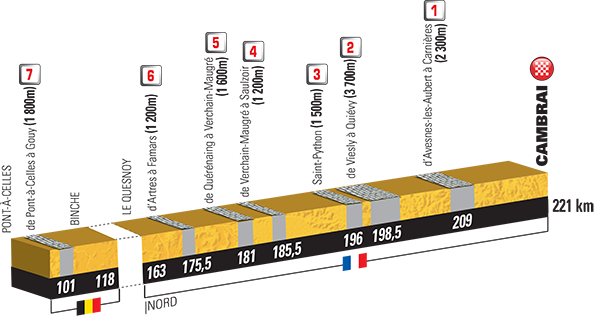 Cobbled sections for Stage 4, 7th July- Belgium : Seriang > France : Cambrai

Stage 8, 11th July - Rennes > Mûr-de-Bretagne
This stage finishes witht the harsh Mûr de Bretagne climb :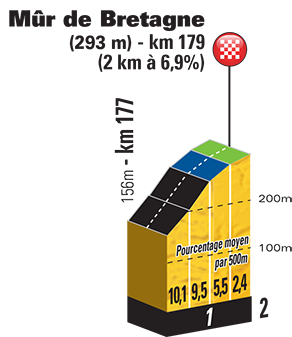 Profile for Stage 8, 11th July - Rennes > Mûr-de-Bretagne

Stage 10, 14th July - Tarbes > La Pierre Saint-Martin
Fot the first time on the Tour de France, a final climb with a maximum gradient of 15% rising over 25km.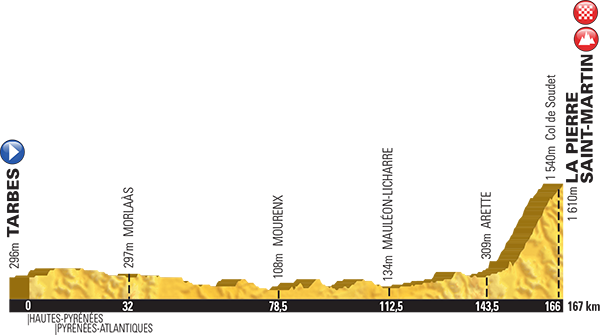 Profile for Stage 10, 14th July-Tarbes > La Pierre Saint-Martin

Stage 11, 15th July - Pau > Cauterets
Three mountain climbs up Aspin, Tourmalet and Cauterets.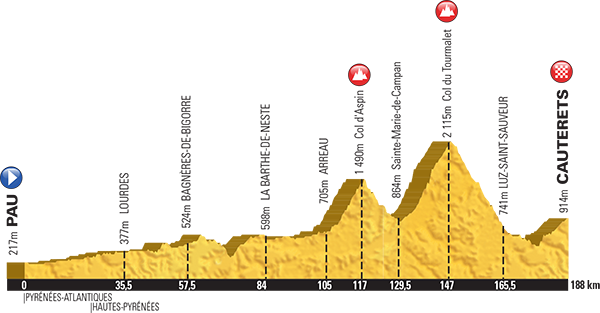 Profile for Stage 11, 15th July-Pau > Cauterets

Stage 12, 16th July - Lannemezan > La Pierre Saint-Martin
Four peaks, ending with a 15.8km climb climb, rising almost 1,800m to the Plateau de Beille. This stage passes Saint-Bertrand-de-Comminges, the cathedral of the Pyrenees.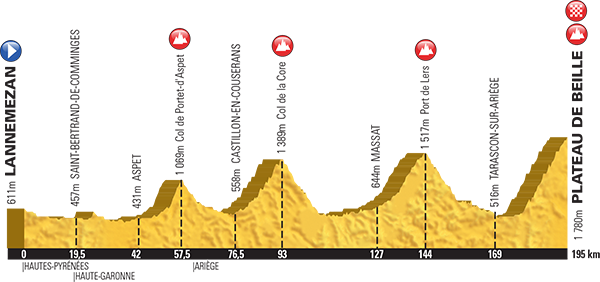 Profile for Stage 12, Lannemezan > La Pierre Saint-Martin

Stage 17, 22nd July- Digne-les-bains > Pra-loup
With some real mountain passes, this arduous day ends with the climb where Eddy Merckx, five timse winner of both the Tour de France and the Giro d'Italia and three times World Champion, in effect lost the 1975 Tour de France.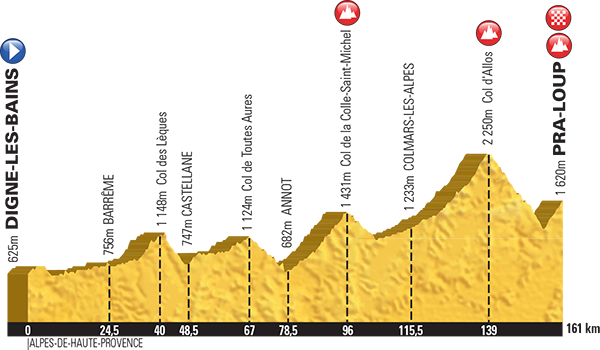 Profile for Stage 17, 22nd July- Digne-les-bains > Pra-loup

Stage 18, 23rd July - Gap > Saint-Jean-de-Maurienne
Four categorised climbs on this mountain stage.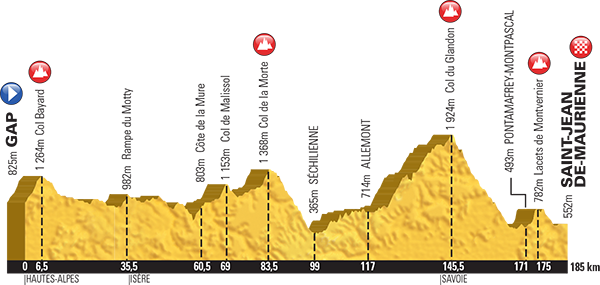 Profile for Stage 18, 23rd July - Gap > Saint-Jean-de-Maurienne

Stage 19, 24th July - Saint-Jean-de-Maurienne > La Toussuire
Four mountain peaks ending on La Toussuire, where Chris Froome made an attack on Bradley Wiggins in 2012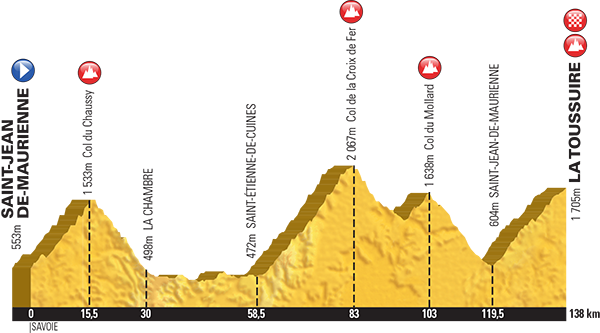 Profile for Stage 19, 24th July - Saint-Jean-de-Maurienne > La Toussuire

Stage 20, 25th July - Modane > Alp-d'Huez
At 110 km, this is a relatively short stage, finishing with 1,130 m ascent over 15 km up the Alpe-de-Huez.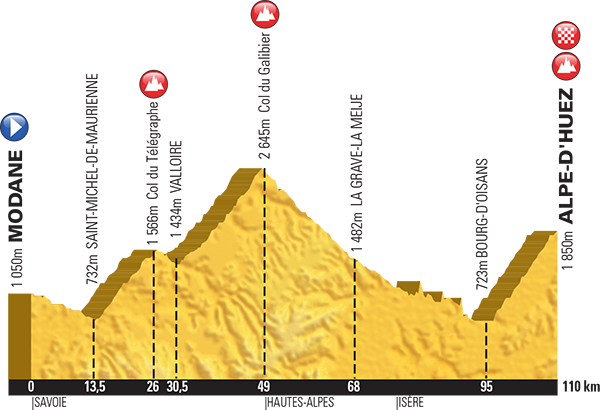 Profile for Stage 20, 25th July- Modane > Alp-d'Huez
end notes
Pau is known as the doper's trap for the numbers of successful raids and tests on doping riders over the years.


MUR and MÛR (wall and mature)
Two uphill finishes will spice up the first week of racing. First, the Mur de Huy (1.3 km at 9.6%), ending the 3rd stage at La Flèche Wallonne. Then the Mûr de Bretagne (2 km at 6.9% with passages at 15%), nicknamed the Alpe d'Huez of Brittany and previously in the 2011 Tour, will finish the eighth stage.


International Cycling Union (UCI) regulations require that, for a team to finish a team time trial, five team members must complete the stage. The regulations also requires the team time trial take place in the first third of the race. The TDF organisers had to seek a waiver from the UCI to include this stage after eight days of racing, with the risk that teams may be weakened by injuries and retirements.

"Over a short distance, starting out with seven riders is not necessarily a handicap," said race director Thierry Gouvenou. According to him, the stage being only 28 km long should reduce the potential problem of large gaps between riders occuring. Stage 9, between Vannes and Plumelec, will finish at the top of Cadoudal hill.