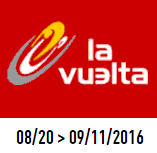 official website of La Vuelta
(English version)
la vuelta a espana, 2015 - 9 new summits to fete 80 years
la Vuelta a España, 2014 - climbs to glory
la Vuelta a España, 2013 - race to the summits
La Vuelta a España, 2012 - climber's paradise
a climber's race - La Vuelta a Espana 2011
Vuelta a Espana, 2010 - an eco-tour
watching the Tour
Le Tour 2: preparing to watch the Tour
Le Tour 3: the Great Day arrives
Le Tour 4: preparing to watch a mountain stage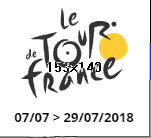 the tour de france 2018 - celebrating france, celebrating the tdf
The third of the trio of major Tour-type cycle races starts on 20 August 2016 at Balneario Laias in the province of Galicia, with a short individual time trial.

This year, the race can be divided into two and a bit sections. Firstly, the rich northern coast, including seven stages in Galicia, and two stages in Pyrennean France, ending on the imposing Col d'Aubisque that's often part of the Tour de France. The second part of the Vuelta is at the wealthy eastern holiday coast, including five days in the Autonomous Community of Valencia. Then there is a last inland stage to Spain's capital of Madrid.

With a total of 51 summits (18 on stage 13 alone) and 10 stages with hill-climb or summit finishes, this will be a race par excellence for climbers. Despite this, some commentators are suggesting that the frequency, technicality and difficulty of climbs have been minimised to encourage non-climbers (sprinters, general classification riders) to cycle in this year's Vuelta.

By keeping the race in only two parts of Spain, the organisers have greatly reduced the number of long transfers between stages (much disliked in 2015). This, the organisers claim hypocritically, will reduce fuel consumption. Of course, to make a real reduction in the Vuelta's fuel consumption, and its carbon footprint, the organisers would limit the number of support vehicles, the size of the publicity caravan, and above all, only permit roadside spectators to arrive by public transport, bicycle or Shank's pony.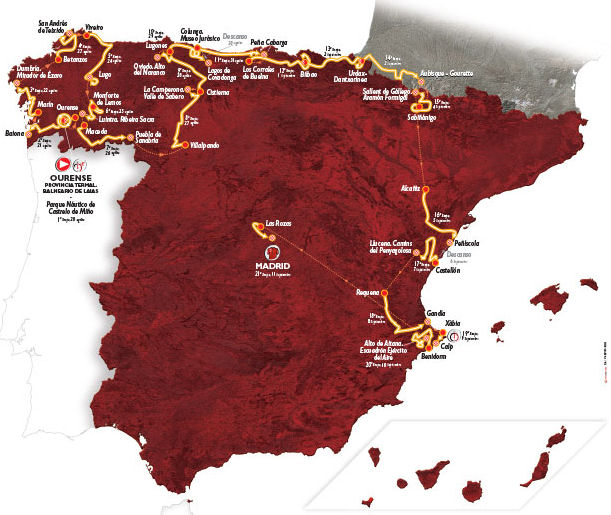 this year's race
From Saturday 20th August to Sunday 11th September 2016, the 21-stages of the Vuelta d'Espagna covers 3,277 kilometres/ 2036 miles. The race comprises:
Bonuses will be awarded: 10, 6 and 4 second bonuses will be awarded during all stages except 1 and 19, to the top three classified riders, respectively. Stages 1 and 19 will have 3, 2 and 1 seconds bonuses.
There will be a Fair Play award of 100€ per stage (except stage 1) that aims to value those riders who show good sportsmanship, or fair play. The award will be given at the end of each stage, except for the first one (TTT). It will be awarded to the rider who, up until that stage, has incurred the least penalties and who is best classified in the individual classification, or to one who has made an outstanding sporting gesture.
The Fair Play award is being sponsored by Ecopilas - Ambilamp.
Full race rules, in 22-page pdf form, including "technical sports regulation handbook" from the pdf's p.53. This part gives information, with diagrams on how car and motor bike drivers, reporters, photographers and other support technicians must proceed at the start of, during and at the end of each stage. Fascinating reading.
The official Vuelta Road Book [264-page .pdf, text in Spanish] with more facinating and useful information, including the detailed stage routes and predicted day's timings.
New stage departure towns: Laias Health Resort, Marín, Betanzos, Monforte de Lemos, Maceda, Villalpando, Cistierna, Colunga Jurassic Museum, Los Corrales de Buelna, Urdax-Dantxarinea, Alcañiz, Requena, Xàbia
New stage arrival towns: Castrelo de Miño Nautical Park de Castrelo de Miño, San Andrés de Teixido, Luintra. Ribeira Sacra, Urdax-Dantxarinea, Aubisque - Gourette, Llucena. Camins del Penyagolosa.

Recorrido / Parcours / Route in 3D - La Vuelta... par la_vuelta
The route in 3-D 8:47 mins
seven stages in galicia
Starting with a very short team time trial in on the Costa Sol, this year's Vuelta is concentrating on climbing, with nine mountain top finishes in the first two weeks. The first part of the Vuelta will therefore benefit climbers, with three arrivals at high altitude in northern Spain at the end of the second week between Cantabria and Asturias. The traverse across the north of Spain continues with two stages going into France, and a grand finish on the 15th stage at Ermita del Alba, a stage with six categorised climbs.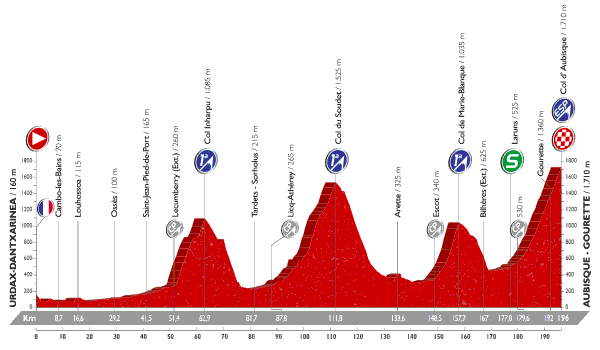 Route profile for the 14th stage of the Vuelta, the second day in France
of interest or to visit:
Puente de Vascaya, Portugalete, Spain (stage 13)
le petit train of the Rhune funicular railway (stage 13)
Saint Jean Pied de Port, France (stage 13)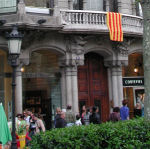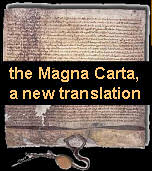 at the east coast - mostly Valencia - and the last stage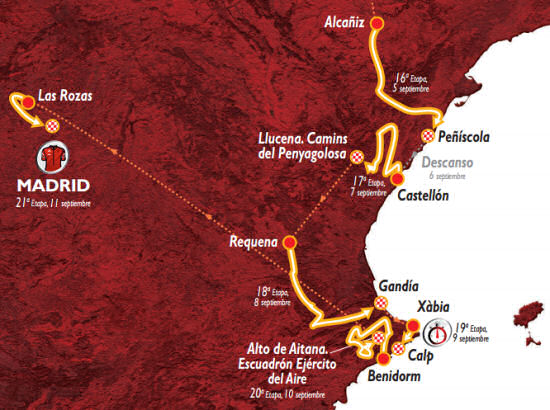 the stages
flat - on the plain

hilly

medium mountains

mountains

rest day

1
Balneario Laias > Parque Náutico Castrelo de Miño
20 August [29.4 km /18 mi]
team time-trial
12
Los Corrales de Buelna > Bilbao
1 September [193.2 km / 120 mi]
2
Ourense > Baiona
21 August [159 km / 99 mi]
13

Spain:

Bilbao >

France

>

Spain:

Urdax-Dantxarinea
2 September [212.8 km / 132 mi]
3
Mijas > Malaga
22 August [Marín > Dumbria, Mirador de Ézaro 170 km / 106 mi]

hill-climb

finish - 260 m
14

Spain:

Urdatx-Dantxarinea >

France:

Aubisque, (Gourette)
3 September [195.6 km / 122 mi]

summit finish - 1710 m

4
Betanzos > San Andrés de Teixido
23 August [161 km / 100 mi]

hill-climb

finish - 600 m
15

Spain:

Sabiñánigo > Aramon Formigal, Sallent de Gállego
4 September [120 km / 75 mi]

summit finish - 1790 m

5
Viveiro > Lugo
24 August [170 km / 106 mi]
16
Alcañiz > Peniscola
5 September [ 158 km/ 98 mi]
6
Monforte de Lemos > Luintra (Ribera Sacra)
25 August [163 km / 101 mi]
R

6 September - rest day

7
Maceda > Puebla de Sanabria
26 August [158.3 km / 98 mi ]
17
Castellón de la Plana > Camins del Penyagolosa, Llucena
7 September 173.3 km / 108 mi]

summit finish - 980 m

8

Villalpando > La Camperona, Valle de Sabero
27 August [177 km / 110 mi] summit finish - 1,600 m

18
Requena > Gandia
8 September [191 km / 119 mi
9

Cistierna > Alto del Naranco, Oviedo
28 August [165 km / 103 mi] summit finish - 585 m

19
Xàbia > Calp
9 September [39 km / 24 mi]
individual time-trial
10

Lugones > Lagos de Covadonga
29 August [186.6 km / 116 mi] summit finish - 1110 m

20
Benidorm > Alto de Aitana
10 September [ 184 km / 114 mi]

summit finish - 1545 m

R
30 August - rest day
21
Las Rozas > Madrid
11 September 102.5 km / 64 mi]
11
Colunga, (Jurassic Museum of Asturias) – Peña Cabarga
31 August [168.6 km / 105 m]

summit finish - 565 m
la vuelta race teams
The 19 UCI World Tour teams have qualified automatically to race, and there are four wildcard teams that have been invited to participate:

Caja Rural-Seguros RGA [ESP]
Cofidis, solutions crédits [FRA]
Bora-Argon 18 [GER]
Team Direct Energie [FRA]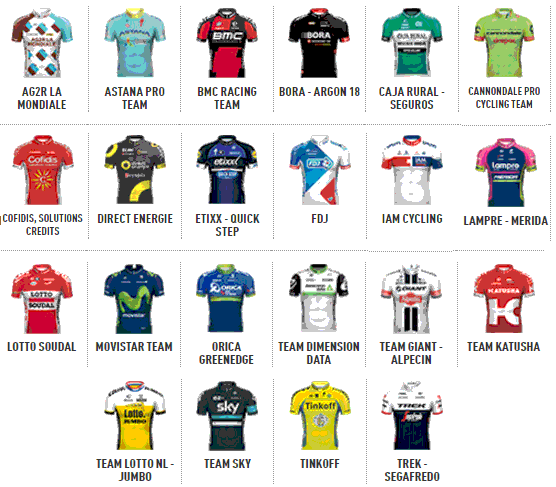 2016 race favourites
According to betting odds [as at 09/08/2016], the current favourites to win the Vuelta 2016 are as follows:
Nairo

Quintana

(Movistar) 6/4
Alberto

Contador

(Tinkoff) 9/4
Chris

Froome

(Sky) 5/2
Esteban

Chaves

(Orica–BikeExchange) 5/1
Joaquin

Rodriguez

(Team Katusha) 9/1
watching, including on tv
In the UK, watch the Vuelta on Eurosport UK [schedule]. Eurosport provides between 1½ and 2½ hours broadcasting every afternoon when there is racing, but only less than 2 hours of the actual day's race.
Live broadcasting for 22 August, the first day with the team time-trial, starts from 18:45 CET. Stage 2 and all further stages will be shown from 16:00 CET. There are daily highlights at 20:00 CET on ITV4, though the first day will be shown at 23:00 CET.
In the USA, Universal Sports Network is providing live coverage of the first stage from 13:00 Eastern. The coverage for the other stageswill be from 10:00 Eastern.
Watching the Vuelta on the road in Spain is very similar to watching the Tour in France. abelard.org has several pages giving general advice on how to be a effective road-side spectator.
Note that Spain is very hot and dry. It is against the law in Spain

• To light on fire in all kinds of opened spaces.
• In mountain areas, to smoke, throw away or leave any object in combustion or any material capable of causing a fire.
Steephill.tv provides information on many tv broadcasts for the Vuelta, from about halfway down the page.
x
Use the drop down menu to go to current day's details




For route information


To navigate, use grey tabs a bit down the page:



For wider information, use the black tabs at the top of the page:



To look at the overall standings while a stage is taking place, click on the STANDINGS tab, then use the drop down to go to the

previous stage

's standings:



While the current stage is taking place, there is an animation, updated every sixty seconds, in a separate smaller browser widow. It shows both breakaway and peleton dispositions, as well as where the day's race has reached on the stage's profile. At the bottom of the window are regularly updated, blog-type reports. This service is available during all of the day's stage, including prior to the TV broadcasts, which tend to start about half way through the day's stage.

Clicking on a rider's name will open a small note on the rider's overall position, and a few other details.



I love watching the little cyclists pedalling. They're even wearing an approximation of the different jerseys.

You reach the Vuelta Live display thus - HOME black tab (which, of course, turns red when clicked on),
then LIVE grey tab (which turns black!), then click on the link indicated by the small red arrow.

[If Adobe Flash Player 10.3.183.7 is not already installed on your computer, the Dinamic [sic.] Route Summary box will instruct you to install the necessary software.
This is a two-stage process: first, you download and save [best on the desktop] the small installer program,
then you run that installer program [click on the icon on your desktop]. The instructions provided in your browser are comprehensive, but you need to close the browser to effectuate the installation!]