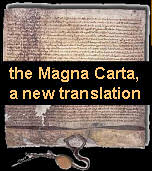 the coast and the interior

other documents on Pyrenees Atlantiques

espelette - capital of piment
saint jean pied de port
le petit train of the rhune funicular railway
by the coast - from hendaye to bayonne
hendaye
saint jean de luz
biarritz
bayonne (and anglet)
end notes
the coast and the interior
From north of the department capital, Bayonne, southwards to the Spanish border, there are several interesting and individual towns, both large and small, as well as often spectacular coastal land and seascapes.
Bayonne, a medieval Basque town with old and newer quarters, almost merges into Anglet, known for its surfing competitions, which itself near merges into Biarritz, the sea resort, once frequented by British royals and now a wealthy town, spa and holiday spot. [This agglomeration of these three towns - Biarritz, Anglet and Bayonne - is known locally as BAB.]
Continuing down the coast is St Jean de Luz, another wealthy seaside town, whose lady Mayor has been high in French government for many years [2007: now Minister of the Interior]. Further southwards, there are wind-swept, low cliffs, ending in the border town of Hendaye, that in winter has a wild West feel, and is much visited and colonised by Spaniards from just across the border.
Inland, there are many Basque towns and villages, some like Espelette specialise in local products, while others like St Jean Pied de Port are historic sites. Almost all are picturesque with their Basque architecture amongst the Pyrenees foothills and approaches.
espelette - capital of piment
Click on blue-bordered images for a larger version.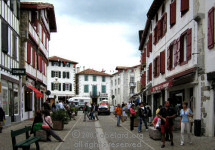 In the foothills of the Pyrénées is a small town where piment, red peppers, have become king and the town's major income source. Because of the concentration on piment products and the town's very characteristic Basque town architecture, Espelette is now also a tourist stop. As well as admiring the concentration of typical Basque town architecture, visitors may marvel at the bunches of piment, strung like garlands of onions, garlic or maize to dry, and hung high on the side of almost every building, even the post office!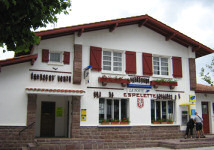 The main street has many gift shops full of Basquey souvenirs, often in traditional red, green and white, while food stores have shelves and stacks of piment processed into sauce, flavoured oil, paste and other condiments, as well as prepared, locally traditional dishes.
Like wines, the flavour of piments vary from grower to grower, and there are tastings, just as for wine aficionados.
Saint Jean Pied de Port
Click on blue-bordered images for a larger version.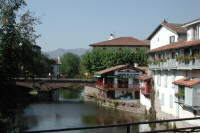 Saint Jean Pied de Port, or Donibane Garazi in Basque, is situated on one of the pilgrim routes across the Pyrenees on the way to Santiago de Compostela. The town, which has its origins in medieval times, is the historic capital of the Basque province of Basse Navarre.
The town's economy is based on agriculture - maize, vines and feeding and raising beasts. The Monday market is well-known for its liveliness, while there are sheep markets and veal fairs in April, June and August, and sheep cheese fairs, the cheese made by local shepherds, are held twice a year.
At St-Jean-Pied-de-Port, tourism has developed in recent years with hotels, residences, camp sites, together with sports complexes. Visitors are attracted by the old town houses by the river Nive, the narrow streets, the thirteenth century churches - Sainte Eulalie d'Ugange and Notre Dame at the end of the Bridge, and the "Roman bridge", in fact built in 1634.
There are also fortifications, remnants of the town's chequered history, as it changed hands from French to Spanish ownership several times. The town was also ravaged during the Wars of Religion, with its priests 'exterminated'and the church of Ste Eulalie burnt, while the Duke of Wellington also attacked the town some centuries later. The fortifications are principally a citadel, started by Cardinal Richelieu and sitting above the town on the neighbouring hillside (note that the citadel is now a school and so not open to the public).
le petit train of the rhune funicular railway
Click on blue-bordered images for a larger version.
Any tour of the Département of Pyrénées Atlantiques would be incomplete without a visit to at least one part of the Pyrénées themselves! So take yourself to the Rhune, the mountain near the coast that, with its radio tower, is visible from miles (or kilometres) away, as you drive down the A63 autoroute near Bayonne.
For a original and absorbing day out, catch le Petit Train to the top of the Rhune mountain. From the A63 autoroute leave by exit 2 (Saint Jean de Luz) and then follow D918, then D4 to reach the Col de Saint-Ignace near Sare. [Note that the only useful method to reach this location is by car - and expect to have to park by the side of the road further away, the car parks are only designed for 120 vehicles.]
This was the most visited attraction in Pyrénées-Atlantiques with 346,000 visitors in 2016, so you are strongly advised not to go at the weekend, if possible.
The train runs on a funicular railway: the slope being so steep that the locomotive [the engine] is aided by gears on the train that engage with a cogged track on the ground. There are two trains with striped curtains, rather than glazed windows.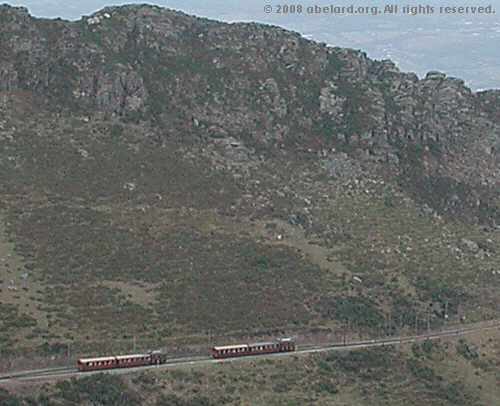 The two trains at the one passing place on this single-track funicular railway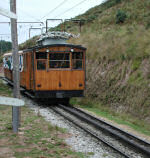 The train trip takes about 35 minutes, including a pause as the two trains pass each other. Here, being France, the drivers and conductors get out, have a small conversation and shake hands. The mountain of the Rhune is 995 metres high - it will be cold on the way up and at the top, even in full summer, so make sure that you have warm clothes with you. Many people buy a single ticket and make their way down again on foot (really intrepid types go both directions by foot!). If you decide to do this, solid footwear would also be advised. This walk will probably take you 2 to 2½ hours.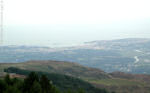 At the top, as well as the views down the mountain and to the ocean, there is a small bar, decorated with painted tile panels showing Basque scenes, and a gift shop heaped with locally produced items, typical of the area, from sheepskin slippers and berets to pocket knives and marzipan bars or tourons [image below], as well as postcards and guide books. There are also two restaurants at the departure station.
This railway was built as a tourist attraction, its construction starting in 1912 but was interrupted by World War One. The line opened in 1924. The rolling stock (train and carriages) are restored originals, or built to the same design and materials.
HANDICAPPED ACCESS: Note that neither the trains nor the ascent from the upper station to the boutique and viewing points are adapted for handicapped people. A small electric scooter can be put in the train and the ascent managed with the help of two able-bodied companions.
June 2017:

A large improvement project has been recently announced, costing 36 million euro and to be finished in 2022.

The currently meagre parking will be expanded from 300 to 800 places, and a shuttle bus will be provided from the neaby town of Ascain.
The summit of the Rhune will be 'beautified', including the installation of suspended gangways around the French telecasting building and aerial.
The railway lines and rolling stock will be 'modernised', both by improving the existing equipment and replacing the funicular line, and by
providing a further two trains.

Other small train lines have been 'improved' but, according to users, "lost their charm". An administrator for the Rhune says, "This renovation will keep the soul of this train to which everyone is attached, whether people from here or tourists".

Following enquiries regarding

handicapped access

, the Train de la Rhune replied:

"Following the presentation that has been made to us, I can confirm that there will of course be planned adjustments for the PMRs (Persons of Reduced Mobility).

"The work will not start for two years and we will have more details on the architecture of the project as the file progresses." [June, 2017]
related:
the Pic du Jer funicular railway at Lourdes.

by the coast - from hendaye to bayonne
Click on blue-bordered images for a larger version.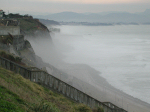 The coast from the Spanish border going north towards busy and prosperous towns is often a stark and fierce landscape, swept as it is by relentless Atlantic winds, waves and storms.
Hendaye, St Jean de Luz, Biarritz, Bayonne (and Anglet)
Hendaye is a border town, just inside France, next to Spain and the Atlantic Ocean. It was the place of recuperation for Winston Churchill between the end of the second World War and the Potsdam Conference in 1945: "I was resolved to have a week of sunshine to myself before the conference."[4] Here was also where Adolf Hitler met the Spanish dictator, Franco.
In winter, it can be as deserted and desolate as a Wild West border town, especially when the shops are shut during the long afternoon siesta period.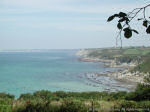 Hendaye boasts a three-kilometre beach running right to Bidassoa, which is the true last stop before Spain. With this long length of sand, there are many sub-beaches. be aware that at least one of these is for naked beach visitors, so if you are shocked by bare skin, you would be better going elsewhere. No allowances are made for restrictive matrons or unworldly families with their children.
Saint Jean de Luz
Together with Biarritz, Saint Jean de Luz is one of the wealthier towns along the Basque coast, and probably in Pyrenees Atlantiques. Saint Jean de Luz, nestled in the estuary of the River Nive, has a warm microclimate. This is reinforced by the bay that is sheltered by a harbour bar that protects both beach and harbour from the full force of the prevalent Atlantic wind and waves. As a result, Saint Jean de Luz is a favoured retirement town for the better off, who are also attracted by the beach-front health spa and the shopping, rich both in variety and in quality.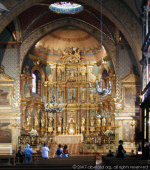 The main shopping street is pedestrianised and, although it used to be like a minefield with the deposits from the large pet dog population, the authorities have at last realised that this 'minefield' is detrimental to their town and the streets are now generally almost clean.[5] A building worth visiting on this street is the parish church Eglise Saint Jean-Baptiste, where a young Louis XIV, the future Sun King, was married. It has a very impressive retable adorned with twenty gold-gilded wooden statues. During your visit, note also the model whaling ship hanging above the pews, recalling when this town was a major port in the local whaling industry. Having fished out the whales, the local fishermen are now doing their best to do the same with sardines, lobster and tuna. Just across the Spanish border, there is a specialist whaling museum at the coast town of St. Sebastian, and alongside an impressive aquarium. (A long journey further down the north coast of Spain will bring you to the iconic building of the Guggenheim Art Museum at Bilbao.)
Traffic management in Saint Jean de Luz is horrendous, and many streets are narrow, so take care.
Biarritz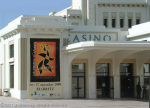 With a name in Basque that means 'safe haven', this Atlantic seaside town of choice was first made fashionable by Eugenie, wife of Emperor Napoleon III. That fashionableness has continued amongst European royalty and later film stars. Its spa, casino, hotels, sheltered beaches and high quality shopping mean that not only does Biarritz draw comfortable and well-off holiday maker, but also attracts high-level political conferences and film (and other) festivals.
As well as the casino, which is a splendid and complete example of Art Deco architecture, in Biarritz and other towns in Pyrenees Atlantiques and Les Landes there are many Art Deco buildings to delight the enthusiast.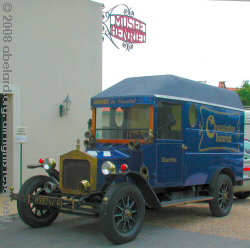 Places worth a visit at Biarritz include the chocolate museum that is fascinating and brilliant, even if not to everybody's taste. If you go in the quiet season, there is a chance that the English version of the documentary film will shown in your honour. Unfortunately, the rest of the tour commentary is in French only, though the tour has many chocolate manufacture items of interest to look at, and you are invited to taste and buy some chocolate.
Biarritz is the centre for some of the world's best chocolate, particularly the chocolate from Paries.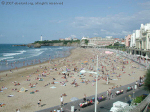 Because of the mild winter climate, coastal Pyrenees Atlantiques is warmed both by the Atlantic Conveyor current sweeping north from the Azores and air masses sent north from the African Sahara. As a result, there is sea-swimming for much of the year, and even sunbathing. The communal Christmas Day swim at the smaller Old Port Beach [Le Port Vieux] is usually filmed for the national TV news.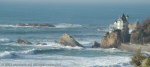 Also worth visiting is the Rock of the Virgin [le Rocher de la Vierge], a statue on a small island that is reachable by a footbridge. From there, are fine views of the Basque Coast and, on a clear day, even the North Spanish coast.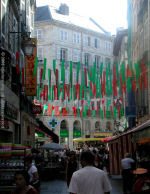 Bayonne (and Anglet)
Bayonne grew up as the main regional sea-port after the River Adour was, after several attempts, diverted from its original course which had reached the ocean at Vieux Boucau (Old river mouth).
For English-speakers, Bayonne is probably best known as the source for the name of a nasty military weapon, the bayonet. But in France, it is renowned for chocolate, its feria (annual festival with bull-running and bull-fights) and for being an active French stronghold of the Basque separatist group, ETA (Euzkadi Ta Askatasuna: Basque fatherland and freedom).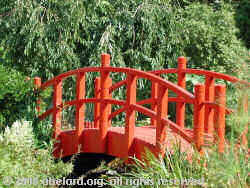 With its traditional Basque town architecture lining the mostly pedestrianised streets in the old town, the Basque Museum and the Bonnet Art Museum, as well as the two-spired cathedral and cloister, small botanical garden and its rich vein of shops, Bayonne is worth visiting for one or two whole days.

end notes
Napoleon decreed that only towns which had a spa were allowed to have a casino. The logic behind this was to allow the casinos to make money only from people with adequate funds. People who could afford to visit spas were obviously rich enough that visiting a casino and gambling would not make them destitute. A spa town often can be recognised by the suffix "Les-Bains", as in Cambo-les-Bains. And they often have casinos. Sometimes, the spa, and the casino, have closed down, but the town keeps its full name as does Vieux Boucau-les-Bains, in the neighbouring department of Les Landes.

Spa towns have many 'treatment' centres with hydro-, mud and other therapies. In France, such performances can be paid for by the State with a doctor's prescription, and there are usually large numbers of doddering elder people about seeking their miracle cure. The French name for such people is curists. Spa towns are also endowed with large numbers of chemists and specialist doctors and clinics.



Capsicum or hot chili pepper [Capsicum annuum]. Brought back from the New World by Christopher Columbus on his second trip in 1493, it was first grown in monastery gardens of Portugal and Spain. At first, piment was used as a medicine. Swiftly, it became a cheap substitute for black pepper, imported from the East, and then a condiment to accompany ham and other meat. Thus, piment was discovered to have food interest of its own, becoming established as a favoured flavour in the Nive valley.

In this area of France, Espelette piment has even been awarded A.O.C. [Appellation d'Origine Controllée] status. This status covers the ten communities who are allowed to use the name Espelette: Ainhoa, Cambo-les-Bains, Espelette, Halsou, Itxassou, Jatxou, Larressore, Saint-Pée-sur-Nivelle, Souraïde, Ustaritz.. Their total growing area extends to about 3,000 acres. The Piment Festival is held at Espelette on the last Sunday in October.



Saint Jean Pied de Port translates as Saint Jean at the foot [pied] of the pass [port]. The pass is the Roncevaux Pass.


The roof is made of Pyrenean fir, the floor is made of pine from Les Landes, the panelling is made of chestnut from the Ariège, the platform is made of iroko, an exotic rot-proof wood from Africa.


The canine 'minefield' is thanks to the the extensive pet dog population in France. Until recently, up to maybe three or four years ago, French dog owners were free to let their dogs foul up any and every pavement they could manage. Gradually, bigger towns acquired vacuum cleaners mounted on motor bikes with which their operators cleaned up the main streets and concourses. Less rich municipalities rely on providing free plastic doggy bags, dispensed from tastefully green stands to be found occasionally along pavements.


Le Petit Train de la Rhune website in English
Address: Col de Saint-Ignace - 64310 Sare
Tel. 0892 391 425
The trains will run every day for the 2009 season from 28 March to 5 November,
except Mondays and Thursdays.
Generally, the trains leave between 10h00 [10am] and 15h00 [3pm]. If there are many people, more trains will run.
During the summer [July and August], the trains run every 35 minutes, with the station opening from 8h30 [8.30 am].
Minimum length of a visit is 1½ hours. It would be wise to keep a weather eye on when the trains are returning down the mountain if you do not intend to walk back, so you do not miss the connection.

Fares for 2008 are
One way, adults: 12€ , children: 7€, animals: 6€
Return trip, adults: 14€, children: 8€, animals: 7€

The map that shows the walk down the mountain is IGN N° 1245 OT in the TOP 25 series. You will find these at local newsagents and supermarkets.

In French, this type of railway line is called une ligne à crémaillère.


Henriet chocolate museum, Biarritz. Although this first link is not to the official website, the information is easier to understand. [Official website]
The museum's name in French is le musée du Chocolat.
Address: 14, avenue Beau Rivage, 64200 Biarritz
Tel. : 05 59 41 54 64
Opening times: all year from 10h to 12h and from 14h30 [2.30pm] to 18h [6pm] (19h/7pm in July and August)
Tickets: adults - 6 euros, students - 5 euros, children - 3 euros.


Musée Basque - the Basque Museum,
Address: 37 quai des Corsaires - 64 100 Bayonne.
Tel: 05 59 59 08 98


September to June: open Tuesday to Sunday, 10h to 18h30 [6.30pm] (closed on public holidays)

Entrance: 5.50€, reduced rate: 3 €; free entry on first Sunday of the month

July and August: open every day

Entrance: 5.50€, reduced rate: 3 €; free entry on Wednesday evenings from 18h30 to 21h30 [6.30 to 9.30pm]

Visit takes from about an hour and a half, but if you watch through all the films and slideshows, it could well take you longer.
A visit to this Museum is highly recommended.