introduction - Aurillac and umbrellas
France has many towns and regions known for making one product - Agen prunes, Menton lemons, kiwi fruit from Peyrhorade, wines from Bordeaux, Burgundy and Alsace, Toulouse violets, perfumes from Grasse, lace and cider from Brittany, cheeses from … all over France, slippers from the Charente region, chairs from Hagetmau, gloves and other leather goods from Millau, and umbrellas from Aurillac.
Capital of the umbrella since 1850 and capital of the department of Cantal [dept. 15], Aurillac produces more than half of the umbrellas made in France. This represented 500,000 units in 1999, supplying 100 jobs.
The local Aurillac museum has an exceptional collection of old umbrellas, some of which date from the 17th century. There are lots of lovely medieval architecture and half-timbering and a former convent with sarcophagi dating back to the Middle Ages. There are medieval passageways, stairways, balconies, and Renaissance-style architecture that was built on later. Locals are called Aurillacois.
the umbrella industry at Aurillac
This industry suffered several decades of decline at the end of the twentieth century, when China deluged Europe with much cheaper, though not necassarily so well made, umbrellas. To help recovery, Aurillacian manufacturers regrouped in 1997 with a common brand, l'aurillac Parapluie - the aurillac umbrella. The label groups members' umbrella designs under four ranges: Tradition, Fantasy, Creation and Prestige.
While French companies still manufacture high-end, fashionable umbrellas, nearly 95% of those sold in France are imported from Asia. Of the Asian-sourced products, 90% come from China. Before 1990, French umbrella distribution companies sold umbrellas mainly made in Europe for trade prices of about 15 euros/US$16.50. Now, similar umbrellas from China cost from four to five euros/US$4.40 - 5.50.
some umbrella companies in Aurillac
At the beginning of the twentieth century, there were fifteen umbrella manufacturers at Aurillac producing one million umbrellas in a year. Now there are but two major companies: Piganiol and SOFRAC, together with some smaller players. abelard.org will purview one of the oldest companies, Piganiol, and one of the newest and most original, Delos.

2:50 minutes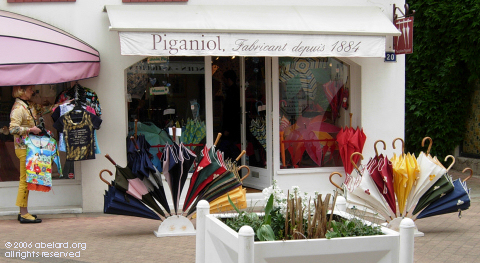 Piganiol boutique at Saint Jean de Luz
A family business, founded in 1884, Piganiol manufactured approximately 150,000 umbrellas in 2005 and imported up to 1.5 million from China. The company also works with several other manufacturers, ordering between 1,000 to 10,000 lots from them at a time.
Piganiol makes high quality umbrellas, supplying well-established French hypermarkets and department stores, such as Carrefour, Galeries Lafayette, Auchan, Monoprix and Casino, the Pinault-Printemps-Redoubt Group, Bon Marche and other smaller shops. The company also exports to various foreign markets, such as Japan.
Piganiol has a boutique in Aurilliac [1] and their web-site, where can be seen their umbrellas for men, women, children, folding and rigid umbrellas, collections for spring/summer and autumn/winter ....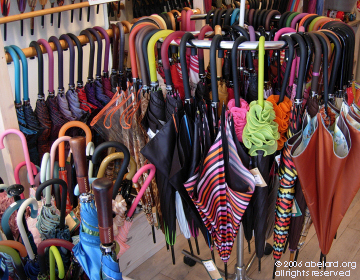 Selection of umbrellas from a recent Piganiol collection.
Like haute-couture fashion, Piganiol makes two collections a year. Their web-site shows their twice-yerly collections, as well as enduring classic designs that they have patented. Competitors, particularly Chinese ones, steal designs unprotected by patents. However, the latest collections are always on display in their shops, or other chains that resell Piganiol designs.
Piganiol umbrellas may be more expensive, but they do have a life-long guarantee that works (at least in France). If your umbrella is damaged, or has a manufacturing fault, and is returned to Piganiol, it will be repaired at the Aurillac factory, and returned to you by a delivery company.