paying at the péage (toll station)
Most French motorways require payment from the user. There are two main ways that this payment is demanded.
The first method is by paying a small sum on passing through a toll gate. This usually occurs in built-up areas where commuters and locals dodge on and off the motorway, using it mostly for short journeys. As the payment is generally from say 60¢ to 3.20€, or maybe more, it is quicker to pay by coins (providing you have a small store of them easily available in your vehicle). This is pre-payment for the next part of the motorway.


The second way is by taking a ticket when first entering the motorway and, on reaching your chosen sortie/exit, paying the amount calculated using that ticket. Most people use a credit card to pay these, often larger, amounts; see payment booth below. This is post-payment for the part of the motorway just completed.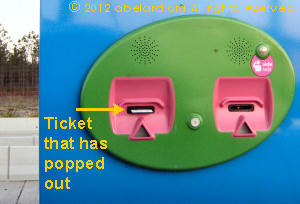 There is a third method of paying tolls - the télépéage. Having subscribed to an electronic service, you drive through a particular toll gate marked with a large orange T, and a detector reads an ID tag placed at the top of your windscreen. The details are phoned through to a central data centre, where the amount to pay is calculated and deducted from the subscriber's bank account.
As you enter the paid part of an autoroute, you pass a booth where, usually, a toll ticket pops out at you at window level. As when paying see below), you need to drive close to the kerb so you can actually reach and take the ticket.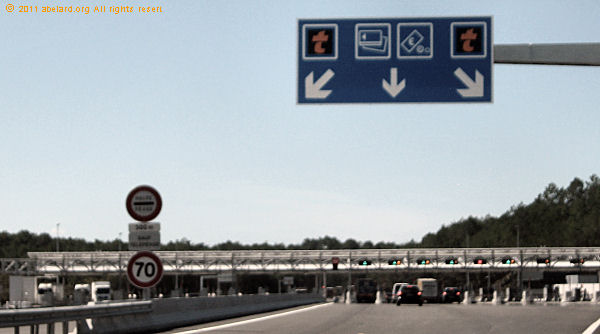 A green light above a line indicates it is open, a red light that it is closed
The first thing to do on nearing a peage with several do-it-yourself payment point is to decide which one to use. It is useful to know that lorries will tend to use the booth on the right (to the inside of the carriageway). Next, generally do not chose a column with only a big orange T indicating télépeage, unless you are equipped for using those booths. Sometimes the T-marked columns are dual purpose and can be used to pay with coins. Go for the columns with the large green arrow.
Péages can be small, with two or so payment gates, or large with an array of say twenty gates marching across a very busy motorway. One such is on the A63 motorway [photo above]. This motorway serves the huge heavy goods traffic between Spain and Portugal and the rest of Europe, as well as many holiday makers to the Spanish peninsula. Widening and modernising this péage has almost finished [September 2011]. During the summer, these large péages have extra autoroute employees, armed with a big satchel of change, who come to the aid of travellers dumbfounded by péages that often reject their coins, or who just can't reach the bin or the receipt button.
A smaller péage will have one (usually) manned ticket booth, and one or more self-service booths with a plastic basket into which to throw your coins. The manned ticket booth, or booths, will be to the right and will tend attract the lorry traffic.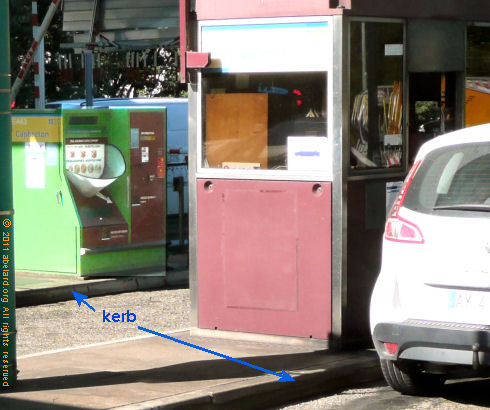 At a smaller toll station
When approaching the péage booth or the coin basket, take your time and move carefully. It is important to drive so as to align your vehicle as close to the kerb as possible, as well as stopping so your open window is next to the coin basket and slots for tickets and cards. As like as not, if you go too far forward, some helpful Frog will close up behind you, making it impossible to reverse back to the correct position. When correctly positioned, you will be able to take actions such as pressing buttons, inserting and removing a credit card, taking a receipt or change without, you hope, having to undo your seat belt and get out of the car.
Péage cash payment points have evolved over the years, mainly to become ever smaller and less convenient. In the photo above on the left, is one of the original change baskets that have plenty of space and the opportunity of watching the money dropping down like the balls in a pachinko machine..
Below is a progression of the shrinking coin basket, though the labelling does become a bit more user-friendly. At the same time, increasingly, manned booths are disappearing, other than on the major toll stations. In some places, you may be stuck with only a telephone-type link. Plastic and robots are taking over the world.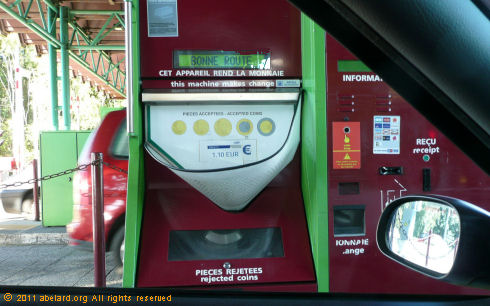 Like the coin basket above, but smaller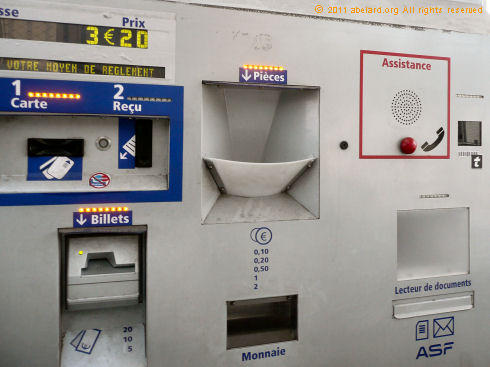 The next step in the shrinking coin basket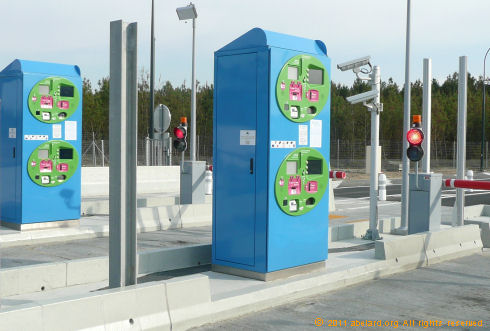 A modern automatic péage booth, on the A65
Also notice here, the very high curbs, especially if you have short arms.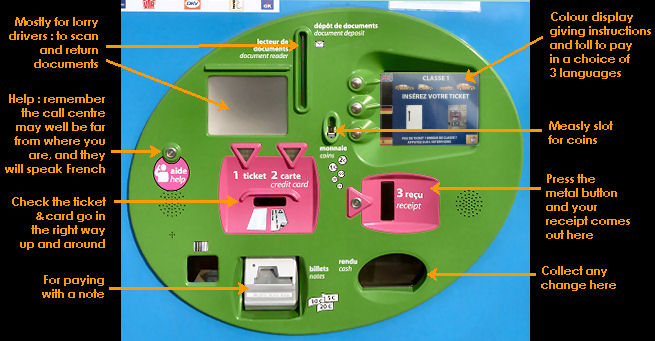 No convenient basket here, the coins have to be inserted into a small green slot,
not easy if you have mispositioned your car.
If you are paying with a credit card, you need to make sure that the toll ticket and card are put in the right way up and pointing in the correct direction. Both credit cards and tickets have an arrow indicating the direction of insertion. You will also need to insert the toll ticket first. Should you want a receipt, you press or touch the appropriate button.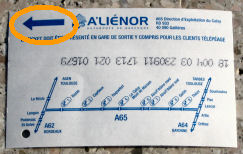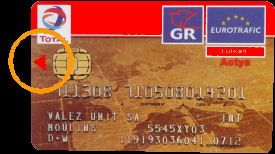 When your payment has been accepted, the big red light in front of you changes to green and the barrier rises. Bonne voyage and safe driving.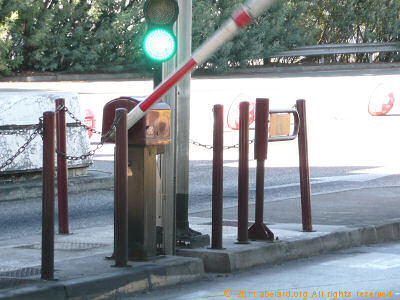 green fuel - electric recharging points
Ecology and technology advances - there are now 200 electric vehicle recharging points throughout the French motorway system, and at nearby large supermarkets. (The map at the link shows charging points, and apparently whether available or not. However, we cannot verify how often updates are made.)
The electricity provided is "100% renewable", that is from nuclear, hydroelectric, solar and wind sources.
The charging points are unlocked, accessed and paid for using a Sodetrel Pass card, available from sodetrel-mobilite.fr. This link is to the FAQ page. Unfortunately, the web site is only in French.
(There other suppliers' cards available that may or may not be compatible.)
Passes take about 10 business days to arrive in France, so allow probably twice as long if you are ordering from another country.
It costs 44€ to subscribe, with a first-time subscriber offer of 1€. The card itself costs 9€.
Subscriptions (which have no expiration date) are 2€, 4€ or 10€ per month, depending on how frequently the card will be used. [Card offers page.]
A panel at the charging point indicates that about 30 minutes will provide a 80% charge for cars similar to the Nissan Leaf.
There are three types of connector available.