Motorway aires are designed to provide a suitable environment for relaxing, refreshing and recovering during the long, hard journeys. As well as facilities of often dubious nature, picnic tables and seats, a telephone kiosk, there are often optional extras such as a play area or a display related to some local interest or event.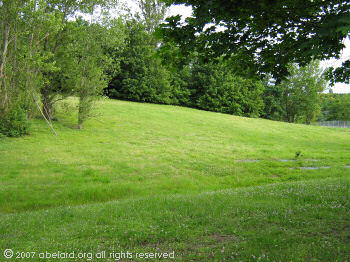 'Downs' and woods at Dunes aire, A62
a green haven - aire de dunes
On the eastern, northbound side of the A62 autoroute, you can visit an aire that at first appearance may appear nondescript. (Note that abelard.org did not visit the Dunes aire on the western, southbound side of the A62, but it is known that it does not include refreshing showers.)
As far as abelard and the yaks are concerned, this is a wonderful aire - vast, green, with grassy banks and woods. There is even a rabbit colony living there, their playground being one of the banks (or downs).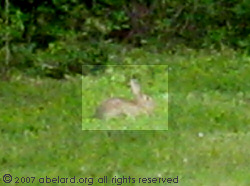 This aire is large and varied enough that even during the busy summer season you will be able to find quiet places "far from the madding crowd".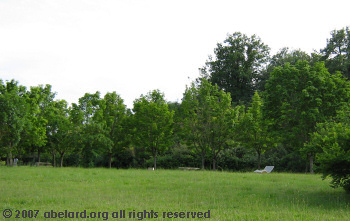 Far from the madding crowd at the Dunes aire
Near the central parking spaces, as well as the usual facilities, there are cooling showers, a colourful play area that includes a rather attractive climbing wall ( for children only) and picnic tables, both shaded and in the open air.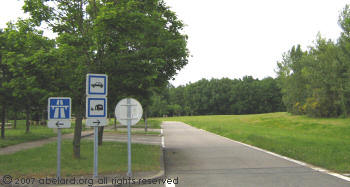 Part of the parking area, with the wide green spaces beyond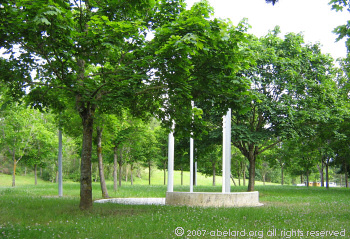 Refreshing showers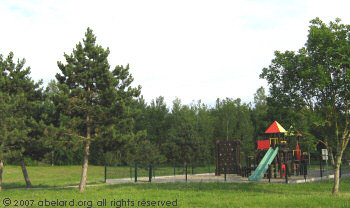 Children's play area with climbing wall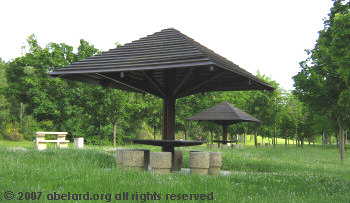 Picnic tables in the shade, and not
sketch map locating the aire de dunes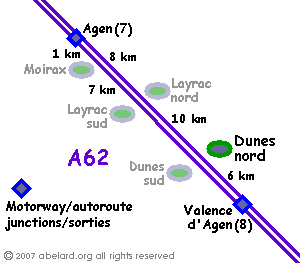 Sketch map locating Dunes aire
The Dunes aires, both north and south, are located between Agen and Valence d'Agen, sorties 7 and 8. The two aires are not connected.
The Dunes aire is in Département 47 - Lot-et-Garonne.
aire: in this context, an area —
aire de loisirs: recreation area;
aire de pique-nique: picnic area;
aire de repos: rest area;
aire de services: services , motorway (GB) or freeway (US) service station.





Watership Down
by Richard Adams

$10.20 [amazon.com]
Scribner, 2005, reprint, pbk
ISBN-10: 0743277708
ISBN-13: 978-0743277709

£5.99 [amazon.co.uk]
Penguin Books Ltd, 1974, pbk
ISBN-10: 0140039589
ISBN-13: 978-0140039580