Motorway aires are designed to provide a suitable environment for relaxing, refreshing and recovering during the long, hard journeys. As well as facilities of often dubious nature, picnic tables and seats, a telephone kiosk, there are often optional extras such as a play area or a display related to some local interest or event.

Lozay is a large but neat aire with lavender-surrounded parking slots which sweep past an impressive, high, 'stone' portal - a reproduction of the facade of the Romanesque church at Echebrune (about 11 km east of exit 36 - third exit going south from this aire).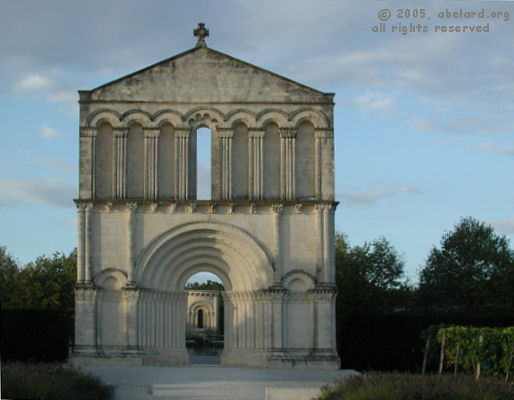 Reproduction Romanesque facade at Lozay aire, A10
Spied beyond the doorway in the facade, is another Romanesque doorway, and .... statues in amongst the tidy paths and greenery.
Once through the archway, there awaits an ordered garden, punctuated by diverse masonry; but note that this permanent exhibition closes at 19.00/7pm.
An introductory plaque describes this region's medieval development:
This plaque's text translated from French:

"Men of the Romanesque era were aware of living in a real renaissance" (Marcel Durliat). This renewal affected all the areas of civilisation: the economy, art, technology, language...

From the eleventh century, Europe's population and economy grew in step. The feudal hierarchy favoured both the development of regional identities and royal power.

A common faith united the Western world, the Church collected disparate ways under its spiritual and material authority.

One of the many information plaques displayed near each exhibit.

The great monastic orders had primary importance. The monk, by his prayers and his life of renunciation, celebrated God. Aesthetics and grace had a predominant place in this liturgy. By its beauty, the liturgy could evoke the angels making similar celebrations in heaven.

The monastries became spritual and temporal centres. They had an economic role, giving out charity and medical care. The monasteries were also cultural centres with libraries and teaching premises.

This communal awareness and shared moral values showed themselves in large economic and social changes. The crusades, land clearance, organisation of towns and feudalism were expressions of these changes.

[There is a partial translatrion into English provided, together with translations into Spanish and German.]
Thence enter into the garden proper with wooden broadwalk paths flanked by plantings and an array of concrete reproductions taken from religious buildings in the region.
From top left, clockwise: 12th century woman in then current fashion; capital and part of a pillar shaft; segments of carved arches; decorated capital showing a fisherman; various pillar capitals with an information plaque; capital showing cuckolded husband, his wife and her lover.
The exhibition area also offers a bank of leaflets for suggested tours around Romanesque buildings in Poitou (Poitiers and surrounding region). The leaflets are mostly in French, but include useful maps.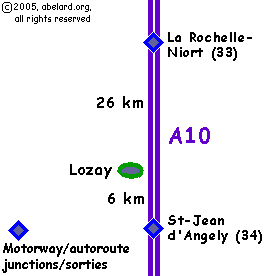 Lozay aire is only accessible when going from the direction of Poitiers, to the north, and travelling south towards Saintes and Bordeaux.
Lozay aire is in Département 17 - Charente-Maritime.
See also
cathedrals – introduction: reading stained glass
cathedrals 2: Dax and church iconography