Motorway aires are designed to provide a suitable environment for relaxing, refreshing and recovering during the long, hard journeys. As well as facilities of often dubious nature, picnic tables and seats, a telephone kiosk, there are often optional extras such as a play area or a display related to some local interest or event.
poey de lascar aire - wildflower haven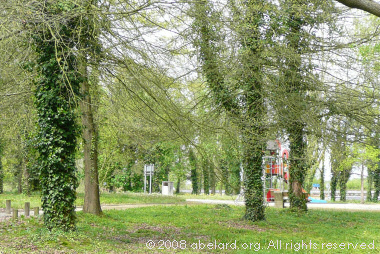 This verdant haven of trees and flowers, just beyond the pounding roar of the A64 autoroute offers secluded tranquillity as you pause on your journey along one of the few translateral motorways of France.

As well as the standard facilities of most aires, including a well-appointed child's play area, there is a picturesque tree-shaded area of ground cover plantings, which when we visited included many wild flowers, including violets.
Leading across a rather dry stream bead is a 'bijou' woden bridge, that takes the visitor to several picnic tables in semi-shade.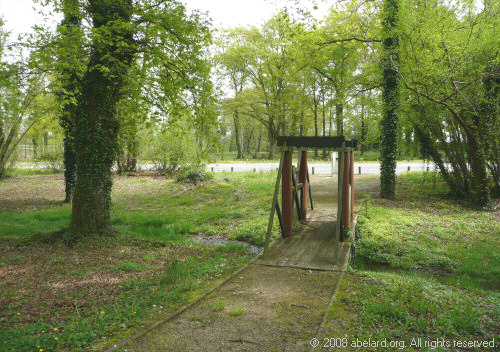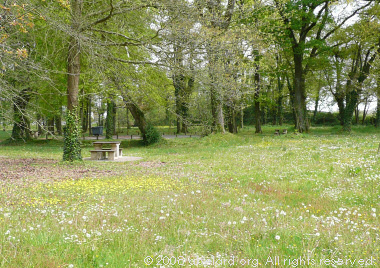 Sketch map locating the Poey de Lascar aire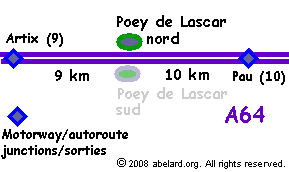 The northern Poey de Lascar aire is only accessible from the westbound side of the A64 motorway, when driving from Pau towards Bayonne. abelard.org has not visited the southern aire, accessible from the eastbound side of the A64.
The Poey de Lascar aire is in Département 64 - Pyrénées Atlantiques.