angélique de niort / niort angelica
The range of products in this showcase store includes many angelica-based products, including angelique jam [confiture angélique] as well as sweets (illustrated on the left).
But many other edible products are made with angelica, from jam (with a very delicate flavour that needs to be eaten with a bland bread) to sweets and liqueurs. Chartreuse owes its colour and part of its flavour to angelica. There is even chocolate with candied angelica added.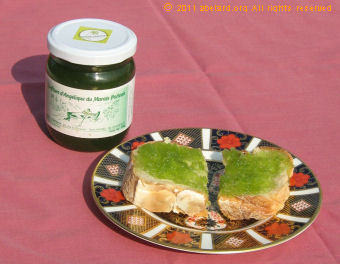 confiture angélique (angelica jam) on bland-tasting bread
Angelica of Niort [l'angélique de Niort] is said to have been brought to France's western coast during the raids of the Vikings. (Remember, as well as Brittany and Normandy, the Vikings conquered and for a while settled in Aquitaine that, on the coast, stretches from just south of Bordeaux. Many place names signal this connection, none more clearly than those ending in -osse, -us, or -es, all derivatives of hus - house. Many Norwegian place-names end in hus, while Danish ones often end in -by, as often found often in English place-names.)
A herb that grows to a metre or more, angelica is reputed to have helped the French in medieval times to overcome the plague - its smell scattering the rats. Angelica was planted in large quantities around Niort during the great plague of 1603, so protecting the city from the scourge. Angelica has since become the emblem of the city.
Subsequently, the monks of Niort invented candied angelica, angelica liquor. In the eighteenth century, the delicate, dainty and delicious liquor was the basis of a flourishing business for the city of Poitiers and its region.
Now, angelica is better known in English-speaking lands for candied cake decorations.
Two species of angelica are grown in the Poitou region: angelica silvestris and angelica archangélique. A. silvestris now grows wild in the Poitevin marshes [marais Poitevin], while A. archangélique was brought to Poitou in the 14th century. The properties of the two species are similar, though wild angelica is less fragrant than cultivated angelica.