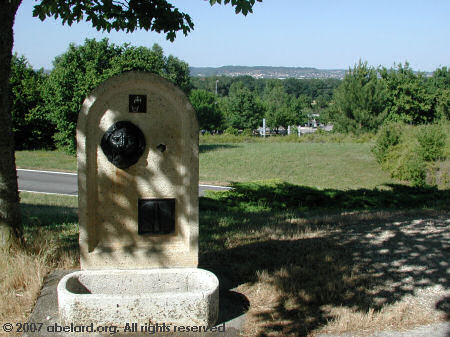 view from the top of the hill at Moirax aire,
looking way down towards the motorway and the town of Agen
For children of all ages, this aire is a great adventure park, with shrubs and copse-covered rises climbing up the almost terraced hillside, ready for extended games of cowboys and Indians or other tracking and hide-and-search games. For the more grown-up, there are walks to the top, either straight up the grassy terraces, or more sedately by following the road.
This internal road zigzags up the hill, where at the top, there is a wide, panoramic view of the valley shared by the river Garonne and the Canal Lateral, with views of Agen and its suburbs beyond. Also here is the children's play area - tidy, fenced for security, with an unusual climbing frame.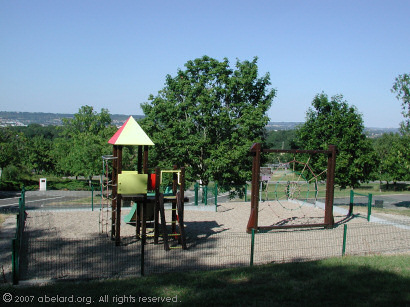 above: play area at the Aire de Moirax, looking down on the aire and the panoramic view
below: the Moirax aire climbing frame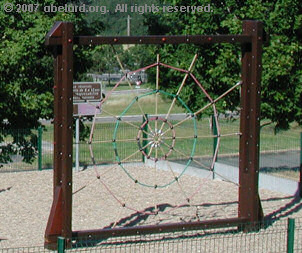 A verdant, forgotten aire that is a true escape from the gunmetal tarmac and grey safety barriers of the neighbouring autoroute. A place in which to "Tread softly..."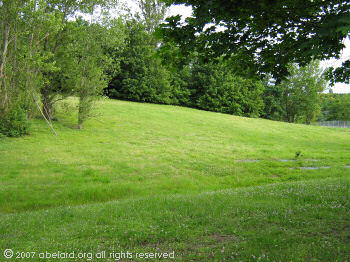 'Downs' and woods at Dunes aire, A62
Click on the yellow link above to see the full page for the Dunes aire.


.
The Aire de Garonne is franchised to the LeClerc supermarket chain. Probably as a result, the aire, its facilities - shops, cafés and so on, are immaculately clean. The prices are a little below those to be found at other aires with shopping and fuel.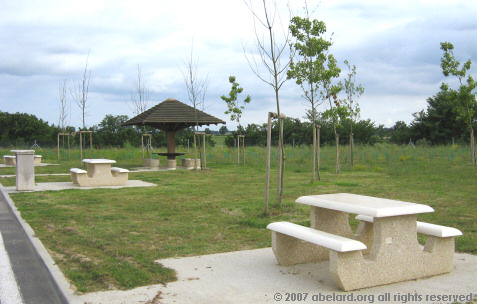 Click on the yellow link above to see the full page for the Aire de Garonne.
pruneaux d'agen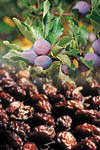 Agen is the capital for the principal French region for growing Agen plums, which are mainly dried and turned in to prunes [les pruneaux d'Agen]. There are huge orchards of plums either side of the A62 Autoroute. Supermarkets sell bagged-up prunes and, when the new season's dried crop is available, they often feature these large, plump, sweet and flavoured semi-dried fruit. [The French prefer their pruneaux to be mi-cuit - semi-dried, they are more moist and easier to eat that way.]

end notes
aire: in this context, an area —
aire de loisirs: recreation area;
aire de pique-nique: picnic area;
aire de repos: rest area;
aire de services: services , motorway (GB) or freeway (US) service station.


This region is noted for its architectural pigeon houses, often built so the house is raised off the ground, away from foxes, polecats and pine martens. Newsagents and gift shops often sell postcards showing a selection of local pigeonniers, or even illustrated books (usually in French). At this link are a series of seven pages showing pigeonniers in the department of Lot and Garonne (click on arrow to the right to move to the next page of photos).