les bréguières aire
sketch map locating les bréguières aire
the motor museum
Motorway aires are designed to provide a suitable environment for relaxing, refreshing and recovering during the long, hard journeys. As well as facilities of often dubious nature, picnic tables and seats, a telephone kiosk, there are often optional extras such as a play area or a display related to some local interest or event.

This aire on the autoroute (motorway) between Cannes and Nice is a hidden playground, away from the fraught drone of a busy, semi-urban motorway. The two parts are connected by a pedestrian tunnel.
On the south side [note: abelard.org did not visit the north side], as well a café and a children's play area, there is a attractive lake with picnic tables nearby and, not far away, the Motorist's Museum [le Musée de l'Automobiliste] with its collection of more than 100 cars and other motor transports.
See STOP PRESS below. Currently [February 2009], both the north and south aires are desribed as having "work in progress".
All in all, this is a suprisingly peaceful and interesting place to rest off. The museum is complete with a little shop, selling a variety of well-chosen, eccentric bits of car memorabilia.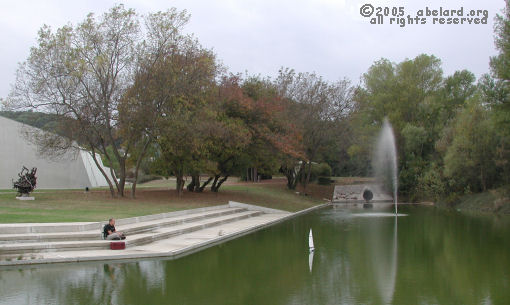 Lake and museum at Bréguières SUD aire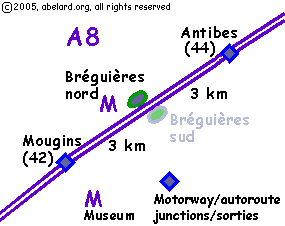 This motorway aire is between Mougins and Antibes sorties/exits. The Antibes exit is in two parts (Antibes Ouest and Antibes Est) both numbered 44, with a toll barrier (peage) between them. Both the Bréguières aires are difficult to spot as you drive down this stretch of the A8 motorway, heavily used by aspiring Grand Prix drivers. To make your task even more confusing, there is no exit [sortie] 43, there is no such exit - see the sketch map.
You must watch out carefully for the filling station signs, rather than look for any clear signing to the Motoring Museum. You must turn into the filling station and go carefully along the exit road until you can turn into the Museum area. The Motoring Museum is part of Bréguières Nord, which is approached from Antibes, going towards Mougins and Cannes. The museum is also accessible by a tunnel from Bréguières Sud (going towards Antibes and Nice).
The Bréguières aire is in Département 06 - Alpes-Maritimes.
On a sad day for lovers of automobiles, the Motor Museum closed its doors for the last time on Friday 19th December 2008. Its founder [1984] and owner, Adrien Maeght, is now 79 years old and decided to end this wonderful adventure when he could neither find a buyer, nor interest his children in the twenty-four-year-old project.
"I have not found one to help me succeed. So I leave without a regret." [Quoted from Google translation]
On 4 February 2009, there was an auction of the vehicles [Google translation], including Ford Model-Ts. Other vehicles in the auction included
Alfa Roméo Giuletta Spider 1964
Alfa Roméo 2000 GT 1972
March 793 Toyota 1979
AC Ace Roadster 1955
Mesrati 430 Quattroporte 2.81 Biturbo 1990
Bentley Mk 6 Convertible 1948
Rolls-Royce Cloud III Saloon 1963
Martini Mk37 Toyota 1982-Maserati 333 1987
Fiat 125Samantha 1969
Lamborghini 400GT 1967
Martine Mk11 1973
Matra MS5 Cosworth 1966
Rolls-Royce SilverSpur 1983
Fiat 1600 Osca 1964-MOYNET LM75 1975
Coccinelle 1974
Adrien Maeght, also owns the Fondation Maeght modern art gallery and museum at St Paul-de-Vence. An article [Google translation] describing both the Foundation Maeght gallery and the Musée de l'Automobile.
There is another motor museum at Mulhouse.

Part of the Bréguières Nord aire, the Musée de l'Automobiliste displays motor vehicles from throughout the twentieth century, collected by eccentric millionaire Adrien Maeght. There are also motor cycles, a wood-hulled motor boat and an early Bleriot flying machine. There are also military vehicles shown. Each year, the museum features a different special display.
From top left, clockwise: 1906 Gladiator; 1937 Peugeot; Ferrari; Formula One cars (no, they are not models!); 1938 Lincoln; 1924 Bugatti.
Musée de l'Automobiliste/Motorist's Museum
A8 Autoroute, Aire des Bréguières Nord
06250 Mougins (Alpes-Maritimes / Provence-Côte d'Azur)
tel: 33.4 93 69 27 80 • fax: 33.4 93 46 01 36
Open April to end September 10.00-19.00, October to end March 10.00-18.00 Closed mid November to mid December, Christmas and New Year.