Then there is the 'museum', open every day during July and August. It has many fairly realistic dioramas of water birds, local people from former times and their daily work, as well as a 3-D model of a farm. Note the building's floor, which is a glassy green, evoking the water of the canals that help drain the marshes.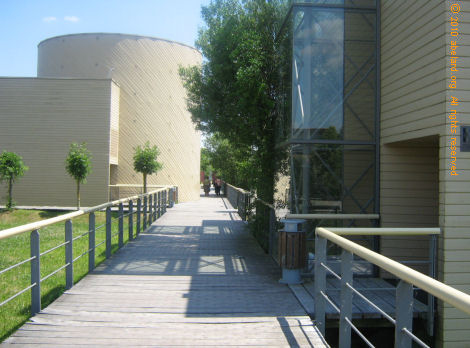 Decking walk, with museum and exhibition buildings to left and right.
cafés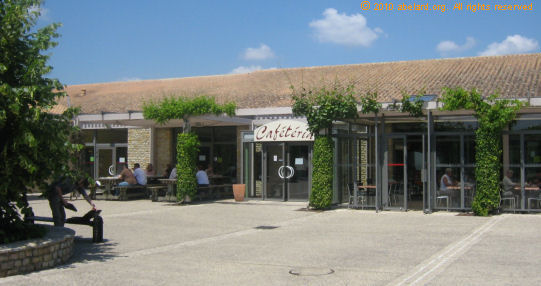 and a large gift and local products shop.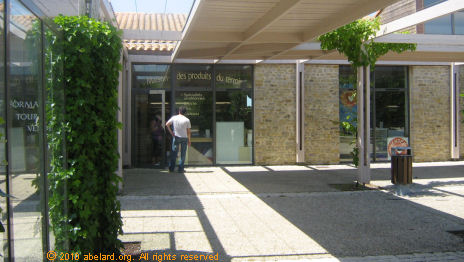 Local products include the Vendée brioche and caramels [fudge] made with butter salted with Île de Ré salt,


Local products: bonbons, flavoured salts, honeys
and even Vendée cola!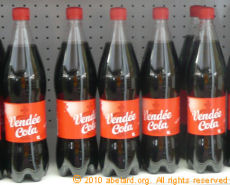 aire de sainte-florence
As well as the large aire de Vendée, with its features, cafés and shops, there are several smaller, quiet aires de repos - rest areas - on the A83. Sainte-Florence, on the northbound carriageway, going towards Nantes is one. It is so quiet, you can hear birds trilling and chattering to each other above the background whoosh of the motorway traffic.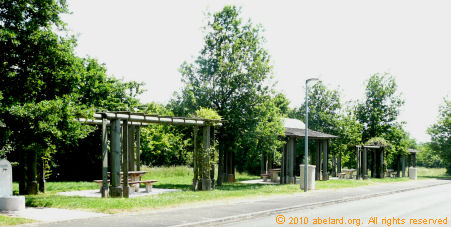 Every second picnic table and bench area is covered, so visitors are sheltered from any rain (from above at least). If you want less action and more peace, this is a good place to come. And here there are places where those with too much energy can plough through the long grass.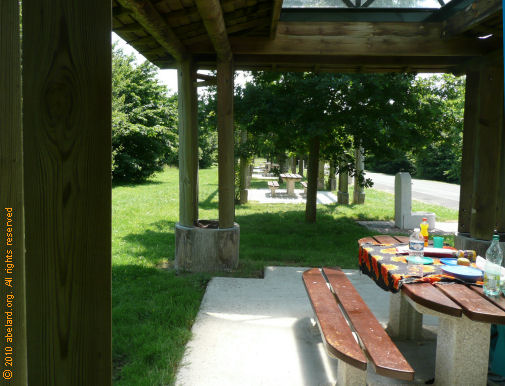 A87
aire de grissay
And going south, facing the aire de Sainte-Florence is the Aire de Grissay. This aire has a very similar layout to Sainte-Florence, with a picnic area on a loop of road away from the parking for the sanitary area and telephone. Like Sainte-Florence, this aire is very pretty and very quiet.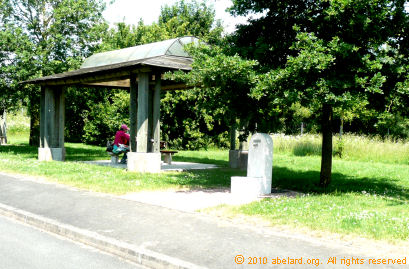 Now a little gastronomic diversion. Go to a supermarket beforehand, and buy some supplies for your picnic. As well as fresh baked bread (pain aux céreales is tasty) and seasonal fruit, try the locally available cheeses. From Vendée are several tasty cheeses, try fleur d'aunis, misotte or herbillette (made from goat and cow's milk). We also encountered bleu de causses, one of several good blue cheeses available. Bleu de causses is better than most stiltons!


aire de chavagnes en paillers
Going further north on the A8 is Chavagnes en Paillers. This aire includes a filling station, with a similar layout to other aires on this motorway, though not quite so pretty. It is substantial, so you can easily find more than adequate places to pause away from lorries and other travellers.
Then there is Remouillé est, small and empty except for the lorry park at the aire's entrance. When we visited, the honeysuckle was better than at the other aires!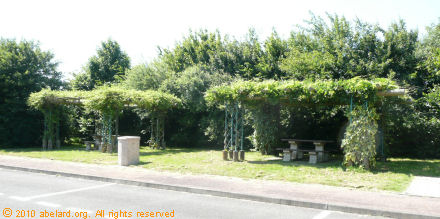 the Marais Poitevin - Poitevin marshes
The Poitevin marshes originally were covered by sea - the Gulf of Pictons. As the sea retreated, it left a marshy area that evolved, over more than ten centuries and with human help, into a mosaic of landscapes. The marais covers over 970 square kilometres, and three départements: Vendée, Deux-Sèvres, and Charente-Maritime. These marshes are only second in area to the Camargue, part of the Rhone estuary.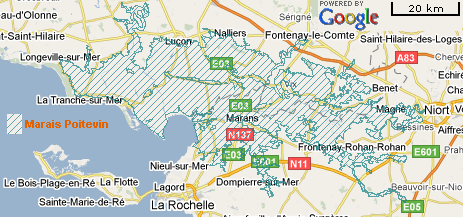 Feudal lords donated parts of the marsh, from the seventh century, to local abbeys. The monks developed this land for crops, livestock, salt production and fisheries. They dug canals, channels and ditches to drain the area. This drainage and improvement of the land, with its development mostly for farming, has continued to the present day.
There are 'dried'marshes, in the west and nearer to the sea, used for farming and animal breeding. To the east are the 'wet'marshes, a patchwork of islets intersected by picturesque canals, nicknamed The Green Venice (la Venise Verte), the canals being filled with grren duckweed. Visitors can have a pleasant outing on the canals, hiring a traditional barque (type of punt) from one of several embarcadères, or piers.
The natural history of this region is very rich. There are over 250 birds that live here or who visit, over 80 species of butterfly, 38 fish species, otters, bats and 126 plant species, of which 78 have protected status. (Of course, what you may see depends on the season.)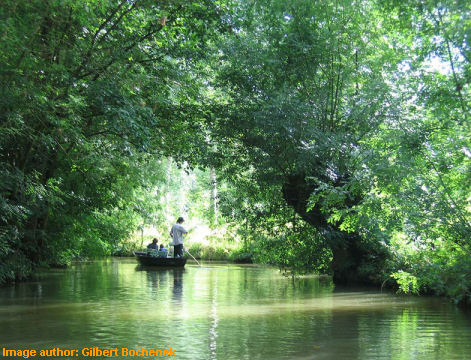 aire: in this context, an area —
aire de loisirs: recreation area;
aire de pique-nique: picnic area;
aire de repos: rest area;
aire de services: services , motorway (GB) or freeway (US) service station.


We have used the letter J, signifying the English nomeclature of junction for access points on motorways/dual carriageways. The French name is Sortie, exit. However, as this would lead to using an unfamiliar (to Anglophones) letter S, in this instance we are remaining English.☺


Bleu de causses originates from the Tarn valley and it production extends from Lot to the Aveyron and Lozère.