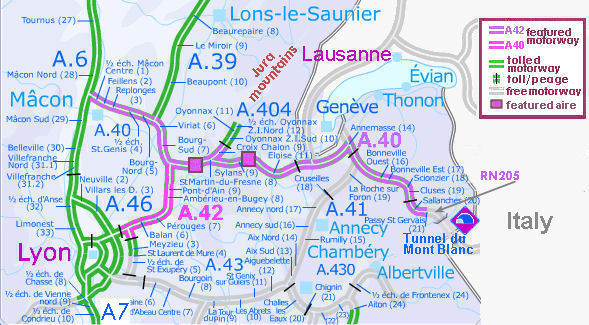 interactive map: hover with your mouse,
clickable areas in pink change to a hand icon
Motorway aires are designed to provide a suitable environment for relaxing, refreshing and recovering during the long, hard journeys.

As well as facilities of often dubious nature, picnic tables and seats, a telephone kiosk, there are often optional extras such as a play area or a display related to some local interest or event.
This featured motorway system, comprising the A42 and A40, is the main route from central eastern France to Switzerland and north Italy.

Lyon - the picturesque medieval city, with more recent urban buildings beyond,
as seen from the Fourvière hill
A42, from Lyon
The A42 was finally put into service in 1987, linking the large cathedral city of Lyon to just to the north of Pont-d'Ain and the A40 in the direction of Geneva, Switzerland and Chamonix (just on the Italian side of the Mont Blanc tunnel).
As with so many large industrial cities in France sited in river valleys or estuaries (in the south, Marseilles and Toulouse come to mind), the motorways are highly polluted from stagnant air generated by both vehicles and industry. Lyon is in a valley of two converging rivers, the Rhône and the Saône; and is a major centre for biotech, chemical, and pharmaceutical industries, as well as petroleum processing. Because of this, like abelard.org, you will not want to stop unnecessarily in the stinking air.
abelard.org saw nothing of interest on this highly industrialised autoroute, though of course, there is the lovely cathedral in the centre of Lyon.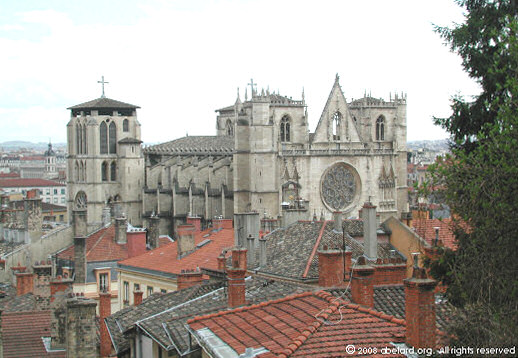 Lyon cathedral, nestled amongst houses of the original medieval city (Vieux Lyon)
Construction of the Cathédrale Saint-Jean-Baptiste de Lyon began in 1180, the new building rising from the ruins of a sixth century church. The cathedral was finished about two hundred years later in 1476. Thus, this cathedral is mix of both Romanesque and Gothic styles.


The cathedral is an impressive example of Gothic building and art, with its original medieval apse, a Late Gothic facade and a rose window that dates from 1393. The high point of the many beautiful stained glass windows, which date from the 13th and 14th century, is the magnificent central rose window in the cathedral's west facade.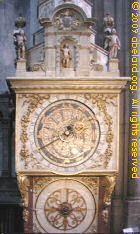 As well as the splendid stained glass, there is also a fourteenth century astronomical clock, one of the oldest of its type in France.
The cathedral is open every day from 08:00/8:00 am to 19:00/7.30 pm.
related page:
Cathedrale Saint-Jean-Baptiste de Lyon
A40 - autoroute des titans/autoroute blanche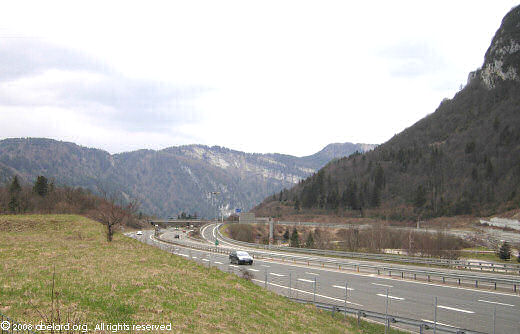 The A40 autoroute
Put into service in 1990, the A40 motorway links Mācon to Passy Saint-Gervais. It continues as the RN 205, to the Mont Blanc tunnel and thence to Italy. The A40 has twelve imposing viaducts, often clinging to the flanks of foothills and mountains, as well as three twin-tube tunnels.
The A40 is managed by the APRR [Autoroutes de Paris, Rhin et Rhône] and ATMB [Autoroutes du Tunnel Mont Blanc] companies. This motorway is nicknamed l'Autoroute des Titans [Motorway of the Titans] in the part maintained by APRR Autoroutes, between Mâcon and Bellegarde, and l'Autoroute Blanche [White Motorway] in the part managed by ATMB, between Bellegarde and Passy St. Gervais.
The A40 allows access to Geneva and Switzerland and the valley of the Arve from Paris; and to northern and eastern France from Italy and Switzerland. It is part of the axis between the north and the south of France, joining up with the A39 in Viriat and the A42 just north of Pont-d'Ain. The A40 also is the French side of the main road access to northern Italy, through the Mont Blanc tunnel.
A previous French President, François Mitterand, said of this motorway, which he inaugurated on 18 December 1986, "the chain of viaducts and tunnels and the sight of the mountainous landscape will bring wonderment to those travellers who make this journey."
Scenery, mountains, lakes, clear air, cold but sunny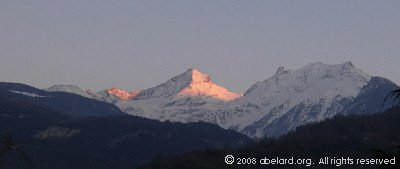 View of the Italian Alps from the Aosta Valley, north Italy
The Autoroute Blanche is a main route to many major winter resorts, and reaches high elevations - the French entrance to the Mont Blanc tunnel is at 1, 274 m / 4,180 ft, with the Italian entrance at 1,381 m / 4,530 ft; Geneva is at a mere 374 m / 1225 ft.
Along its route, this motorway also borders the Jura mountains - home to lynx and to orchids in spring and summer, with snow-capped mountains for much of the year.
As its name - the White Motorway - implies, this motorway is clearly subject to snow and other winter weather. To keep the roads clear, from November to April, 58 motorway patrols work continuously, with 33 combined salting and snow plough trucks, to keep the surfaces clear and safe. However, if you do go on this motorway during those months, we would advise you to include warm clothes, rugs or blankets and some food and drink in your vehicle, just in case you might break down or be waylaid by continuing snowfalls.[4]
featured aires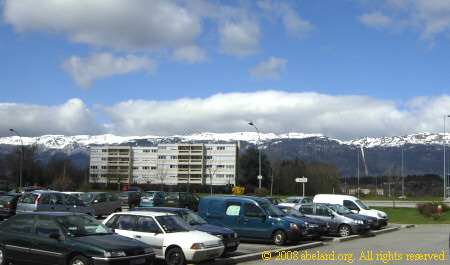 From the parking to the Jura mountains at the Ceignes-cerdon aire on the A40
Going east from Lyon or Mâcon, and just before Sortie 8, is the Ceignes-Cerdon aire de service - with a service station. Like many large aires, the first impression is of the sprawling car parks and, of course, extensive lorry parks. There is also a somewhat confusing network of access roads. In mitigation to all the asphalt, there is a café in an architecturally interesting building with a cable-supported wooden roof (completed in 1988). And of course, there is the most astounding view towards the nearby snow-covered Jura mountains, part of the reason for the name of the Autoroute Blanche - the White Motorway.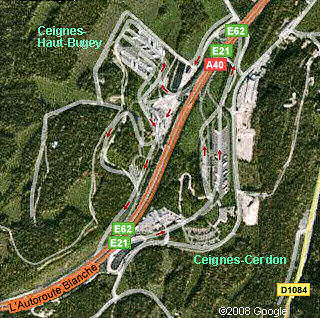 Google satellite map of Ceignes-Cerdon and Ceignes-Haut-Bugey aires, A40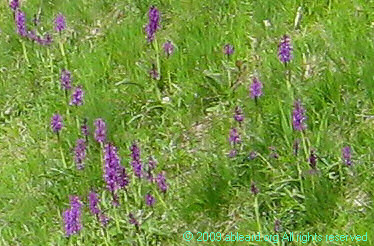 The landscape of Bugey can be divided into two: Haut-Bugey is colder and rugged while further south, Bas-Bugey is much flatter and warmer.
Haut-Bugey is the southern, mountainous extension of the Jura mountains. Historically, this province between Lyon and Geneva was part of the States of Savoy, becoming part of France in 1601, together with with the Bresse and the Pays de Gex regions - regions both known for their blue-veined cheeses.
Going west, towards Mâcon and Lyon, is the aire that twins the enormous Ceignes-Cerdon aire. Being on the north side of the motorway, it is close to the foothills of the Jura mountains where, in spring and summer, many orchids bloom in the diverse environments of lowlands and uplands. Because of its proximity to an area where wild temperate orchids grow in abundance, there is a permanent exhibition with the theme of orchids.
orchids
The Orchidaceae family comprises more than 17,000 species in 850 genera. The growth of orchids is either sympodial (from a rhizome emitting shoots in several directions), or monopodial (from one shoot). Epiphytes, or terrestrial orchids, are adapted to difficult environments and are often grow in symbiosis with fungi that can further exploit this environment. This symbiotic relationship allows ground-growing orchids to colonise land little occupied by other species. There are many orchid species to be found in the different landscapes in the Haut-Bugey region.
Orchids are particularly abundant on high ground where fertilisers are not used and which often have never been ploughed. They do not survive ammonium nitrate, used in fertilisers, or repeated ploughing. However, fields ploughed early in the year are often highly conducive to orchids that no longer have competition from grasses. Thus, temperate orchids are found on land that is undisturbed, abandoned or lying fallow. Orchids love extreme conditions, such as continuous sunlight, or poor soil mainly composed of limestone. Such environments include fallow hayfields, dry limestone meadows abandoned from agriculture, road and railway embankments. Here, you may find Orchis, Traunstein, Dactylorhiza species.
Orchids are also plentiful in damp zones such as the floors of woodlands, floodable meadows, marshes, limestone bogs. Orchids found here include Lisparis loeselii, Epipactis palustris, Orchis palustris, Herminius monorchis. And, of course, orchids appreciate alpine prairies. Here, you can see Pseudorchis albida, Dactylorhiza, Nigritella, Orchis sptizelli.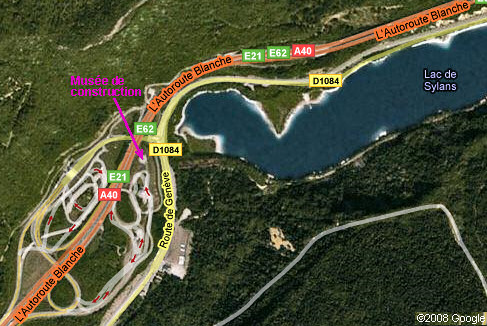 Lac de Sylvans aires, A40
This aire, in the direction of Switzerland, Mont Blanc tunnel and Italy, provides a pleasing break during your drive. The aire has two large picnic areas, with a raised viewpoint overlooking Lake Sylvan, stretching down the valley. There is not a lot of shade, which could uncomfortable in bright Alpine summer sun. There is also a grand view of the 1,300 metre Viaduct de Sylvan, clinging to the hillside, and dividing mountain from lake. This serious bit of engineering is made on two levels, with one motorway lane going in each direction.
Lac de Sylvan aire also houses the Musée de Construction - the Construction Museum - whose displays show road-making methods over the centuries, as well as how motorway viaducts are built. Note that the building looks closed until you open the door, when the lights and sound come into action.