art deco in france
France was in the vanguard of Art Deco design, peaking in the 1925 Exposition des arts décoratifs et industriels exhibition in Paris.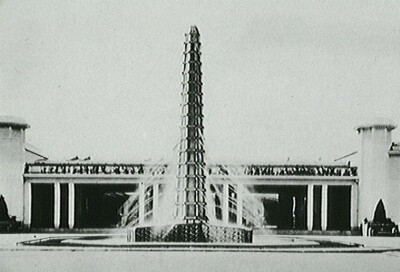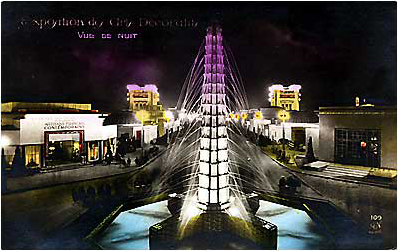 The Lalique tower at the Paris Expo des arts decoratifs et industriels
during the day and at night
This had French displays and pavilions on the left bank of the Seine and foreign pavilions on the right bank. The French displays included the Lalique Tower, that was lit at night, and the Pavillion de l'Esprit Nouveau, designed by architect Le Corbusier and his cousin Pierre Jeanneret. This pavilion included a modular show apartment, part of a proposed large-scale housing project for central Paris, but never built. On the internal walls hung pictorial works by contemporary painters, Amedee Ozenfant, Juan Gris and Fernand Leger, Pablo Picasso and Le Corbusier.

3:57 minute video giving a 3D presentation of Le Corbusier's Pavilion de l'Esprit Nouveau
During the early twentieth century, both the Côte d'Azur in the south-east of France, and the Atlantic coast became increasingly attractive places for taking the waters and to holiday. There was much building in both regions.
On the Atlantic coast, the coastal strip from Spain to Bordeaux was transformed from a desolate temperate desert to a vibrant chain of resorts, often enhanced by many Art Deco buildings. After World War One, when Germany had destroyed many buildings, other opportunities were provided for French architects and builders to construct in the new style.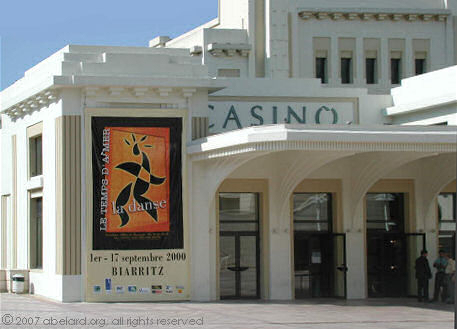 The casino at Biarritz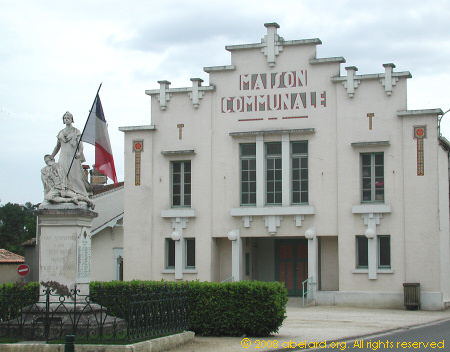 Maison communale at Saint-Symphorien, Gironde


The Splendid hotel, on the banks of the River Adour at Dax, Les Landes


Seafront apartment and thalassotherapy building
by Robert Mallet-Stevens, Saint Jean de Luz Source: unknown
art deco in a french model town
One small town, Morcenx, began as merely a station in 1854 when the railway was built to connect Bordeaux in the north of Aquitaine to Dax, further south. The railway passed to the north and east of the original Morcenx - Morcenx Bourg. The new town of Morcenx became a large junction for freight - shipping out wood from the forests, and wood products such as fibre board, from the nearby factories.
The expanding Morcenx was built on a model town layout, its design incorporating different characteristics of medieval bastide towns: the railway line like an extended border, a big square, shade by trained plane trees, situated opposite the station with an axis of symmetry perpendicular to the railway line, and punctuated at its other end by a church. Situated around this axis, the urban Republican complex also contributes to embellishing the heart of this town. In response to a real need, the municipal buildings were built in 1936 to architect Franck Bonnefous, with decorations added by sculptor Lucien Danglade.
Municipal buildings included the town hall, or mairie [1], the post office - La Poste [2], cinema [3], an assembly and concert hall - le Centre Jean Jaures [4], labour and trade union offices [5], a music school [6], tax offices [7], and municipal offices[8] .