introduction
You find a pretty and interesting postcard in a secondhand bookshop, maybe in France, or on e-bay. But the correspondent did not date their message and the postmark franking on the stamp is smudged. Can you discover how old the card is?
To help make some sense of being able to date old postcards, first we give a short general history of postcards. This is be followed by more detailed listings for some countries - Great Britain, the United States of America and France.
a general history of postcards
1869, 1 October: the first postcard, a pre-printed correspondence card, was sent through the public postal service in Austria. The card had the address on one side and a message on the other, but no picture. Before this, there were advertising cards that were often hand-delivered.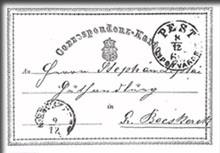 One of the first postcards, sent in Austria in 1869
As people caught on to the usefulness of this cheap and fast method of sending messages, the poor man's telegram - remember the telephone did not yet exist - national postal services authorised the sending of postcards through their postal systems.
Date when postcards were first mailed:

1870 - Switzerland, Britain
1871 - Belgium
1872 - Russia, France
1873 - U.S.A. (government-issued pre-stamped), Romania, Japan
1874 - Germany
Postcards started to be sent internationally in 1875, after the first meeting of the General Postal Union in Berne.
The main changes in the appearance of postcards were
the undivided back: the address was on one side and the message, or later, the picture and message, on the other
Postcard from 1904 (Chicago) with an undivided back and a small space available messages on the card front.
the introduction of images on one side started in the 1890s when small pictures encroached on the writing area of the message side.
1889: the publication of a postcard of the newly opened Eiffel Tower as part of the Paris Exposition Universelle. With over 300,000 copies were sold to visitors, this postcard helped popularise the illustrated souvenir postcard and secure the postcard format

1889 postcard of the Eiffel Tower

Because only the address was allowed on the back of the postcard, messages were written on the same side as the picture. Below is an example, written anywhere and everywhere.


Cesson - Grande Route de Rennes and tramway. Postmarked 1910
1894: first picture postcards produced in the UK
the divided back permitted the message be on the same side as the address.
Introduced - 1902: U. K.; 1904: France; 1905: Germany; U.S.A. - 1907.
Postcard with an unusual divided back showing logging in Vancouver, Canada. Postmarked 1908. Printed in Germany.
Thus, the other side could be to be used entirely for the picture. Previously, messages had been crammed onto the same side as any image.
linen: From 1930, this was a U.S. innovation, appearing during a period when linen type paper stock was used, together with synthetic organic printing inks, with saturated pigments based on coal tars. This allowed brighter colour printing that was also aided by the woven fabric texture. The linen texture enlivened the image by reflecting the light in multiple directions.

At first, these postcards included a white border:

Linen postcard with a white border. Date unknown. Note horizontal grain.

But this gradually disappeared as printing extended to the edges of the card: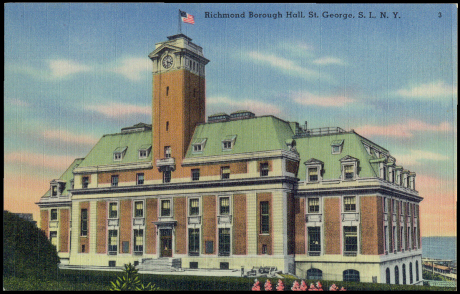 Linen postcard without a border. Date unknown. Note vertical grain.
Most linen postcard production stopped in 1939 with the start of World War Two, although some printers continued with this fabric-based printing stock until the early 1950s.
photochrome: Introduced in 1939, the modern chrome postcard, with richly coloured photographic images and no border on one side. Most linen and black and white postcard publishers either shut down or converted to producing Chrome postcards.
other means of dating postcards
It must be remembered that many years, even decades may pass between the taking of a photograph, when it was published on a postcard, and when the postcard was posted. Further, from time to time, reproductions of old pictures or photographs are repeated some decades later. Another possibility for finding an old postcard with a relatively modern postmark date is someone had taken the whim to stamp and post a vintage postcard.
Modern 'Pamlin' reproduction of postcard probably originally produced in the very early 20th century, postmarked 1973
Other clues can help date a postcard: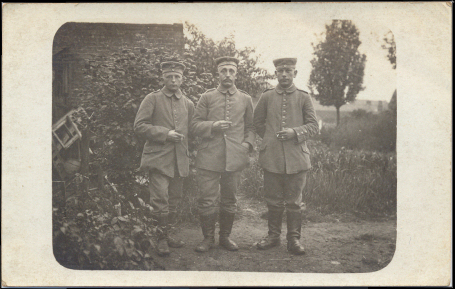 German soldiers on a Real Photo postcard. Pre-1914
Different paper types and qualities were used at different periods. The paper's colour - for instance, whether it is green, beige, blue or pink - also can indicate its period.
The publisher, also called the editor. Each were productive over different time periods.
The printed legends on the back of the card. When private produced postcards were first permitted, they were called Private Mailing Cards. Later, they were called Post Cards. There were also other legends such as Souvenir Cards. Legal legends, printer's details and other printing also evolved. Here follows a selection in approximate date order:


Detail from a French postcard, between 1901 and 1907




Detail from a Canadian postcard postdated 1914




Detail from a Canadian postcard, probably from about 1910
The card's design or style:
Each period has a characteristic look, with Art Noveau cards from the 1900s, Art Deco from the 1920s and heavily coloured photos appearing typically from 1920 - 1930.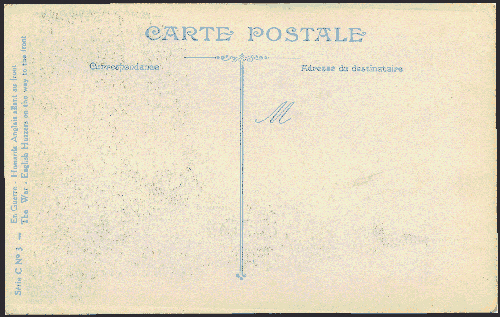 back of an Art Nouveau postcard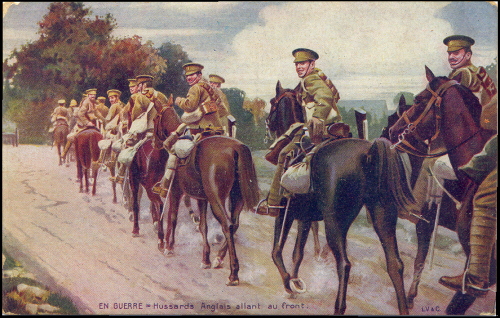 front of the same Art Nouveau postcard. (The caption on the card's back reads:"In war - English Hussars on the way to the front".)
Artist's signature: an artist worked at a particular period, so their signature can help date the postcard
Buildings, vehicles, clothing and more:
these can help date a postcard -

be aware that motorcars were not widespread before the early 1900s, before that vehicles were horse (or mule)-drawn.
Both men and women's fashions changed, as did uniforms.
Certain buildings were built at certain dates. For unknown buildings, again certain styles, such as Art Deco, only appeared after a certain date.
Street names can help too - Some street names only appeared after a certain event. For instance in France, streets (avenues, boulevards, places etc) named after US President Wilson can only appear after 1913 when Woodrow Wilson was first elected president.
Memorials shown in postcards can also help in dating. Thus a First World War memorial can only be illustrated on a card from after WW1. Every French commune is required to have such a memorial, well-cared for and decorated with flowers every 8th May and 11th November, usually with an accompanying ceremony.

The handwriting, and even the wording of the message may give stylistic, cultural or historical clues about when that message was written.
Black and white or coloured images:
It is believed that the first multi-coloured card, the Heligoland card, was issued in 1889. The divided back (1902 - U. K., 1907 - U.S.A.) meant that one side could be used solely for the image. Before coloured images were printed, black and white postcards were hand-coloured by women working piecemeal. They would lick the tip of their brush as they worked. However, many of the paints were lead-based, and after several deaths, hand-colouring cards was stopped. Black and white postcards were then coloured by adding printed colours to the card. With colour photography, this colouring method became almost non-existent.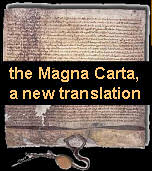 postcards in the united kingdom
The "paid-for by sender" postal system was developed by Rowland Hill. A standardised postage was paid for by the sender, who purchased a stamp to attach to the letter, rather than the receiver. The first stamp was the Penny Black, issued on 6 May 1840. The stamp showed a side portrait of Queen Victoria at age 15. (The first French postage stamp was issued on 1 January 1849.)
1870:

The first UK postcards introduced by the Post Office. They were plain cards and had a pre-printed stamp. The sender wrote the address on one side of the card and a brief message on the other. There was no picture.

1894

, 1 September: the Post Office allowed postcards published by other than the government to be posted. A halfpenny adhesive stamp was added to these cards before posting. Not having to print a stamp onto the card freed the postcard publishers to use any printing method, this freedom allowing publishers to produce photographic images. By selling postcards without a printed stamp, the price was reduced.

1895:

postcard size adopted to be 4.75 ins x 3.5 ins/12 cm x 8.9 cm, and known as Court Cards. The address was written on one side. On the reverse was a small picture with sufficient space for a written message.

1899:

the UK adopted the internationally accepted standard postcard size of 4.75ins x 3.5 ins. The address and stamp were on one side, while the other side held an image and any written image. Because the image often occupied a good deal of the space, the message would be crammed in around the edges of the photograph side of the postcard.

1902:

the UK Post Office decreed that the image should be on one side (the 'front' - recto), while the 'back' (verso) was divided with the message put on the left, and the address and stamp put on the right. Britain was the first country to adopt this format.
Manufacturers soon produced postcards with a line on the back to indicate the division between message and address.

1926:

Allowed postcard sizes were specified:
Minimum size: 4 ins x 2.75 ins / 10 cm x 7 cm
Maximum size: 5.875 ins x 4.125 ins / 15 cm x 10.5 cm
There were some larger (giant) postcards made during the early twentieth century, they became more widespread later in the century.
postcards in the u.s.a.
1873:

Pre-stamped postal cards issued by the American Postal Service.

1898

, 19 May: private publishers and printers allowed to produce postcards. Senders had to attach a 1¢ stamp. Manufacturers required to print the words "Private Mailing Card" on the back of the card. Changing design features can help approximate dating of these cards
Messages were not allowed on the address side (the back) of the Private Mailing Card, so some small blank area was often left on the front/picture side for writing short messages.
Further information printed on the back of the card included "Authorized by Act of Congress of May 19, 1898", "This side is exclusively for the Address"and often "Postal Card - Carte Postale", indicating the card might be sent abroad.

1901:

The labeling on the back of the postcard changed from "Private Mailing Card" to "Post Card". Messages were still not allowed on the back with the message. The back was undivided by a line.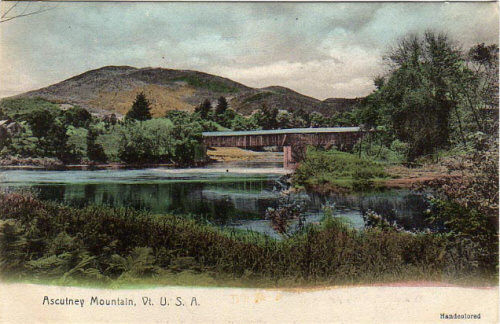 Ascutney covered bridge on a hand-coloured postcard, 1906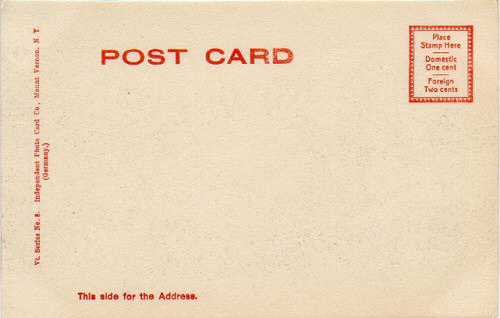 Reverse of postcard - postage: 1 cents domestic, 2 cents foreign
1907, 1 March: The back was divided by a vertical line and messages were allowed in the smaller left area, while the address was put on the right. The blank area on the front for messages was no longer included.

1915:

To save ink, US printers left a white border around the picture on the front of the postcard. The back of the card was divided more evenly, making the message area bigger. More description of the photograph was included on the postcard back.

1930 - 1944:

Because of improved printing processes, brightly coloured images were printed on postcards made with a high rag content. The resulting postcards looked as if they were printed on linen cloth. The white border often remained, but there were also Linen Period postcards with no white border.

1939:

The Union Oil Company started carrying photochrome-style postcards in their western service stations. The postcard images are close to real photographs. The quantity produced slowed during WW2.
This type is postcard is still produced today.
postcards in france
1870:

When France was at war with Germany, the Red Cross provided cards without stamps for the wounded to inform their family that they were alright.
First illustrated postcards.

Patriotic French pride was pricked by the latest war with Germany, which slowed down the official acceptance of postcards, as the French did not care to copy a Prussian invention.



1873:

The law of December 1872 allowed the sending of postcards in the same town for 10 centimes and between towns for 20 centimes.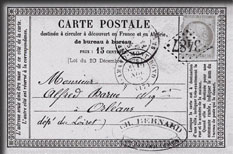 Official pre-paid French postcard, from 1873
1878 - 1902:

Undivided back period; postcard size 14 x 9 cm
1878: Printed text - Coté réservé exclusivement a l'adresse
1881: Printed text - Ce Coté est exclusivement réservé a l'adresse

1891:

First tourist view cards produced in Marseille.
1896: Printed text - République Francaise
1899: Printed text - Carte postale

1902:

It was permitted to place the stamp on the back or the front of the postcard.
1904: Printed text - tous les pays extrangeres n'acceptent pas la correspondence au recto

1907:

divided backs started to appear

1910:

generalised use of the divided back
After the First World War, the popularity of postcards declined with competition from photographic illustrations in newspapers and magazines, together with the widespread use of cameras. Better communications of the telephone, radio and more efficient petrol-fuelled transport also played their part.
It was not until the 1970s that a combination of fast, clean offset lithography printing and a concerted effort by postcard publishers to make their cards interesting to buyers - with multi-views, humorous pictures, novelty shapes - that the French postcard trade was revived.
postage stamp values to aid dating postcards
This section is a train-spotter's delight of lists of dates and accompanying postage rates. It is best used as a reference section, rather than reading from beginning to end.
These postage rates can also be used to calculate a historic inflation.
Great Britain
1870 - 1918: ½d (one half-penny/one half-pence, hap'ny)
apparently, postcard postage for overseas was 1d (one penny)
1918, 3 June: 1d
1921, 13 January: 1½d
1922, 24 May: 1d
1940, 1 May: 2d (letter 2½d)
1957, 1 October: 2½d (letter 3d)
1965, 17 May: 3d (letter 4d)

1968, 16 September: postage tariffs changed to first and second class.
First-class post should arrive the next day, second-class post taking longer.
First: 5d; second: 4d

After the conversion to decimal currency (100 p = £1, instead of 240 d = £1):
1971, 15 February - first: 3p, second: 2½p (6d)
1973, 10 September - first: 3½p, second: 3p
1974 24 June - first: 4½p, second: 3½p
1975, 17 March - first: 7p, second: 5½p
1975, 29 September - first: 8½p, second: 6½p
1977, 13 June - first: 9p, second: 7p
1979, 20 August - first: 10p, second: 8p
1980, 24 February - first: 12p, second: 10p
1981, 26 January - first: 14p, second: 11½p
1982, 1 February - first: 15½p, second: 12½p
1983, 5 April - first: 16p, second: 12½p
1984, 3 September - first: 17p, second: 13p
1985, 4 November - first: 17p, second: 12p
1986, 20 October - first: 19p, second: 14p
1989, 2 October - first: 20p, second: 15p
1990, 17 November- first: 22p, second: 17p
1991, 16 September- first: 24p, second: 18p
1993, 11 November- first: 25p, second: 19p
1996, 8 July - first: 26p, second: 20p
1999, 27 April - first: 26p, second: 19p
2000, 27 April - first: 27p, second: 19p
2003, 8 May - first: 28p, second: 20p
2004, 1 April- first: 28p, second: 21p
2005, 17 April- first: 30p, second: 21p
...
2019 - first: 71p, second: 60p

Note: since 28 August 1989, when non-specific price-point stamps were first issued, senders more and more frequently use stamps denoted with 1st or with 2nd, rather than using stamps with a specific price denomination. This will make dating more difficult in the future.
United States of America
U.S. stamp postage rates are calculated by the ounce. A postcard, at a weight of 3 grams, is well within the lowest postal rate, be it a half or a full ounce. Thus, the postcard is given its own lower postal rate.

American postcard tariffs:
1863, 3 March: 6¢
1873, 1 May: 1¢, with stamp pre-printed on the cards
1883, 1 October: 4¢
1885, 1 July: 2¢
1898, 1 July: 1¢
1917, 2 November: 2¢
1919, 1 July: 1¢
1952, 1 January: 2¢
1958, 1 August: 3¢
1963, 7 January: 4¢
1968, 7 January: 5¢
1971, 8 May: 6¢
1974, 7 March: 8¢
1975, 14 September: 7¢
1975, 31 December: 9¢
1978, 29 May: 10¢
1981, 22 March: 12¢
1981, 1 November: 13¢
1985, 17 February: 14¢
1988, 3 April: 15¢
1991, 3 February: 19¢
1995, 1 January: 20¢
2001, 1 July: 21¢
2002, 30 June: 23¢
2006, 8 January: 24¢
...
2019 : 35¢
For further information on French definitives, visit Marianne - a French national symbol, with French definitive stamps.

French postcard tariffs:
1872: 10 centimes - journeying in the same town
15 ¢ - between two towns in France
1875, 26 October: 15 c
40 c - unfranked post card
1878, 1 May: 10 c - France
15 c - abroad
• Local post card rate ended
• The 15 centime rate lasted until 1917.
1917, 1 January: 15 centimes
Post card with less than 5 words: 10 c
1920, 1 April: 20 c
1926, 1 May: 30 c
1926, 9 August: 40 c
1937, 12 July: 55 c
1938, 17 November: 70 c
1939, 1 December: 80 c
1942, 5 January: 1 franc 20 centimes / 1.20 F
1945, 1 March: 1.50 F
1946, 1 January: 2.50 F
1947, 1 January: 4 F
1947, 3 January: 3.80 F
1947, 1 March: 3.50 F
1947, 8 July: 5 F
1948, 21 September: 8 F
1951, 8 December: 12 F
1957, 1 July: 15 F
1959, 6 January: 20 F

• The franc was devalued 100-fold so 1 new franc = 100 old francs.

1960, 1 January: 20 centimes (the 1 January 1959 tariff expressed in new francs)
1965, 18 January: 25 c
1969, 13 January: 30 c

• From 1971, 4 January: there are two tariffs - urgent and non-urgent. The urgent postcard postage tariff followed the letter tariff. The non-urgent postcards follow the rate for non-urgent letters [un pli non-urgent]

1971, 4 January: 50 c (urgent), 30 c (non-urgent)
1974, 16 September: 80 c (urgent), 60 c (non-urgent)
1976, 2 August: 1F (urgent), 80 c (non-urgent)
1978, 15 May: 1.20 F (urgent), 1 F (non-urgent)
1979, 15 October: 1.30 F (urgent), 1.10 F (non-urgent)
1980, 1 August: 1.40 F (urgent), 1.20 F (non-urgent)
1981, 1 September: 1.60 F (urgent), 1.40 F (non-urgent)
1982, 1 June: 1.80 F (urgent), 1.60 F (non-urgent)
1983, 1 June: 2 F (urgent), 1.60 F (non-urgent)
1984, 1 July: 2.10 F (urgent), 1.70 F (non-urgent)
1985, 1 August: 2.20 F (urgent), 1.80 F (non-urgent)
1986, 1 August: 2.20 F (urgent), 1.90 F (non-urgent)
1987, 1 August: 2.20 F (urgent), 2 F (non-urgent)
1993, 5 July: 2.80 F (urgent), 2.40 F (simple)
1996, 18 March: 3 F (urgent), 2.70 F (economic)

• On 1 January 2002: France's currency changed to euro (symbol: €). The exchange rate was 1€ to 6.55957F.

2003, 1 June:, 0.45 € (economic),
2005, 1 March: 0.48 € (economic, the same tariff as second-class letters - ecopli.)
2006, 1 October: 0.49 € (economic)

• From 1 March 2008, postcards are included in the tariff for ecopli of less than 20g

2018, 1 March : 0.78€ (écopli)
2019, 1 March : 0.86€ (écopli)

From December 1917 to January 1947, there was a further tariff for "non-personal correspondence" with a limit of five hand-written words. The cards used were often labelled Imprimé rather than Carte Postale, and were usually printed advertising cards.

1909, 1 December: 5 centimes
1917, 1 January: 10 c
1920, 1 April: 15 c
1924, 25 March: 10 c
1925, 16 July: 15 c
1926, 1 May: 20 c
1926, 9 August: 25 c
1930, 21 April: 15 c
1932, 18 July: 20 c
1937, 12 July: 30 c
1938, 17 January: 40 c
1942, 5 January: 60 c
1945, 1 March: 1 franc
1946, 1 January: 1 franc 50 centimes
1947, 2 January: 2.80 F
1947, 1 March: 2.50 F
1947, 8 July: 3 F
1948, 21 September: 5 F
1949, 6 January: 8 F
1957, 1 July: 12 F
1959, 6 January: 15 F
1960, 1 January: 15 centimes (?) until 18 May 1964, when this tariff was ended.