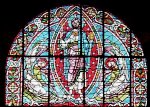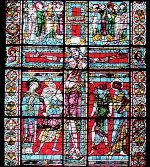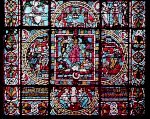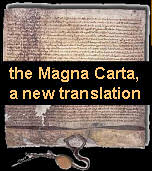 Tourism is the second largest foreign earnings industry in France, and is currently estimated in billions of euros. France is also the most popular tourist destination in the world.
Tourism being such a large component of the French economy, it is served by a vast infrastructure of tourist offices, hotels, rental accommodation, small cafés, small museums and very large tourist attractions, often subsidised or even owned by local government or the State. Such attractions include cathedrals and churches.
Other local attractions might be honey farms or caves using for growing edible fungi, open to tours for a "small fee". France is organised to snare your tourist dollars, pounds, pesetas or any other convertible currency available.
It is only very recently that many of the attractions, particularly the historical ones, have been refurbished, developed or enhanced.
Poitiers Cathedral is one of my favourite buildings in the whole of France. It is what is known as a 'barn church' and, for me, it just emanates peace, history and a certain tranquility. The cathedral is hidden in the back streets of Poitiers. It is quite a steep climb from the cathedral to the centre of the town, something to keep clearly in mind with grandma in the sizzling hot of a southern French summer.
Sketch map of Poitiers city centre.
Poitiers city is a hill town and one of the great historic monuments of Europe; this is where occured in 732 the first rebuff of the then twenty year-old Islamic invasion into Europe. It took until 1492 to finally end the Islamic incursion to Europe.
Poitiers was the centre of the great Angevin expansion, developed over several generations by the Dukes of Anjou engaging in strategic marriages until, under the great Henry II, the Plantagenet empire included England and the whole of Western France. Henry II founded the cathedral at Poitiers in 1162.
This was when Paris was small, weak and limited. Unfortunately, despite bringing law and prosperity across his empire by his great energy, Henry II was a complete dud as a father and his children grew up quarrelling and variously less able.
Meanwhile, the Capetians in Paris had the good sense to reign for very long periods (three of them each reigned for over thirty years) and, thus, developed coherent policy and stability.
At this time, Henry's elder son Richard was mostly interested in war, storming castles and going on a beat-up to the Holy Land. He became a great general, got himself killed and left his brother John to pick up the pieces in administering England.
But John did not defend his French interests well, England fought with an interminable number of Louis, so by the 17th century the English were finally pushed out France. It was then that Elizabeth I is supposed to have said, "When they bury me, they will find Calais engraved on my heart."
During the time of continual grinding English losses on the Continent, Poitiers maintained its historic place by becoming the scene of one of the greatest long bow battles of the Middle Ages, which naturally England won.
As Poitiers is on a hill, the central part of the town is very short of land and most of it is crowded into narrow streets with the central area being well pedestrianised. Parking is a serious pain, though now there are a number of underground car parks. There are also two-way roads where to pass one mounts the pavement, while everywhere can be seen cars with smashed side mirrors.
Poitiers is very proud of its Romanesque architecture (Roman, in French), sometimes referred to as Poitiers Romanesque. Until recently, little was done to conserve what I regard as the real jewel in the crown, the gothic cathedral.
When I first visited Poitiers Cathedral, it was filthy beyond belief, nearly deserted with holes in the windows and pigeons flying about, cooing and doing what pigeons do. As I walked up one of the aisles, there was a trail of blood and the remains of one of the pigeons, who had obviously encountered a cat seeking an easy meal.
You may imagine that I was distressed as I had made a considerable journey to view what I regard as one of the most important artistic masterpieces in Europe—the main stained-glass window above the altar. This window, dating from the end of the twelfth century, is claimed to have been donated by Henry Plantagenet and his wife, Eleanor of Aquitaine.
Naturally, I did a little to make my feelings known. I have since visited this shrine several times over the years, including recently in order to produce this document. Unfortunately, this last time, the great window was missing. But over the years, the French authorities have come to value this cathedral more appropriately. Each time I visit, things have improved a little: the facade is much cleaned, the organ restored, now my beloved main window is being cleaned, restored and protected against the weather and pollution.(The window was planned to be returned by May 2004, everything is late in France. If you want to see it for real, you will need to check whether it has been returned. I shall attempt to remember to update this document when news reaches me.)
An example of Romanesque architecture at Poitiers, right in the centre of the town, is the Church of Notre-Dame. Recently, it had its exterior restored and cleaned back to sterile yellow stone, instead of the gay medieval, technicolour-painted facade. The church is unusual because it has no windows in the nave, and the interior is still painted in the traditional fashion.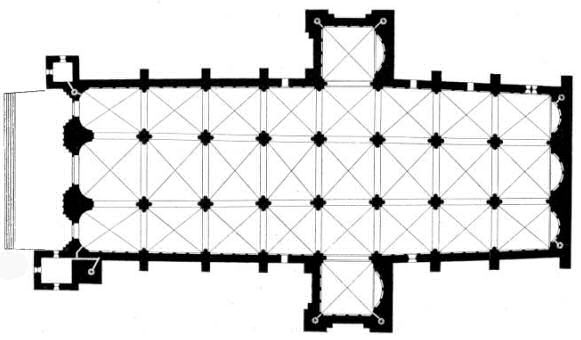 Poitiers cathedral, floor plan
Background facts

Poitiers

approximate population : 87,400
average altitude/elevation : 65 m

cathedral dimensions

nave length : 94 m
nave width : 30 m
vault height : 27 m

Some reference keywords/tags:

Poitiers Cathedral,Cathedrale,photos,image,images,photograph,picture,pics,France,Gothic architecture,German bombing,son et lumiere,stained glass windows,Chartres,