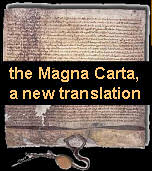 index
rouen cathedral illustrated
rouen cathedral
rouen, 1908
the window of st julian the hospitalier
rouen cathedral plan and dimensions
note from abelard
background facts
end notes
" From the end of June to mid-September, every evening at nightfall the cathedral square is to become a theatre of light. In a highly original creation, the façade of the monument will be transformed into a huge painter's canvas, where colours inspired by Claude Monet's famous cathedral series will be projected. The City of Rouen and its Heritage and Tourism department are behind this initiative involving a National Monument."
[From July to mid September.]
Painting with lights is becoming a popular spectacle in France. Poitiers Cathedral was a previous subject for such show, demonstrating how medieval craftsmen painted the statues on the cathedral main façade. The colours have since worn away through the centuries. It is only a modern fashion to have bland, naked stone inside and outside Christianist ritual buildings.
The show at Rouen has a large easel set up outside the cathedral on which a dozen of Monet's paintings are projected in synchronisation with the changing lightshow.
rouen cathedral
Despite being painted about thirty times by Claude Monet in various light and weather conditions, Rouen is not one of the very most spectacular French cathedrals, but it is well worth a visit, especially since a large amount of the stonework has been restored. Five thirteenth-century stained glass windows have survived foreign invaders and the depredations of time. [To be linked.]
| | | |
| --- | --- | --- |
| | | |
| Rouen cathedral in evening light | Rouen cathedral in morning light | Rouen Cathedral by Claude Monet |
You may find two excellent photographs, one showing Rouen Cathedral and its siting in the town and surroundings. (There is an accompanying potted history, which is coloured by the site-owner's personal hobby.) The other shows the Nave of Rouen Cathedral, with detailed description of the cathedral's interior architecture.
Rouen cathedral is one of the great structures of France, but was greatly damaged during the second World War. It has been heavily restored since then.
A great deal of damage was done during the invasion, but fortunately much of Rouen's glass had been removed to safety. Three other Rouen churches with important sixteenth century glass were St. Godard, St. Vincent and St. Patrice. The building of St. Vincent was smashed beyond recovery, but its glass may now be seen in the extremely modern, boat-like new church of Ste Jeanne d'Arc. Of course, Rouen was involved in the disgraceful martyrdom of Joan of Arc (1412 - 1431).
Rouen is situated on the Seine, 82 miles/130 km northwest of Paris, and about 55 miles/88 km from Le Havre on the coast, at the mouth of the Seine. The old city, situated on the right bank, has been called Ville-musée (museum town) in view of its great many ancient buildings.
I am using the city of Rouen as the first cathedral town in this series of documents of stained glass and cathedral architecture. While the stained glass in the cathedral is not among the best collection in France, Rouen has a great variety of churches with glass from several eras and much other interesting history. Some may find a day or two visiting this ville-musée a good introduction and orientation before submitting to the shock and awe of visiting the top sites.
Saint Maclou Church, Rouen
note the rare five-aisle construction [1]
Saint Ouen Church, Rouen
rouen, 1908
"Upon approaching Rouen one is sure to be struck by the insolent daring of its situation. Lying on a sloping plain beside the river, it seems to disdain the well-nigh impregnable site afforded by the steep cliffs which rise just to the northeast. The history of the city bears out the audacity of its location. Through all the centuries its inhabitants concerned themselves so continuously in conquering other peoples that little time was left in which to consider the security of their own homes." [p;249]
—
"Perhaps the most characteristic feature of Rouen when viewed from a distance is the great number of its spires that shoot up above the housetops, earning for it the sobriquet of the City of Churches." [p.250]
Quoted from Stained Glass Tours in France by Charles Hitchcock Sherrill, John Lane Company, 1908.
left: one of the five remaining 13th century windows,
in the ambulatory of Rouen cathedral.



key to the story panes in the St Julian the Hospitaller window
the story window of st julian the hospitaller
In jewel-like blues and reds, this early 13th-century stained-glass window in Rouen cathedral tells the tragic story of St Julian, who accidentally murdered his parents and founded a hospital in penance.
Like a comic strip, the stained glass window - made in about 1220-1230 when the ambulatory was finished - tells the story of Julian the Hospitaller. As with all medieval stained glass windows, this windows reads from the bottom to the top: as you look upwards the glass is more luminous, most of all when that look approaches the last quadrilobe that shows Heaven.
"[...] The nineteenth-century novelist Gustave Flaubert, who saw the Rouen window, was inspired by the narrative embedded in its thirty panels to create his own fictional representation of Saint Julian, which he published in 1877 in the volume Trois Contes. The iconographic tradition, represented in paintings, miniatures, sculpture, and tapestry, as well as in stained glass, makes clear the legend's most memorable features. Julian himself is usually portrayed as a hunter with a sword at his side and a falcon in his hand, reminding the viewer that the prophecy of murder occurred during the course of a deer hunt. Of the two scenes most frequently depicted, the first shows Julian in the act of killing his parents and the second has him carrying the leper across the river to the hospice maintained by Julian and his wife."
—
"That Flaubert saw the window in his native city of Rouen is certain. Teasing out his relationship to and use of the other source materials which he may have utilized for his highly imaginative transformation of the legend is less easy. It is known that he read his friend Langlois' account of the Julian window, as well as a French translation of LA [Legend Aurea by Jacobus de Voragine], but there has been considerable disagreement as to whether he actually read (or was capable of reading) a manuscript of the thirteenth-century French prose life, which he may have come across during a visit to the Bibliothèque Nationale in 1875 at a time when he was having difficulty with the writing of his own Julian tale. The reader who is interested in this puzzle about the relationship of a great nineteenth-century novelist to the Middle Ages, as well as in the heated opinions of those who have tried to trace the path of his inspiration, may find a detailed and scholarly discussion in Bart and Cook, Legendary Sources, pp. 29-93. A recent English translation of Flaubert's Trois Contes is Three Tales, trans. Krailsheimer. " [Quoted from libr.rochester.edu]
Flaubert was inspired by drawing of Espérance Langlois made in 1832 which is included in the book Essay on painting, written by Hyacinthe Langois.
For a pane-by-pane analysis of the story window of Julian the Hospitaller.
rouen cathedral plan and dimensions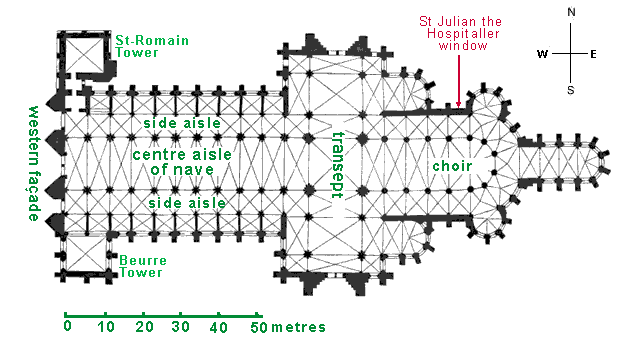 Interior floor and window plan of Rouen Cathedral
lengths:
interior length: 136.86 m
exterior length: 144 m
transept exterior: 57 m
transept interior: 53.65 m
nave: 60 m
choir: 34.30 m
widths:
western façade: 61.60 m
nave: 24.20 m
central aisle:11.30 m
transept: 24.60 m
choir: 12.68 m
heights:

tower Saint-Romain: 82 m
tower Beurre: 75 m
transept tower: 51 m
central spire, above transept tower, total height: 151 m
northern transept arm: 28 m
southern transept arm: 28 m
central aisle vaulting: 28 m
side aisle vaulting:14 m
choir: 28 m
weight:

central spire weight: 600 tonnes
For more on naming the parts of a cathedral, as well as information on cathedral construction.
note from abelard
This page is the first of a series, planned mainly around my interest in stained glass. This series is not designed for comprehensive information on the history and architecture of these great buildings. Sketches of such data can be found in the Michelin Green Guides, and more depth in a multitude of sources.
As with France section in general, my intention is to give you my own idiosyncratic view of these places. As you will know from elsewhere, I am no fan of noisy, smelly cities and I tend to go into these towns primarily to observe the stained glass.
In the 12th and 13th centuries, when the most magnificent of these structures were assembled, it has been calculated that approximately one-third of the gross national product (GNP) of France was devoted to building about eighty cathedrals and five hundred other large churches. They are a monument to the age.
Background facts
Rouen
approximate population : 111,805
average altitude/elevation : 15 m

cathedral dimensions

• exterior length: 144 m
• length, transept exterior: 57 m
• length, nave: 60 m
• width, western façade: 61.60 m
• width, nave: 24.20 m
• height, central aisle vaulting: 28 m
Also about the city of Rouen:
the 6th bridge at Rouen: Pont Gustave Flaubert, new vertical lift bridge

Some reference keywords/tags:

Rouen Cathedral,Cathedrale,photos,image,images,photograph,picture,pics,France,Gothic architecture,German bombing,son et lumiere,stained glass windows,Chartres,