2011 tour de france route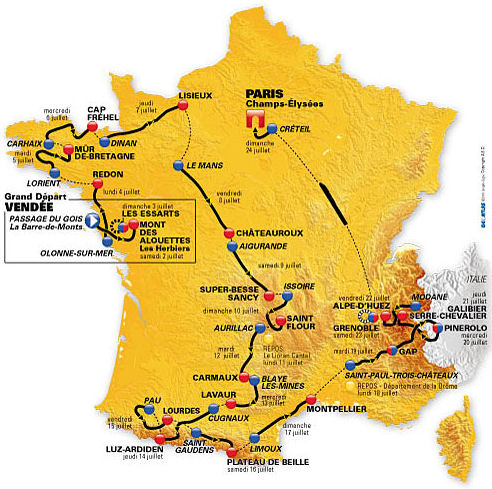 From Saturday 2 July to Sunday 24th July, 2011, the 98th Tour de France will be competed during 21 stages, over a distance of 3,470 kilometres (precise distance to be confirmed).
There will be:
10 flat stages,
6 high mountain stages with 4 mountain finishes,
3 medium mountain stages,
An individual time trial (against the clock stage) of 41 km
A team time trial of 23 km
2 rest days.
The special features of the race are
visiting Galibier twice
23 cols or mountain finishes that are ranked 2nd, 1st or hors catégorie (HC)
No bonus will be awarded for intermediate sprints and stage finishes (the real time remains the absolute reference).
15 towns not previously visited: Blaye-les-Mines, Cap Fréhel, Carhaix, Carmaux, Cugnaux, Galibier Serre-Chevalier, Limoux, Modane - Valfréjus, Mont des Alouettes Les Herbiers, Mûr-de-Bretagne, Olonne-sur-Mer, Passage du Gois La Barre-de-Monts, Pinerolo (Italie), Redon, Saint-Paul-Trois-Châteaux.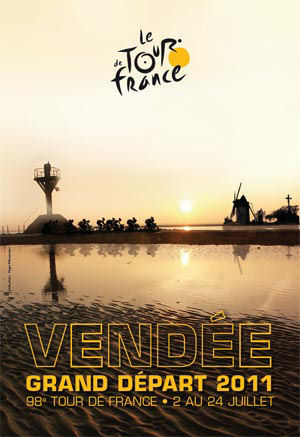 the first day - in Vendée
Since the tide will allow it, the 2011 Tour de France will start with a road like no other.
This first stage is designed rather like the successful first stage through central London in 2008. The Passage du Gois is a causeway that connects the mainland to the island of Noirmoutier. This year's route will link the Atlantic to the Mont des Alouettes, the heart of Vendée and an ideal promontory for a finish where the sprinters will compete for the first yellow jersey of the 98th Tour de France.
(There will be a grand parade and gathering before the official starting ceremony.)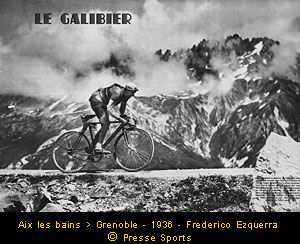 100 candles for the Galibier
In 1911, the riders of the Tour de France took on the Col du Galibier for the first time. To mark this centenary, the Galibier will be climbed twice in 2011, 24 hours apart. The 18th stage will arrive at the top of the Galibier, at 2645 metres the highest finish of the Tour's history. The next day's stage leaves from the Galibier.
"L'Alpe-d'Huez Breton"
This will be one of the highlights of the first week of racing. The arrival of the 4th stage will be decided at the top of Mûr-de-Bretagne, after a 2 km climb with 6.9% to 15% gradient sections. It is no coincidence that this climb is nicknamed "The Breton Alpe-d'Huez" [see stage 19, Modane–Valfréjus > Alpe-d'Huez] .
a total of 64 km against the clock
There are two against-the-clock stages in the Tour de France's 98th edition .
The first is a team event of 23 kilometres, on the Tour's second day at Essarts. The other, individual, time trial takes place in Grenoble on the 20th and penultimate stage,over a distance of of 41 kilometres.
Prize funding
A total of 3.2 million euros has been allocated for prizes, with 450, 000 euros allocated to overall individual winner - the Yellow Jersey.
the stages for 2011

short video of race route : 3:40 mins
There will be no short prologue stage. 21 stages are planned , with six mountain stages [Alps 3, Pyrenees 3], three medium mountain stages, an individual against-the-clock [contre-le-montre] time trial and a team against the clock time trial. There are 2 rest days. All other days are 'on the plain' - relatively flat days, almost touring through France. The total distance ridden will be about 3,470 kilometres, or roughly 2,156 miles. There will be a short foray into Italy on the 17th and 18th stages.
1
Passage du Gois La Barre-de-Monts > Mont des Alouettes Les Herbiers
2 July [191 km]
12
Cugnaux > Luz-Ardiden
14 July [209 km]
2
Les Essarts > Les Essarts
3 July [23 km]
team time-trial
13
Pau > Lourdes
15 July [156 km]
3
Olonne-sur-Mer > Redon
4 July [198 km]
14
Saint-Gaudens > Plateau de Beille
16 July [168 km]
4
Lorient > Mûr-de-Bretagne
5 July [172 km]
15
Limoux > Montpellier
17 July [187 km]
5
Carhaix > Cap Fréhel
6 July [158 km]
R
18 July - rest day
Département de la Drôme
6
Dinan > Lisieux
7 July [226 km]
16

Saint-Paul-Trois-Châteaux > Gap
19 July [163 km]

7
Le Mans > Châteauroux
8 July [215 km]
17
Gap > Pinerolo, Italy
20 July [179 km]
8
Aigurande > Super-Besse Sancy
9 July [161 km]
18
Pinerolo > Galibier Serre-Chevalier, France
21 July [189 km]
9
Issoire > Saint-Flour
10 July [208 km]
19
Modane–Valfréjus > Alpe-d'Huez
22 July [109km]
R
11 July - rest day
Le Lioran Cantal
20
Grenoble > Grenoble
23 July [41 km]
individual time-trial
10
Aurillac > Carmaux
12 July [161 km]
21
Créteil > Paris Champs-Élysées
24 July [160 km]
11
Blaye-les-Mines > Lavaur
13 July [168 km]
Detailed itineraries for the 2011 Tour de France stages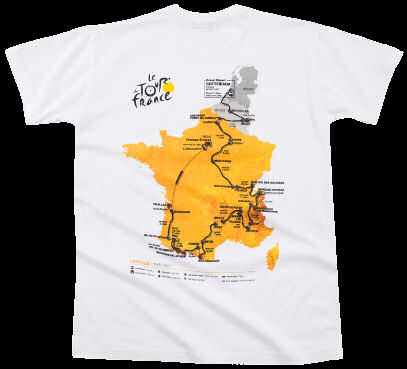 "100% cotton, 20€"
the teams for 2011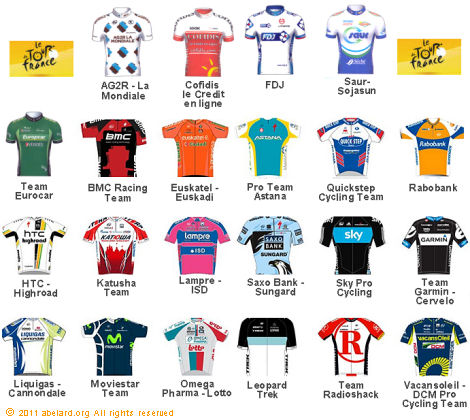 From 2011, under the agreement between the organisers of the Grand Tours and the Union Cycliste Internationale, the first 17 teams in the world rankings established in late 2010, according to the performance of sports teams, will be selected automatically. Other sports groups will receive wild cards issued by the organisers.
on team support on major cycle road races.
Starts OK, but tends to run down hill.
"Garmin-Cervélo, with Europe as its theatre, commands eleven Skoda station wagons, two eighteen-wheeler mobile mechanic shops, two tour buses, dozens of soigneurs (assistants) and mechanics, and hundreds of premium Cervélo cycling machines. According to Fernández, their team budget is around eight million euros a year; Team Radioshack peaks out at around fifteen million. ("It is, like, one football player," he says with a shrug.) ..."
this year's top ten seeded riders [alphabetical list]
| | | | |
| --- | --- | --- | --- |
| Name | UCI Team Code | Nat. | Comments |
| Ivan Basso | LIQ | ITA | 33 y.o. 32nd in 2010 TDF after 5 years absence. Cycled in 6 TDF, best result 2nd (behind Lance Armstrong). |
| Cadel Evans | BMC | AUS | 34 y.o. 2nd in the 2007 and 2008 TDF; 3rd in 2009 Vuelta [Spain]. |
| Robert Gesink | RAB | NLD | 25 y.o. 6th in 2010 TDF. Best TDF result: 2nd. |
| Andreas Kloden | RSH | GER | 36 y.o.14th in 2010 TDF. Best TDF results: 2nd in 2004 and 2006. Winner of Netherlands Tour 2011. |
| Tony Martin | THR | ESP | 26 y.o. Best TDF result: 35th. Winner of 2011 Paris-Nice. Best climber in Tour of Switzerland 2009. |
| Samuel Sanchez | EUS | ESP | 33 y.o. 4th in 2010 TDF (best TDF result) |
| Andy Schleck | LEO | LUX | 26 y.o. 2nd in 2009 TDF, three times best under-25 [White Jersey]. Regarded second favourite to win, after Contador. |
| Frank Schleck | LEO | LUX | 31 y.o. 5th in 2008 and 2009 TDF. Fractured his shoulder bone during 2010 TDF. |
| Jurgen van den Broeck | OLO | BEL | 28 y.o. 5th in 2010 TDF. |
| Bradley Wiggins | SKY | GBR | 31 y.o. Winner of the 2011 Critérium du Dauphiné. Olympic champion. 4th in 2009 TDF, but 24th in 2010. |
Note that Alberto Contador is not included in this list, despite being the winner of this year's Giro d'Italia. His win in last year's TDF has been suspended after a drugs test proved positive. Contador is contesting the test result.
"... Alberto Contador has confirmed that he will ride in the race next month, ending speculation he might skip the event. Contador [...] is awaiting a decision in August by the Court of Arbitration for Sport over his failure of a doping test last July. Until the court gives its verdict, Contador is allowed to race." [Quoted from nytimes.com]
the tour and the environment
The beauty of the countryside through which the Tour de France passes contributes to the magic of the race. So it's natural to be concerned about preserving it. This summer, the riders are being encouraged to take part in this action.
Concern for the Tour in protecting the environment is not new, 2011 is the tenth anniversary of the TDF's collaboration with ARPE (regional agency for the protection of the environment), and since the turn of this century, the Tour has become eco-responsible in three main axes: reducing the Tour's environmental footprint, refuse management and making the riders more responsible.
Various measures have already been put in place by the Tour directorate. For example, it is now forbidden for the caravan to distribute publicity objects in 'natural zones'. To cut CO2 emissions, the number of vehicles on the Tour has been reduced - forty less cars over five years, as well as less press motor bikes allowed amongst the cyclists. It's a new state of mind that is steadily installing itself in the organisers. From now on, they ask whether it is possible to use more ecological transport during a stage - cable cars, shuttle buses, or even bicycles between the different sites of the organisation. The decision to no longer communicate results to teams on bits of paper could appear trivial, but as an itinerant village of about 4,500 people, every day the Tour produces tons of documents.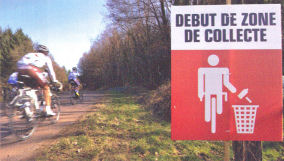 The managing of refuse is happening with a systematic prevention of litter. In the mountainous regions (the Alps, the Central Massif and the Pyrenees), an ARPE vehicle broadcasts "keep the Tour tidy" messages from within the caravan. Selective rubbish-sorting points are set up at stage starts and finishes, as well as in the Tour village.
And new this year, the riders will be involved. For the first time in the TDF, there will be collection zones, where the riders can throw their water bottles [bidons], as well as food wrappers and other rubbish accumulated in their pockets. Even the Yellow Jersey will have an extra pocket for collecting rubbish.
This collection of preventative measures are enough to ensure that the Tour can pass through regional nature reserves without spoiling them, so France's national parks can remain beautiful.
sprinter and climber points reworked
The TDF organisers have looked again at the allocation of points for the green jersey [best sprinter] and the spotted jersey [best climber].
changes for the green jersey [best sprinter]
Until this year's changes, the points awarded often created anomalies. For instance, Mark Cavendish won fifteen stages in three years, but never won the green jersey. So this year, sprinter points have been increased, and now there is only one intermediary sprint on each stage. For every sprint, the first fifteen riders will receive points, and there will be more final sprint points on flat stages.
In detail:
For intermediary sprints: 20-17-15-13-11-10-9-8-7-6-5-4-3-2-1 points to the first 15 riders.
Stages on the flat: 45-35-30-26-22-20-18-16-14-12-10-8-6-4-2 points, for the first 15 riders.
Undulating stages: 30-25-22-19-17-15-13-11-9-7-6-5-4-3-2 points to the first 15 riders.
High mountain stages: 0-17-15-13-11-10-9-8-7-6-5-4-3-2-1 points to the first 15 riders.
Individual time trial stages: 20-17-15-13-11-10-9-8-7-6-5-4-3-2-1 points to the first 15 riders.
One of the purposes of this change is to involve all the best sprinters in the intermediate sprint, as sometimes they used not to dispute those in order to focus on the finish, which was more prestigious and lucrative in terms of points for the green jersey. In order to emphasise sprinters winning points in the green jersey classification, more points will be awarded on a flat stage than on the mountain stages, where sprinters do not play a leading role. By giving points to the first fifteen riders rather than the first three, in the case of a breakaway, more than just the breakaway can win points.
See below for further comments.
changes for the spotty/white with red spots jersey [best climber]
Mountain stage points have been reduced. Only summit finishes give double points.
HC [hors catégorie] mountains: 20-16-12-8-4-2 points respectively for the 1st to 6th ranked rider.
The points awarded are doubled for the arrival of the 12th, 14th, 18th and 19th stages (Luz-Ardiden, Plateau de Beille, Galibier et Alpe d'Huez).
Category 1 mountains: 10-8-6-4-2-1 points respectively for 1st to 6th ranked rider.
Category 2 mountains: 5-3-2-1 points, respectively for the 1st to 4th ranked rider.
Category 3 mountains: 2-1 points, respectively for the first 2 riders.
Category 4 mountains: 1 point for the first rider.
These changes will help reduce the gaps between riders.
The rider wearing the polka dot jersey at the Alpe d'Huez summit, the final mountain stage, two days before the final day, should be the one who wins the classification in Paris.
comments on the new sprint points [9 July 2011]
Mark Cavendish is again making a strong push for the points (sprint) title, up from 12th previously with a stage win, and its intermediate sprint win (7 July). A further stage win has pushed him to 5th in the points classification (green jersey).
The points system for the Tour has been radically changed this year.
There are just two sprint points each day, the first part way through and the second at the end, both with some high point levels available.
This changed the tactics radically.
The big points at the stage midpoint will encourage more break-aways. That will also tend to mop up the larger point scores in the middle sprint, thus making winning (or coming high) in the final sprint more, important.
The commissars are also getting increasingly picky and there is much talk of finding excuses to stop Cavendish, who is clearly head and shoulders above anyone else in that area.
watch tdf broadcasts
This year, many web sites are offering live streaming from their sites. Some want you to pre-register, and even pay. Here are a few of the more reputable sites available. Of course, until the TDF is actually running, we cannot verify any links provided.
terrestrial broadcasts

UK: ITV4 - full schedule of live broadcasts.

This is the first year that ITV have bought broadcasting rights.

EUROSPORT UK is providing daily live TV coverage, including HD, often with some commentary with Sean Kelly, ex-professional cyclist.

DAS ERSTE/ZDF (shared coverage)
FRANCE 2/FRANCE 3 (shared coverage)
RAI 3/RAI SPORT2

Canada: "TSN2 has exclusive Canadian coverage of cycling's most prestigious event, the Tour de France. The network is home to all 21 stages beginning Saturday at 8am et/5am pt live on TSN2."

live streaming through the Internet

To the left is the list for links provided by TDF links to numerous live streaming providers worldwide.

Probably all are only available in their country of origin. Further, many are unreliable, or require further clicks to reach the live/direct feed, are hard to navigate, or are difficult to go beyond the publicity, and require a subscription.

Eurosport is selling live steaming with their Eurosportplayer, with various, almost reasonable subscriptions.

The Tour de France web site also has a YouTube channel with videos of stages to come and other short videos.
last year (2010): the first ten riders
Update, 5 February 2012: Alberto Contadador has been found guilty of doping during the 2010 Tour de France by the Court of Arbitration in Sport (CAS). He has been stripped of his 2010 TDF title, as well as his 2011 Giro title (Michele Scarponi is now the winner of the 2011 Giro). The winner of the 2010 Tour de France is now Andy Schleck, while Menchov is now second and Sanchez is third.
The two-year ban ends on 5th August 2012, after both the 2012 TDF and the Olympics in London. Contador will be able to ride in the 2012 Vuelta in September.
Contador tested positive for 50 picograms per millilitre of clenbuterol, a performance enhancing drug. This is an amount 40 times below the minimum detection capability requirement stated by WADA [World Antidoping Agency].
Contador says that he had eaten a steak imported from Spain that was comtaminated. Although banned as a protein enhancer of livestock, farmers are known to ignore the ban.
"Clenbuterol does not occur naturally in the human body but has become the most controversial performance enhancing drug of them all. It does appear with some regularity in the food chain in contaminated meat because farmers feed it to their livestock to promote high protein and commercially more valuable meat.

"As a result it can be ingested innocently and unknowingly and amid the general confusion various sports have been treating it differently.

"Football in the form of FIBA, in two high profile cases in Mexico last year, has chosen to ignore clenbuterol altogether while in January 2011, the German Table-tennis Federation acquitted Dimitrij Ovtcharov and, although WADA initially announced it would appeal, it ultimately failed to do so and accepted the food contamination defence of the athlete.

"Similar clenbuterol cases of athletes testing positive for clenbuterol and being cleared on the grounds that it was accidentally ingested include Alessandro Colo (Italian cyclist), Dimitrij Ovtcharov (German table-tennis player), Li Fuyu (Chinese cyclist), Lainer Bueno (Major league baseball player) and most recently Phillip Nielsen (Danish cyclist)."
[Quoted from telegraph.co.uk]
3 February 2012: Seven-time Tour de France champion Lance Armstrong is cleared of all charges as Federal prosecutors announce that they have closed their case against him. Thus Armstrong is cleared of all the various accusations of doping made against him.
Pos.
N°
Name
First name
Team
Nat.
Time diff.
1
1
CONTADOR
Alberto
AST
ESP
91h 58' 48"
2
11
SCHLECK
Andy
SAX
LUX
+ 00' 39"
3
191
MENCHOV
Denis
RAB
RUS
+ 02' 01"
4
181
SANCHEZ
Samuel
EUS
ESP
+ 06' 01"
5
101
VAN DEN BROECK
Jurgen
SIL
GER
+ 06' 04"
6
195
GESINK
Robert
RAB
NTH
+ 06' 42"
7
54
HESJEDAL
Ryder
GRM
CAN
+ 07' 35"
8
77
RODRIGUEZ OLIVER
Joaquin
KAT
ESP
+ 12' 04"
9
44
KREUZIGER
Roman
LIQ
CZE
+ 14' 16"
10
23
HORNER
Christopher
RSH
USA
+ 14' 25"
Overall
winner
CONTADOR Alberto
1
AST
ESP
91h 58' 48"
(Yellow Jersey)
By points
PETACCHI Alessandro
208
LAM
ITA
243 pts
(Green Jersey)

C

li

m

b

er

CHARTEAU Anthony
153
BBO
FRA
143 pts
(Polka dot Jersey)
Under 25
SCHLECK Andy
11
SAX
LUX
91h 59' 27"
(White Jersey)
Combativity
Chavanel, Sylvain
131
QST
FRA
92h 58' 05"
Team
winner
TEAM RADIOSHACK
USA
276h 02' 03"