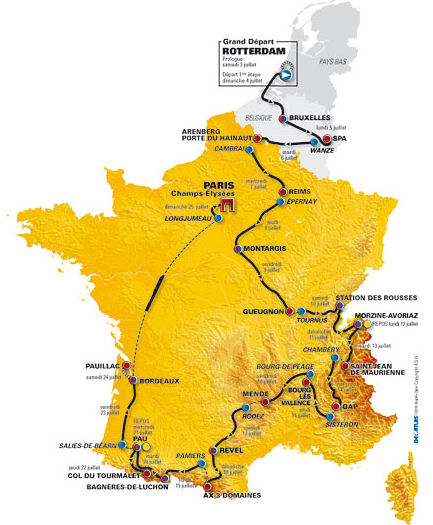 The 2010 Tour de France will start at Rotterdamwith a short individual against-the-clock through eight kilometres of the city home to the biggest port in Europe. The next day, the Tour races from the Netherlands to Belgium, then from Belgium to France;
The third stage, from Belgium to France, Wanze-Arenberg to Porte du Hainaut, will have 13.2 km of cobbled (pavé) road, with three sections in Belgium (2.2km) and a further four in France (11km). Anyone who has watched the annual Paris-Roubaix race will appreciate what a bone-shaking experience it is. Mind you, for the Tour de France it should be somewhat easier, the race being in warm and probably dry Summer, instead of wet and wild Spring.
The 2010 race will include nine stages on the flat, six mountain stages with three finishes on a summit and one individual against-the clock of 51 km. There will be two rest days and twenty-three climbs of either category 2, cat. 1 or hors catégorie (unclassifiable).
The famous, and often dreaded, Col du Tourmalet will feature twice, once as the Tour goes over it, and the next day when the stage will end at its 2115 metre summit.
It is clear that the global financial collapse has hit the Tour de France, with the number of expensive mountain stages reduced, one even being used twice, and only one real against-the-clock stage. Instead, the organisers are trying to offer other cycling excitement with seven sections of cobbled road and twice using the daunting Col de Tourmalet, including for a stage finish. A further novelty, unusually for the Tour de France, more mountains in the Pyrénees than the Alps.
the stages for 2010
There will be a prologue [short opening stage] and 20 stages, with six mountain stages [Alps 2, Pyrenees 4], two medium mountain stages, and one individual against-the-clock [contre-le-montre] time trial. The first days prologue is also a short individual against-the-clock [contre-le-montre] time trial. There are 2 rest days. All other days are 'on the plain' - relatively flat days, almost touring through France. The total distance ridden will be about 3,600 kilometres, or roughly 2 237 miles.
P
Rotterdam > Rotterdam
3 July [8 km]
prologue time-trial
11
Sisteron > Bourg-lès-Valence
15 July [180 km]
1
Rotterdam > Bruxelles
4 July [224 km]
12
Bourg-de-Péage > Mende
16 July [210 km]
2
Bruxelles > Spa
5 July [192 km]
13
Rodez > Revel
17 July [195 km]
3
Wanze > Arenberg Porte du Hainaut
6 July [207 km]
14
Revel > Ax-3 Domaines
18 July [184 km]
4
Cambrai > Reims
7 July [150 km]
15
Pamiers > Bagnères-de-Luchon
19 July [187 km]
5
Épernay > Montargis
8 July [185 km]
16

Bagnères-de-Luchon > Pau
20July [196km]

6
Montargis > Gueugnon
9 July [225 km]
R
21 July - rest day
Pau
7
Tournus > Station des Rousses
10 July [161 km]
17
Pau > Col du Tourmalet
22 July [174 km]
8
Station des Rousses > Morzine-Avoriaz
11 July [189 km]
18
Salies-de-Béarn > Bordeaux
23 July [190 km]
R
12 July - rest day
Morzine-Avoriaz
19
Bordeaux > Pauillac
24 July [51 km]
individual time-trial
9
Morzine-Avoriaz > Saint-Jean-de-Maurienne 13 July [204 km]
20
Longjumeau > Paris Champs-Élysées
25 July [105 km]
10
Chambéry > Gap
14 July [179 km]
Detailed itineraries for the 2010 Tour de France stages
last year (2009): the first ten riders
Pos.
N°
Name
First name
Team
Nat.
Time diff.
1
21
CONTADOR
Alberto
AST
ESP
85h 48' 35"
2
31
SCHLECK
Andy
SAX
LUX
+ 04' 11"
3
22
ARMSTRONG
Lance
AST
USA
+ 05' 24"
4
58
WIGGINS
Bradley
GRM
GBR
+ 06' 01"
5
36
SCHLECK
Frank
SAX
LUX
+ 06' 04"
6
23
KLODEN
Andréas
AST
GER
+ 06' 42"
7
95
NIBALI
Vincenzo
LIQ
ITA
+ 07' 35"
8
51
VALVERDE
Christian
GRM
USA
+ 12' 04"
9
93
KREUZIGER
Roman
LIQ
CZE
+ 14' 16"
10
106
LE MEVEL
Christophe
FDJ
FRA
+ 14' 25"
Overall winner
CONTADOR Alberto
21
AST
ESP
85h 48' 35" (Yellow Jersey)
By points
HUSHOVD Thor
6
CTT
NOR
280 pts (Green Jersey)

C

li

m

b

er

PELLIZOTTI Franco
91
LIQ
ITA
210 pts (Polka dot Jersey)
Under 25
SCHLECK Andy
31
CSC
LUX
88h 04' 24" (White Jersey)
Combativity
PELLIZOTTI Franco
91
LIQ
ITA
Team winner
ASTANA
KAZ
256h 02' 58"
the teams, 2010
some history
The first Tour de France took place in 1903, with a first stage from Montgeron to Lyon, lasting an overwhelming 467 kilometres. There were six stages. The first Tour was 2,428 kilometres long and the prize was 6,075 francs.
watching TDF broadcasts
[Note that several links are to pages in French, but are often fairly intuitive.]
In 2010, 118 TV channels will broadcast the Tour de France in 186 countries, of which 60 provide live coverage of the race. There will be 260 cameramen, 30 for France Television. 75 radio stations are also reporting from the Tour. Currently (26 June), live broadcast details are not yet available for most organisations. Below is a mix of last year's and this year's information - this year's should be pretty similar to last year's.
The Tour de France website, www.letour.fr, now has its own YouTube channel, where you can watch many Tour-related videos. The Tour de France page provides links to live broadcasts from an animated button [Live video on ...] at the top right of the page. Note that these live streaming broadcasts, when you find them from the links, often are not free.


In the UK, the British Eurosport channel is providing live Tour coverage daily. This daily schedule page gives the day's TDF broadcast schedule (with other sports also being shown that day).


cyclingfans.com does live streaming video of cycling races. However, you will need to explore the site to find the correct link for the Tour de France (when we looked it was showing the Tour de Swisse and the Criterium du Dauphine).


As well as the traditional 625-line broadcasts, from 2007 there will also be broadcasts in Full HD (High Definition - 1080 lines) for those who have the new HD televisions ( HD Ready televisions - 720 lines -can also benefit from the better image quality). However, the HD broadcasts will only be available to viewers in France using the TNT system, those with a broadband [ADSL] HD subscription or those subscribing to Canal Satellite. British Eurosport Live also has an HD service.
Online information can be found at the Tour de France site, of course. Other independent online sources are Eurosport and l'Equipe [in French].
:
the tour de france on google
It appears that Google is not doing anything officially to show the Tour de France, as they did in with Street View in 2008, but maybe they will be doing something even nearer the time. However, there are Google Earth-savvy Tour followers who have made overlays for Google Earth. These do not not include street views. Also, at least some of the satellite images are of over five years vintage, so planning your Tour watching with the help of Google Earth may be dodgy.
tedvdw has made a .kmz file that shows the stage routes in Google Earth. If you have Google Earth installed on your computer, clicking on this link, Tour de France 2010.kmz, will launch your installed copy of Google Earth with the line of Tour stages overlaid.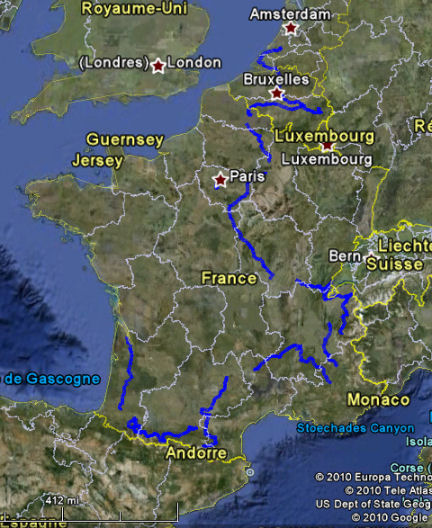 Thomas Vergouwen has made a more detailed Tour de France KML file. When reduced to a small version, this overlay looks very crowded. However, when expanded so you can see an individual stage, this overlay shows the various events on that stage, such as sprints, hill climbs and feeding sections. (Note that the overlay is in French.)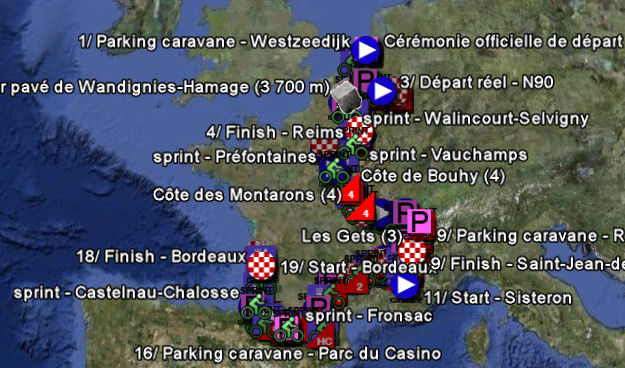 ubilabs.net have coded a "Tour de France 2010 Live Tracker" that will show the current positions of several riders in real time on Google Maps.
background art to the Tour
I have been trying to get round to doing a section illustrating another part of the fun of the Tour. Everywhere that you go on the Tour route, in among the banners and other festivities, you will see installations by farmers, school children, local villages, trade organisations and individuals. I hope to collect these together. The best way to give you a flavour is to collect a picture gallery.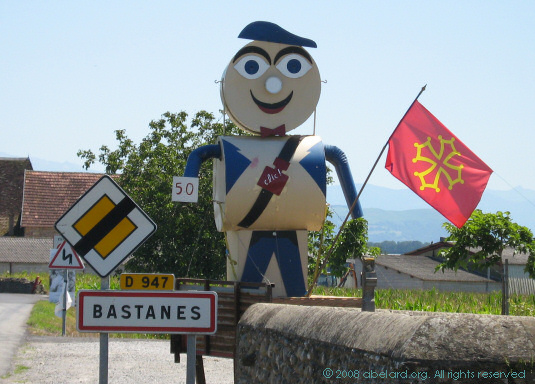 Welcoming guardian, with Occitan flag, at the entrance to Bastanes village, 2007


Two of an avenue of bike decorations at Orthez, 2007


The last stage, on the final Sunday, is a stage of two, three, or is it four parts?
First comes a jolly afternoon ride through French countryside. Arch Tour rivals start to chatter, teams ride in formation - not in Indian file - but as a most un-aerodynamic array, in line across the road. The whole peleton is together - no break-aways, no competition, after all this is a travelling party celebrating a job well done. The team director will crack open a bottle or two of bubbly, and everyone will be toasting each other as they ride along. Even TV motorcyclists will join in, particularly the past spotty jersey multi-winner, now reporter - Laurent Jalabert : JaJa the Panda.
This socialising and partying continues as the peleton enters into Paris. Landmarks start to be recognisable, is that the TV Channel 2 building going past, the Eiffel Tower? Now, the champagne flutes are returned to the team cars and the riders start to settle down to the work of the last day. Up and down the cobbled Champs d'Elysée they go, round the Arch de Triumph and down the other end, to go round the obelisk in the Place de la Concorde, past the serried lines of Norbert Dentressangle trucks, transporting the Tour - Norbert! (Norberts are now official suppliers to the Tour de France until 2013.)

The tension starts to build as each of the eight or ten laps are made, and then it happens. The final lap has been made and.... pow, they're off for the final crazy dash, the sprint to the finish that will determine the overall winners of the stage, the green points jersey and, maybe one day, the overall winner of this year's Tour de France.
The last evolution of the day is the final podium. Bouquets are held high, while the attendant colour-coordinated girls appear to be sniffing the cyclists' underarms, much shaking of hands with public worthies, bestowing of medals, national anthems, the now traditional display by the winning cyclists of their very sweet young children, suitably dressed in green, or red and white, or yellow cycling grab.
end notes
Points allocations prior to 2011




Best climber:

For the mountain stages, if the last climb is classed as 2nd or 1st difficulty, or out of classification [hors catégorie] the points for that last ascent are doubled.



Best sprinter:

For every stage except the individual against-the-clocks, the three first riders of the intermediary sprints gain 6,4 and 2 seconds respectively, while the first three arrivals for each stage gain 20,12 and 8 seconds respectively. [There are three intermediate sprints on flat stages, 2 sprints on other stages.]


On 28 April 2015, XPO Logistics group bought Norbert Dentressangle, including acquired debt, for $3.56 billion (3.24 billion euros). This acquisition was completed on 8 June 2015, and the Dentressangle brand was phased out from June 2015. However, shoutig out "XPO" doesn't have the same ring to it as "Nrbert", nr are the lorries as striking.
XPO Logistics has taken over being the Tour de France carriers.