variables
I was once amazed when I asked a very capable botanist what a particular flower was. It looked to me like a typical garden variety. I was told it was a common meadow flower (weed!?). I said it was nothing like the flowers I'd seen under that name - the one in the garden was at least twice as high and the flowers at least two or three times the size
I was informed that the difference was solely down to better soil and fertilisers and attention.
Soil varies over a few feet, the flower had been taken from a nearby flood plain field. Trees a few metres apart can be in very different conditions, let alone on different continents.
Two main variables are currently under examination as temperature proxies/surrogates:
However, a great number of variables effect the growth of trees: microclimates, soil conditions, shelter, root depth, crowding, but above all rainfall and temperature. Light is also a factor - photosynthesis is not possible without it. When trying to obtain useful samples as temperature proxies, trees at the edge of their range are sought out, because that is the sort of area where the trees are most likely to be stressed. Even then, the proxies are not very reliable for any particular year, even conditions in previous years can have effects of later years of growth.
Sometimes there are false rings, and sometimes the year's rings may be close to invisible, especially in individual tree samples. Thus, it is usual to take many samples to establish averages for a particular growing area.
In order to try to discern whether the growing conditions have changed over long periods, say hundreds of years, sample averages and variations from groups of years are compared one with another to check consistencies. One even wonders whether the increasing CO2 in the atmosphere in modern times would confound any changes that you may wish to attribute to temperature!
During the life of a tree, in the first year or seven, the rings grow more quickly and are, therefore, wider. So ring sequences are standardised, according to the age of the ring, to a notional width for say first-year or fifth-year growth. As different tree species have different growing patterns and other characteristics, for dendroclimatology single species are used. However, it is not unusual to see series from different species used in an attempt to establish regional conditions.
Notice that there is a lot of averaging and adjusting going on to set up a ring or density series, at which point you are no longer dealing with raw data or individual trees, but with synthesised data.
This becomes more dubious. We only have thermometer temperatures going back one or two hundred years. Many of those temperature series are far from reliable, and are very often nowhere near the most useful trees that may reflect the variable such as temperature that you are attempting to model. And remember each sample represents only a small, local area, so attempts are made to combine averages from many areas. To make things still more difficult, the critical temperature differences usually lie in only one, or a small number of summer months. Thus the proxy temperatures are also similarly limited. The degree of difference between seasonal temperatures in different areas is, therefore, a factor.
Even when all this done, correlation between the measurement, such as temperature, and the tree measurement may correlate reasonably well, but are still well away from 100% correlation.

Note the black lines towards the end of the tree ring surveys, which represent real temperatures.
This represents attempts to examine the viability of tree rings as surrogates/proxies for measured temperatures.
Thus you will hope for too much, if you expect to use tree ring data for more than having an idea of temperature trends over a period of time. Do not expect to be able to pin down accurate temperatures in any particular year. Remember that even with the trends, there are error factors that should be shown, as can be seen in examples given on understanding graphs and charts. [2]
hockey sticks and all that

p>This is one of several graphs of the guesses for climate over the last 1000-plus years.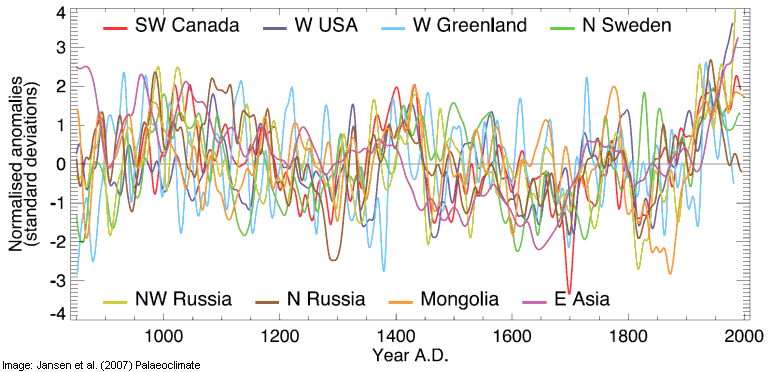 Ring-width chronologies from Briffa (2000) Image: Jansen et al. (2007) Paleoclimate
Note the wild variations of the plots.
Note the 20-year moving average applied to the various series. (Often 30- and 40-year trends are used).
Note that each series tends to include only a small number of trees.
Remember that these are measurements of tree-ring characteristics. They are not measures of temperature. The assumption is that these characteristics are related to temperature changes which are presumed to change growth rates.
It is from data of this type that the recent temperature advance is calculated, and this trend is calculated against a long-term downward trend.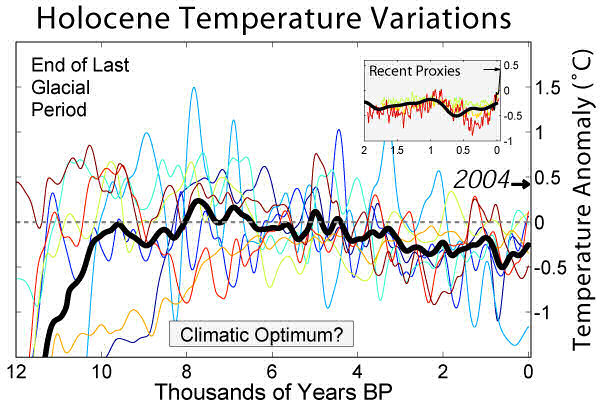 Note the dark black line which shows you the combined average of all the original series. It is from summary plots of this sort of data that squeals about 'the hockey stick' come from the denialist industry ☺. As you will see, the data does suggest a recent (industrial age) advance, as exhibited by the recent turn-up in the first graph.

The supposed hockey-stick graph [first one in this section] comes from a paper by Briffa and one other in response to criticism by McIntyre. Here is an earlier summary of similar work.
As for 'the hockey stick', that depends on just how you select the scales for your graphs. I have seen suggestions that only a 95% significance level is 'scientifically acceptable'. This is nonsense. The interpretation of statistical tests of 'significance' are always a matter of judgment.
Consider your best beloved is apparently dying of some dread disease. The best medicine can do is to guess that the disease is one of two possibilities. A treatment is known for both diseases, but you know that disease A is four times as common/likely as disease B. You also know that if you give the wrong treatment, the person will die, and if you do not treat, they will die within the year. In this situation, you have only an 80% chance of being correct if you apply treatment for A.
80% becomes highly significant in making your choices. In fact, well-presented work should not use the word 'significant' loosely, but should use phrases such as 'statistically significant at the 95% level, or the 80% level', or whatever. And very likely, the presenter should give other details such as the statistical test being used, and the sample size.
It is only in context that you can decide whether a trend is 'significant' or not. It is only in context that you can decide whether to do anything about it. What you decide to do depends entirely on your judgement of costs and benefits. There isn't a magical formula. Each person must make judgments according to their own values.
Each person must decide whether a statistical pattern reflects real world phenomenon, or whether it is just a statistical/numerical artefact.
The general consensus is that there is global warming, and that it is mainly human caused. The simple reason for this consensus is because the data convinces most people who bother to dig deeply enough, that anthropogenic global warming is far the most likely explanation of the data.
Whether it is a correct interpretation does not depend on whether you want it to be so, or on whether you have interests in filthy fossil fuels, or on whether your tenure at university depends on studying climate science, or whether you just want to keep on running that 4x4 and don't want your fun curtailed. Old men often prefer to ignore the mess they are leaving for the next generation. Witness the huge build-up of debt by irresponsible politicians. The young are likely to be less sanguine.
The tree ring data is 'wrung out' of the original raw data by typical/various statistical techniques in which I do not place great trust.
"...To verify results, tree-ring chronologies were compared to the instrumental climatic data averaged over a large sector of the sub-arctic. Finally, the longer-term tree-ring temperature reconstructions were compared to other proxy data including long-term variations in solar radiation[19], long-term variations in volcanic activity derived from ice-core measurements[20], and variations in CO2 concentrations in air trapped in the GISP2 ice core (central Greenland)[21]."
—
" ...The range in estimates obtained from different sources of the degree to which reconstructed temperature at its post-glacial maximum exceeded the maximum warmth of the 20th or early 21st centuries is significant: from 0.6°C (glacier and stalagmite layers and bottom deposits) to 3 to 3.5°C..."
—
"Millennium length tree-ring chronologies were constructed from samples at two sites close to the northern tree line: east Taymir (71° 00' N, 102° 00' E) and northeast Yakutia (69° 24' N, 148° 25' E). These stands are made up of Gmelin larch (Larix gmelinii) and Cajander larch (L. cajanderi) in which the oldest living trees are up to 1,100 years old[26]. Well-preserved dead tree trunks allowed extension of the record farther back than the maximum age of the living samples, allowing the construction of absolutely dated tree-ring chronologies for the periods from 431 BC to AD 1999 (Taymir) and from 359 BC to AD 1998 (Yakutia). The RCS approach was applied to distinguish variation caused by climatic change. These representative tree samples were highly responsive to recorded temperature, allowing the reconstruction of temperatures over the last two millennia with annual resolution. With this long-term record, the instrumental record of 20th-century temperatures can be compared with temperatures during the MWP. Earlier results[27] showed that tree-ring chronologies were highly correlated across distances up to 200 km (up to 500 km in northern regions), so these millennial chronologies represent temperature variations over a large sector of the Siberian sub-arctic."
—
"The relationship of climate to tree-ring variability in Scots pine in Scandinavia has been studied in a wide range of growth environments. A comprehensive study was made of pine growing on peat lands along a north–south profile through Sweden to see if the trees contained high-resolution climate information[66]. Peat land pines were also compared to pines growing on dry sites. Pines growing on peat lands are dependent on growing-season temperature and precipitation, as well as on local water-table variations, which are influenced by longer-term trends in both temperature and precipitation. There is a lag of up to several decades in the response of the pines to water levels, such that trees are integrating the immediate effects of growing-season climate as well as a delayed effect from the water table, making them unsuitable for high-frequency climate reconstruction. The sensitivity of pines growing on peat land also changes depending on climate. When the growing season is wet and cold, temperature is more important and trees respond positively to temperature, in particular to July temperature. Precipitation response increases to the south but is never as important as for pines growing on dry soils. Precipitation is important mainly in controlling water-table levels[67]."
related material
tree growth and agw
the present stage of global temperature measurement

on tree-ring data and peer-reviewed studies
For more problems with statistical analysis, see 'intelligence': misuse and abuse of statistics.
bibliography
English Heritage Research Transactions Vol 7: Timber: Dating of the Roof Timbers at Lincoln Cathedral by Jeanne Marie Teutonico, R.R. Laxton, C.D. Litton, and R.E. Howard

£33.25 [amazon.co.uk]
amazon.com [amazon.com]

James & James (Science Publishers) Ltd; Volume 7, 2001, pbk
ISBN-10: 1902916034
ISBN-13: 978-1902916033

£33.25 [amazon.co.uk]
amazon.com [amazon.com]

James & James (Science Publishers) Ltd; Volume 7, 2001, pbk
ISBN-10: 1902916034
ISBN-13: 978-1902916033

A short, 80-page introduction for enthusiasts.


Paleoclimatology: reconstructing Climates of the Quaternary by Raymond S. Bradley

£60.60 [amazon.co.uk]
$64.60 [amazon.com]

Academic Press,1999, hbk
ISBN-10: 012124010X
ISBN-13: 978-0121240103

A useful first-year student's summary and notes on the subject.


There is a longer review at Anthropogenic global warming.