battery technology
As you may know from experience of car, laptop and other rechargeable batteries, the life expectancy of these devices is not wonderful. The large batteries (battery packs) used in electric cars can run to several thousand dollars. For example, this UK link quotes lightweight battery cars as running the equivalent of 600 miles on the price of a gallon of petrol. (Remember, petrol is more expensive in Europe - about twice the price in the USA.)

Increasingly, cities are giving special concessions to non-polluting cars. This can be a big consideration in a city like London with a £8-a-day congestion charge and horrendous parking fees. This has to be balanced against [also from the link]:
"Reliability: battery life for the G-Wiz is estimated at two to four years, depending on usage. The car is covered by a two-year warranty but if the battery fails outside that, it costs £1,200. Twike says its batteries will last for 50,000 miles, with a replacement cost of £3,180-£6,980".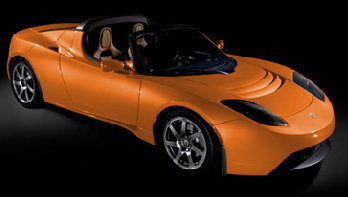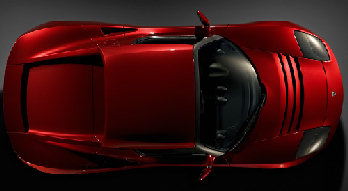 If this lives up to expectations/claims this is considerable step forward to future transport - plug-in electric charging, 250 miles range and about 0-60mph in 4 seconds!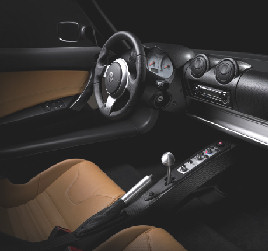 "63% of US oil use is for transport
"Electric power generation in the USA does not use oil. Coal, hydro, nuclear, solar, and natural gas are typical sources for generating electricity. Power generation plants, even coal burning ones, are inherently more efficient and less polluting than vehicles due to economies of scale and the ability to more efficiently remove pollutants from a smaller number of much larger fixed locations.
"Also, an electric car is far more efficient than a gasoline car, so the amount of pollution generated by producing the electricity to drive an EV a given distance is much less than the pollution from the gasoline to drive an internal combustion car the same distance."

Driving will be much simpler with advanced braking and transmission.systems.
Estimated battery life - 500 complete discharge cycles.
"Driving only 50 miles is only a partial discharge, roughly using 20% of the charge. If a driver continues to drive 50 miles every day and recharges every night, then after 5 days they would complete the equivalent of one charge/discharge cycle.

"In estimating the life of our batteries, you can multiply the number of cycles by the range. Thus, 500 cycles times 250 miles/charge works out to 125,000 miles, but our estimate is a more conservative 100,000 miles. However the cycle life of 500 cycles is based upon performance that is more challenging to the battery cells than our application.

"A full charge using the home system can be achieved in as little as 3.5 hours."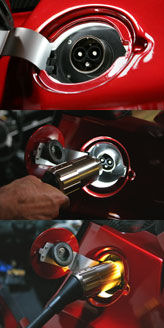 Charging is done either by using a professionally installed home charging unit, or by a portable unit, which is multi-voltage. The home charger runs at 70 amps/110 volts - this is a heavy current load, more than is required for an electric cooker, so users must ensure that their household electricity supply is not overloaded. Note that at lower amperages, for instance when using the portable charger, recharge times can be considerably longer.
The batteries will be seriously expensive to replace, so this price is difficult to come by, but see above for other battery prices.
100,000 miles of go juice in Europe will cost very roughly 10,000 euros or pounds, which is probably much more than a battery replacement cost; but more than the 1000 euros or pounds claimed for off-peak charging for the same distance. Guesses at a price for the new vehicle are currently around $100,000/£52,000, so buyers at this level are unlikely to jib at the low £1000s for battery replacement charges.
Doubtless, prices will steadily shrink as such vehicles and improved versions go into mass production. at some point this should lead to a paradigm shift. However, such expansion would result in massively expanded electricity generating requirements.

progress with batteries for hybrid vehicles
Batteries are steadily becoming lighter: lead > nickel > lithium.
[On the graph to the right, Wh/kg means Watt-hours per kilogram]
"Adapting the nickel-metal-hydride battery to the automotive environment was no small feat, since the way batteries have to work in hybrid cars is very different from the way they work in portable devices. Batteries in laptops and mobile phones are engineered to be discharged over the course of several hours or days, and they only need to last a couple of years. Hybrid-car batteries, on the other hand, are expected to work for eight to ten years and must endure hundreds of thousands of partial charge and discharge cycles as they absorb energy from regenerative braking or supply short bursts of power to aid in acceleration."
tesla cars to sell home batteries for $3500
"Musk says the basic 10 kilowatt-hour Powerwall home system will sell for $3,500 and use much of the same technology found in Tesla electric cars, known for having the longest range per car of any pure electrics on the road. "In a lot of ways it's taking derivative technology from the car," he told reporters before the presentation.

"It's expected that the Powerwall would be bought mostly by homeowners who want to store energy from their solar systems, allowing them to run off their own power after the sun goes down. The company showed off the sleek design of the home batteries, pointing out they are a slim six inches thick and can be mounted on walls. He says he expects to have several of them mounted in his own home."
[Quoted from usatoday.com/]