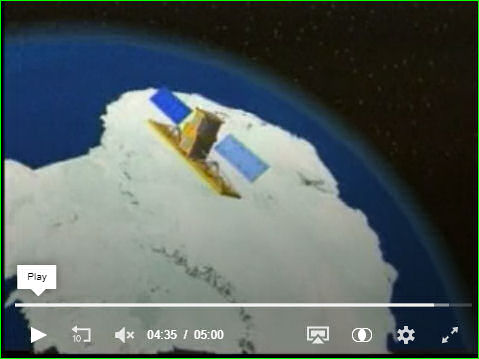 From the narrated tour of Antarctica - showing the satellite RADARSAT
There is a 5 minute video, Narrated tour of Antarctica through the eyes of RADARSAT. Because the download is onerous, abelard.org is no longer hosting a copy of this video on this page (the link provided is functional as at 23.11.2020).
This video was completed and accepted for the SIGGRAPH 2001 Computer Animation Festival. The video was made by NASA Goddard Scientific Visualzation Laboratory, together with Canadian Space Agency, RADARSAT International Inc.
more on the melting of glaciers
As already stated, glaciers in general are presently in retreat. It is important to realise that the Greenland and Antarctic ice sheets also produce glaciers, some of them very large.
A glacier is not static, it is a moving river of ice. The speed of that river varies according to several conditions. The illustration above gives a summary of the more important of these conditions. Detailed glaciology is a fairly new science, which is receiving considerable attention due to its great importance. This attention includes a lot of effort trying to understand exactly how the flow of ice works. It is not as easy as it sounds, because exploring deep within ice packs varies from dangerous to impossible.
Thus it is that various instrumentation is under continuous development, from dropping camera probes deep into ice fissures, driving for deep core samples and pinging the ice sheets from satellites, together with much else.
'Before and after'images of melting glaciers.
past ice ages and interglacials
You will find graphs and commentary on recent temperature patterns at medieval warming. I now intend to look at the longer term paleoclimate temperature estimates.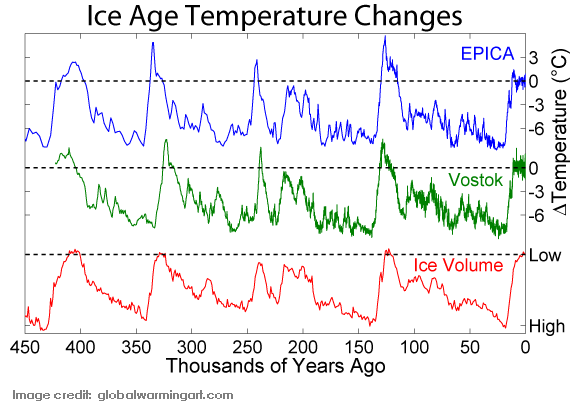 It is useful to remind yourself that temperatures were probably higher for longer in the last interglacial (the Eemian), and that the ice sheets retired further than they have at present. This had the consequence that the seas were higher. But it does look as if we are well on the way to rather accidentally breaking those records.
Notice that in the recent pattern of ice ages, the temperature rises rather rapidly and then starts to steadily peter out. A similar pattern is suggested for the present interglacial as shown in the first of the two graphs linked at medieval warming. In the second graph at medieval warming, can be seen strong hints that this decline pattern has been reversed in the last two hundred years. Of course, the lines do tend to wiggle around according to our estimates, but the trends are certainly suggestive, at least to me. You will also notice, from the table below, that the interglacials have not tended to last for a great percentage of the time during the 'modern' period.
Steve McIntyre has done something interesting with the first graph in the "ice age temperature changes" diagram, just above. What he has done is to put an arbitrary line across the graph that roughly estimates the planetary temperature at which Toronto becomes free of ice (he lives in Toronto!). And from this arbitrary line, he estimates the approximate lengths of the interglacials.
Start (kyr)
End (kyr)
Length(kyr)
Holocene
12.3
12.3+
Eemian
130
114
16
240 kyr
244
240
4
330 kyr
337
325
12
Stage 11
418
395
23
[kyr = 1,000 years]
What is important to concentrate on is the completely arbitrary nature of the blue line. Had the line instead been linked to Glasgow or even Ottawa, the interglacials would become shorter; or had the line been moved southwards, the interglacials would, of course, become longer.
The definition of an interglacial is a rather arbitrary moving feast, nor does the glaciation extend tidily to a given latitude. It varies according to land and sea conditions, prevailing winds, and even interactions between the heights of the ice sheets. To add to this, the ice sheets advance and retreat according to their mood.
As you can see from the next diagram:

Back beyond the last six hundred thousand years [600kyr], you will see that Toronto would not have had serious glaciation for the previous 2.7 million years; and going even further back, there would also have been no glaciation for Toronto at all.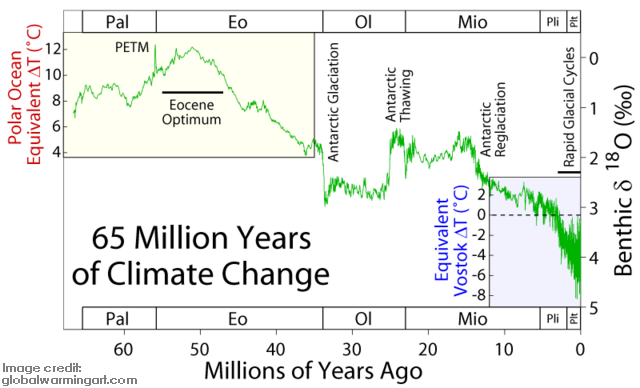 See The geological timeline for further information on Pal (Palocene), Eo (Eocene) etc.
Recall that on these timescales, planetary climate is also affected by tectonic plate movement.
Thus you will see that this period of glaciation is almost in the nature of a little local difficulty during the history of man, or even of dinosaurs, and I remind you again that here we are talking about Toronto.
Of course, we now have six billion people and growing fast, which we hope to feed. There is also a long-term trend of people moving to the coasts to live and to build vast cities. So interesting as this history is, it won't be a great comfort if the seas rise by substantial numbers of metres, weather patterns undermine food production and major rivers dry up as glaciers disappear. For example, the Ganges is estimated to be 70% glacial flow during the summer.
"Over 2 million people in the La Paz region depend heavily on the thawing of Chacaltaya and neighboring glaciers for tap water and, indirectly, for electricity supplies.

" "At least 35 percent of the drinking water comes from melting glaciers, and about 40 percent of the electricity," said Oscar Paz, the head of the Bolivian Climate Change Panel, a government task force."
—
"Ecuador's capital Quito, with 1.5 million people, and the Peruvian capital Lima, with 8 million people, also rely on melting glaciers for water and energy supplies." [Quoted from planetark.org]
related material
temperature and statistics
5°C increases in sea temperatures required to melt west antarctic
The collapse of the West Antarctic would eventually raise world sea levels by around 5 metres, but we're not all doo-o-o-o-o-o-o-o-m-e-d-d-d yet.
"The U.N. Climate Panel has projected a best estimate that world atmospheric temperature will rise by between 1.8 and 4.0 Celsius by 2100..."
—
" "The required ocean warmings, of the order of 5 Celsius, may well take several centuries to develop," wrote Philippe Huybrechts of Vrije University in Brussels in a commentary." [Quoted from planetark.org]

"The seabed drill samples also showed changes in the tilt of Earth's axis, placing polar regions toward and away from the Sun, had played a major role in ocean warming and cycles of growth and retreat of the West Antarctic ice sheet, between three to five million years ago, said the scientists.

"Around four million years ago, rising carbon dioxide levels in the atmosphere, to around 400 parts per million, enhanced the warming
effect of the tilt cycles, they said." [Quoted from planetark.org]

"Add Greenland, whose ice cap is even more vulnerable to climate warming, and global sea levels could rise up to 12 metres: What this would mean for human civilization is everybody's guess.

"Now, apocalypse is fortunately not yet round the corner. Neither our children nor our grandchildren will probably have to abandon London, Tokyo or New York, or will need to rebuild them further inland. As things stand, global seal level rise exceeding one metre by the end of the century - which would be a lot, though - is unlikely." [Quoted from nature.com]
It gets very complicated.
"...Floods in Australia in late 2010 strangely resulted in water piling up on that continent, robbing the oceans of enough water to lower global sea level by 7 millimeters for more than a year..."
—
"Some facts are well established. Researchers can say that global ocean levels have risen about 19 centimeters in the last century. And the rate of rise has sped up. The 20th-century average is about 1.7 millimeters per year; since 1993 the average rate has nearly doubled — to about 3.2 millimeters per year."
—
"And any given city may have to contend with worse. While 70 percent of the world will see local waters rise within 20 percent of the norm, others will see extremes. In China, the Yellow River delta is currently sinking so fast that local sea levels are rising by up to 25 centimeters per year, nearly 100 times the global average. Places that were once covered by kilometers of ice, like northern Canada, are now rebounding upwards — which means local sea levels are actually falling in some parts of Alaska. But that upward-moving land is hinging nearby areas, like the U.S. East Coast, downward by millimeters per year — adding millimeters per year to the local sea level rise there."
If the melting goes as supposed without changing the variable, it will go on for thousands of years. The seas will rise by 60 or 70 meters. But then we can live in Greenland and Antarctica!
However, we can always rely on the professional denialist amateurs to stop it all by magic, hope, lots of capital letters, and inscrutable incantations.
"In support of the International Polar Year (IPY 2007-2008), LIMA brings the coldest continent on Earth alive in greater detail than ever before through this virtually cloudless, seamless, and high resolution satellite view of Antarctica.

"The U.S. Geological Survey (USGS), the British Antarctic Survey (BAS), and the National Aeronautics and Space Administration (NASA), with funding from the National Science Foundation (NSF), created LIMA from more than 1,000 Landsat ETM+ scenes."

"Americans have occupied the geographic South Pole continuously since November 1956." [Quoted from nsf.gov]
There is a webcam directed towards the Amundsen-Scott South Pole Station (pictured below), with current actual temperature and wind chill.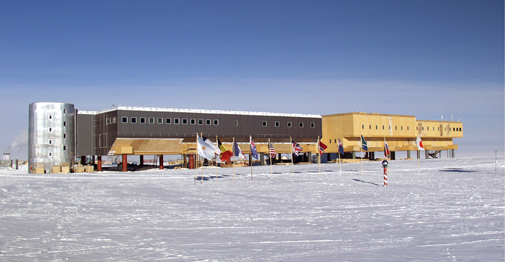 Amundsen-Scott South Pole Station. Credit: NSF/USAP
A virtual tour of McMurdo Station. The tour includes photos of Scott's hut and much else.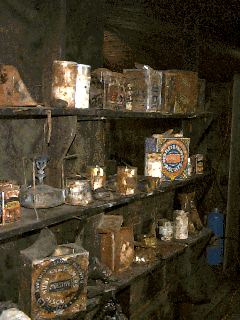 The pantry of food left behind by Robert Falcon Scott and his companions in 1904.
Many links, including "scientific papers, articles, reports, datasets, maps, posters, and information on upcoming events in support of the International Polar Year (IPY)" at lima.usgs.gov.
related material
pressure on water resources
giant ice shelf broke free in the Arctic
biggest Antarctic peninsula ice shelf yet - Wilkins - goes unstable
another step to understanding antarctica and its temperature