introduction
Much of the future of energy will be mixed methods, not a matter of one mighty leap. Thus, society will rely on wind, geothermal, sun using both photovoltaics and non-pv solar technology, biofuels and nuclear power.

photovoltaic production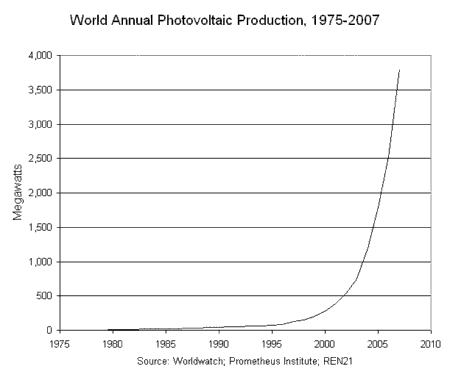 "The top five PV-producing countries are Japan, China, Germany, Taiwan, and the United States. (See data.) Recent growth in China is most astonishing: after almost tripling its PV production in 2006, it is believed to have more than doubled output in 2007. With more than 400 PV companies, China's market share has exploded from 1 percent in 2003 to over 18 percent today. Having eclipsed Germany in 2007 to take the number two spot, China is now on track to become the number one PV producer in 2008. The United States, which gave the world the solar cell, has dropped from third to fifth place as a solar cell manufacturer since 2005, overtaken by China in 2006 and Taiwan in 2007.

"Strong domestic production is not always a good indicator of domestic installations, however. For example, despite China's impressive production, PV prices are still too high for the average Chinese consumer. China only installed 25 megawatts of PV in 2006, exporting more than 90 percent of its PV production, mainly to Germany and Spain. But large PV projects are expected to increase domestic installations. China is planning a 100-megawatt solar PV farm in Dunhuang City in the northwestern province of Gansu, which would have five times the capacity of the largest PV power plant in the world today." [Quoted from earth-policy.org]
Looks impressive? Keep cool, the whole world production claimed above is probably worth less than one standard big power station in European conditions. However, the rapid growth and improving technology are much to be welcomed.
energy production methods
A video giving a very useful (but unrealistic) description of combining various energy production methods.
electricity and energy foolishness of germany
From p.27 of Key world energy statistics from the IEA, recently [December, 2007] issued by the International Energy Agency:
Electricity importers
TWh imported
Electricity Exporters
TWh exported
Germany
57
France
68
Italy
50
Germany
61
United States
45
Paraguay
44
Brazil
39
Canada
44
Switzerland
38
Switzerland
32
Netherlands
24
Czech Republic
25
Austria
20
Russia
23
Canada
20
Sweden
22
Finland
18
United States
20
Hungary
16
Austria
18
Rest of the World
285
Rest of the World
270
World
612
World
627
2005 Figures
As you can see, Germany is already the prime electricity importer in the world, whereas France is the premier electricity exporter.
Referring back to the video above, the dogmatic anti-nuclear stance taken in Germany is ludicrous.
The claims of their no-nuclear energy experiment are nonsense. Germany claims that one hundred percent of their energy needs will be produced using renewables by 2050 (40% by 2020). This claim applies only to electricity supply at current levels. It has no allowance for heating and transport, nor any allowance for growing vehicle electrification.
Meanwhile, the German car industry is whining up a storm at changing controls of their home gas guzzler production. There is no consideration of the vast amounts of bio-fuel sources required. There is no consideration of the huge cost of pumped water energy storage.
The German proposals are all very neat in theory on a small scale, but not convincing in the real world.