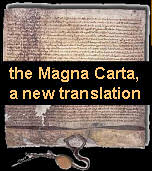 Click on a thumbnail to jump to a bigger version of each image, plus description
---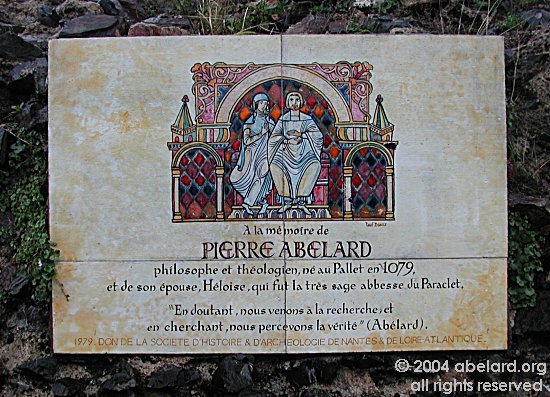 Plaque on the wall of the donjon ruins at Le Pallet
Translation: To the memory of Pierre Abélard, philosopher and theologian, born in Le Pallet in 1079, and of his wife, Heloise, who became the very wise abbess of Le Paraclet.
« In doubting, we come to seek, and in seeking, we perceive the truth. »
1979. Gift of the History and archeology society of Nantes and of Loire Atlantique.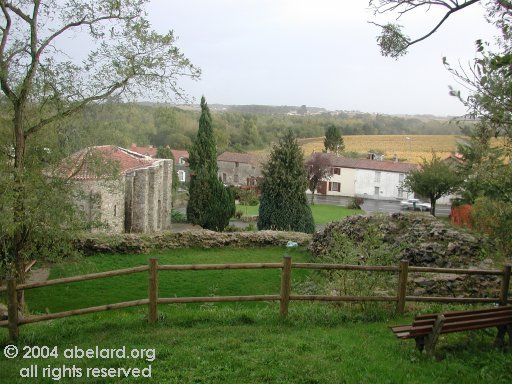 Le Pallet, Loire-Atlantique
Foreground: remains of the donjon that was part of the seignoral chateau, where Abelard was probably born and grew up. Abelard's mother, Lucie, was a daughter of the seigneur (lord) Daniel du Pallet, while his father, Berenger, was probably captain of the guard.
Middle ground: Chapel of Sainte-Anne.
Distance: Muscadet vineyards going yellow in the autumn afternoon. This region is the centre of Muscadet vineyards.
The Wine Museum (Musée du Vignoble Nantais), which contains a room devoted to Pierre Abelard's life, is across the road, beyond and hidden by the chapel. The Pierre Abélard room has mostly 17th – 19th century prints depicting Abelard's life and times. There are some posters (in French) detailing his writings and a DVD documentary (in French) is shown on request.
The Wine Museum also sells some books published by the local Pierre Abelard cultural association (with numerous illustrations and photographs):
Le Pallet, patrie d'Abélard (2e édition), Assn Culturelle P. Abélard, 2003
( Le Pallet, birthplace of Abelard.)
Quelques aspects de Pierre Abélard : Abélard du Pallet, Abélard musicien, la généalogie d'Abélard, 1999
(Some aspects of Peter Abelard: Abelard of Le Pallet, Abelard the musician, the genealogy of Abelard.)
Iconographie, Pierre Abélard : miniatures, lithographies, peintures, sculptures, 2001
(Iconography [illustrations], Peter Abelard: miniatures, lithographs, paintings, sculptures.)
Chapel of Sainte-Anne (12th century).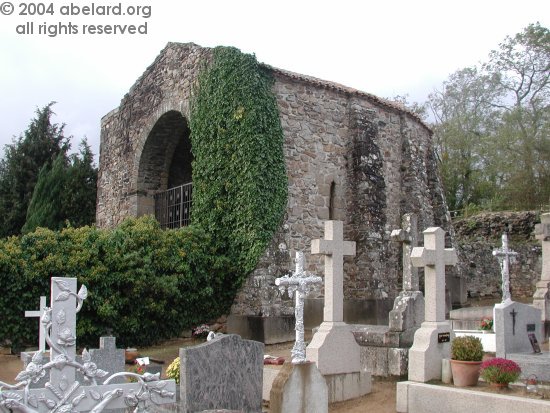 Another view of la Chapelle Sainte-Anne from across the more modern graveyard. Note how the local craftsman has a fine trade in vine-adorned crosses.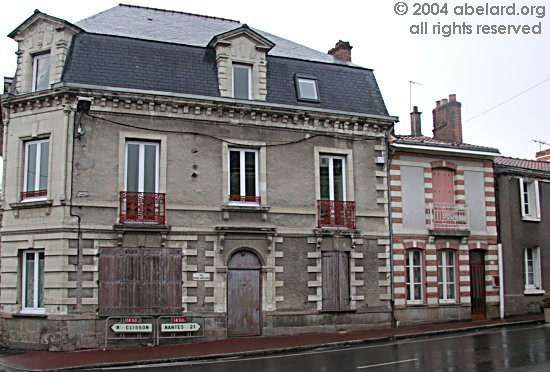 Part way down the main road in Le Pallet, which is called la Rue Pierre Abélard. Photo taken on a typically dull and rainy afternoon in this sleepy, small town.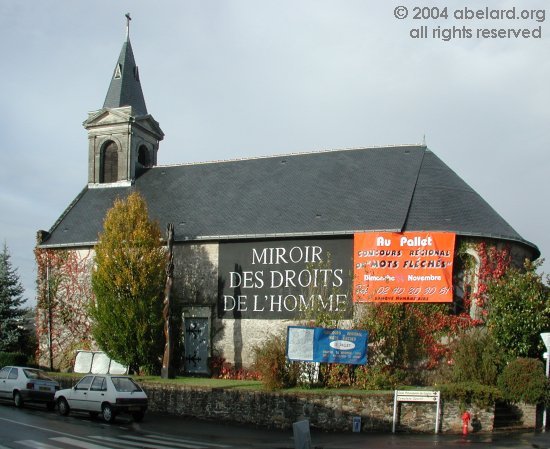 At the other end of this Brittany village (a village is called a town - une ville - in France) is this more modern church, now taken over for "good works".
Le Pallet is in the département of Loire-Atlantique [44], in the region of Pays de La Loire.
end note